Soft Frosted Sugar Cookie Cutouts
Sure, it might be little early for Valentine's Day themed posts, but it's better than Easter, right?  The thing is, cookies just look so much better when they're colorful, fun shapes and topped with sprinkles.  These cookies are basically the homemade equivalent to the kind you can find in your grocery store – soft sugar cookie topped with a frosting that's not too rich.  Perfect kid food.
INGREDIENTS
COOKIE
2 1/2 cups cake flour, plus more for dusting work surface
2 tsp cornstarch
1 1/2 tsp baking powder
1/4 tsp salt
1/2 cup salted butter, at room temperature
1/4 cup all vegetable shortening (unflavored), at room temperature
1 cup granulated sugar
1 large egg
1 large egg white
2 tsp vanilla extract
VANILLA FROSTING
6 tbsp salted butter, at room temperature
3 cups powdered sugar
3/4 tsp vanilla extract
3 1/2 tbsp half-and-half (you could also use milk)
HOW TO MAKE IT
COOKIE
Sift flour, cornstarch, baking powder and salt into a large bowl
In the bowl of an electric stand mixer, on medium speed, whip together butter, shortening and sugar until very pale and fluffy, about 4 minutes, scrapping down the sides of the bowl as needed
Add in egg and mix until combine, then add egg white, vanilla and almond extract and mix until combine
With mixer running, slowly add in dry ingredients and mix just until combine
Shape dough into a ball and transfer to an airtight container and refrigerate 1 1/2 – 2 hours
Preheat oven to 375°F during the last 10 minutes of refrigeration
Remove dough from refrigerator and sprinkle a clean work surface and top of dough lightly with cake flour
Evenly roll dough out to 1/3-inch thickness (or up to 1/2-inch for thicker cookies, you just wont get as many)
Cut into desired shapes (I used a medium heart cookie cutter and got 24 cookies)
Transfer parchment paper lined baking sheets
Bake in preheated oven 8 – 10 minutes (cookies should NOT brown, they should remain a pale color)
Remove from oven and allow to cool on baking sheet several minutes before transferring to wire rack to cool
Cool completely then frost with Vanilla Frosting and add sprinkles if desired (immediately after frosting each cookie so the sprinkles will stick before the frosting sets)
Store in an airtight container at room temperature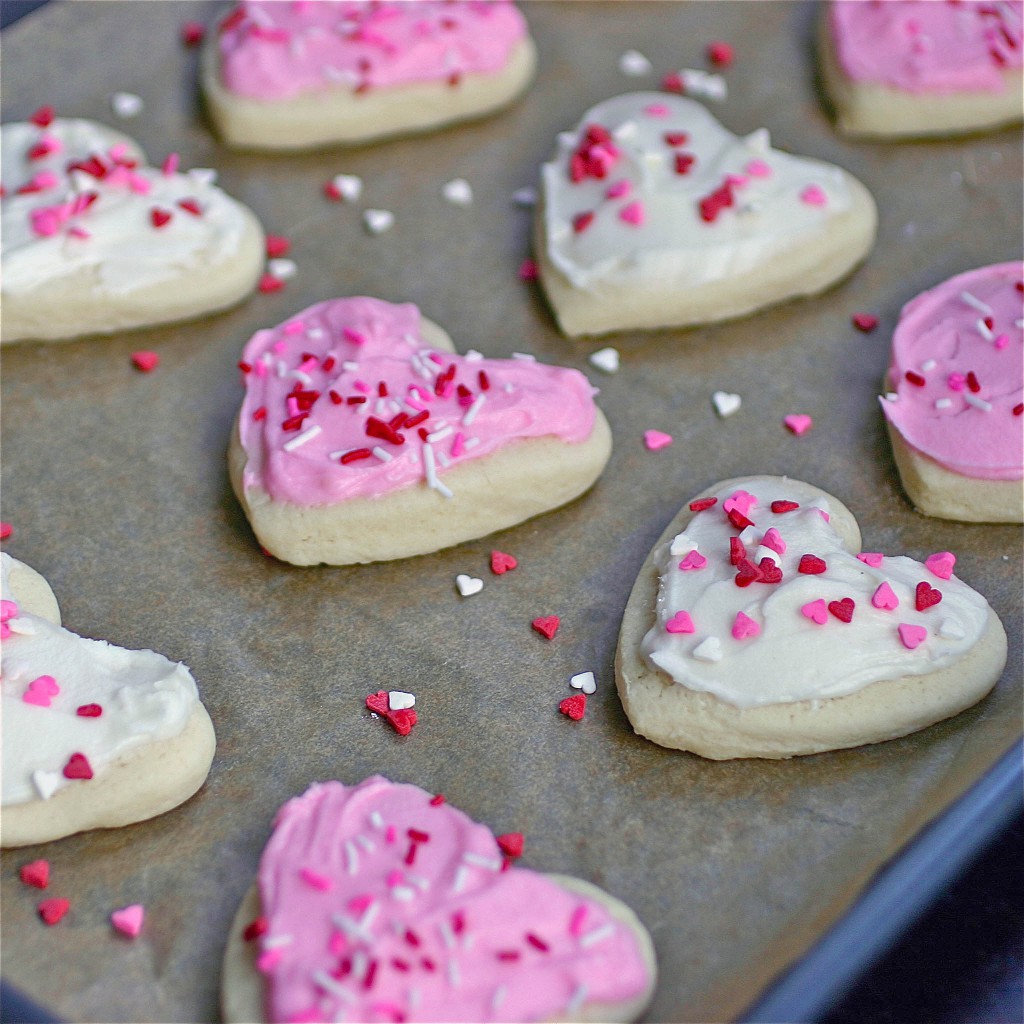 VANILLA FROSTING
Combine all ingredients in a large mixing bowl and, using an electric mixer, whip mixture on low speed until everything combines, then increase mixer to medium-high speed and whip until frosting is pale, smooth and fluffy


*Recipe adapted from Cooking Classy
Leave a Comment
You must be logged in to post a comment.