Ultimate Bolognese Sauce

If you only ever attempt to make one authentic bolognese sauce – please, do yourself a favor, and make this one. Bob and I have done our fair share of bolognese research… I've made lots of different recipes and analyzed the bolognese in a bunch of restaurants (since Bob pretty much orders it wherever we go). This recipe is IT. Yes, it does take awhile to make. So, you either need a good chunk of time or a nice lazy Saturday or Sunday to make this because it will need to simmer for 4 hours. This recipe is a combination of a a few different recipes I've made as well as the serious dissection of Al Forno's bolognese (obvi). I've settled on a mix of beef, veal and pancetta and braising everything in whole milk is a must. Also, I like throwing the veggies into the food processor and pulsing into a coarse paste so they pretty much disappear into the sauce but all of the flavor is there.
This recipe makes enough for two pounds of pasta; so I usually freeze the other half of the sauce for another night when you can have ridiculous bolognese ready in the time it takes to heat up the sauce and boil your pasta. I'd love to hear your thoughts/questions on the recipe if you try it or are thinking about giving it a go – please leave a comment below! 🙂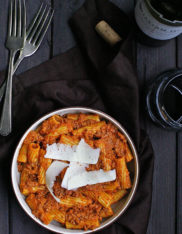 Ultimate Bolognese
Ingredients:
1 lb ground beef
1 1/2 lb ground veal
5 oz. 1/4" thick pancetta, finely chopped
2 small yellow onions, roughly chopped
2 large carrots, roughly chopped
3 large stalks celery, roughly chopped
6 cloves garlic, roughly chopped
1 cup tomato paste
1 cup red wine (a good one you'd drink with dinner)
1 cup beef broth
1 cup water
2 cups whole milk
1 tbsp fennel seeds
1/2 cup heavy cream (or more, if desired), room temp
Salt and black pepper
Olive oil
Directions:
Place your onions, carrots, celery and garlic into the food processor and process until it's a coarse paste (if you don't have a food processor, you could just chop everything into a very small dice)
Coat the bottom of a large pan with olive oil and add in your pureed veggies and season with salt and pepper - saute on medium high heat for 15-20 minutes; you want the liquid to totally evaporate
Add in the diced pancetta and cook until it is browned 5-10 minutes
Next, add the ground beef and cook for 5 minutes before adding in the ground veal; season the meat liberally with salt and pepper and cook all of the meat for about 15 minutes or until it is sufficiently browned and even starting to caramelize - just be careful you don't burn it
Now add in the tomato paste mix it in well with the meat and veggies - cook for 5 minutes
Pour in the wine and let it cook for 2-3 minutes, deglaze the pan (scrape up any browned bits that may have stuck to the bottom of the pan)
Add in the beef broth, water and milk and 2 tsp salt, pepper to your taste and the fennel seeds - bring the pot to a boil and then reduce the heat to as low as possible and cover half the pot with the lid
Now, is the painful part.  Let the sauce simmer on low for 4 hours - stirring every 20 minutes.  If you feel like the sauce is getting too dry or sticking to the bottom of the pan, lower the heat if it's not as low as possible and add in 1/2 cup water or beef broth at a time - but remember this sauce is going to be very meaty and not so "saucy" so the consistency should be meat and oil based and thick like oatmeal
Seasoning is key - as the sauce simmers be sure to taste it and add more salt or pepper if necessary; when you're ready to serve add in the heavy cream and stir well
Boil your pasta (we like to use Rigatoni with this, but a wide noodle like Pappardelle will work, too) and then ladle the sauce over the pasta until it's coated to your desire - I use about 1/2 this recipe for 1 lb of pasta) once you've combined the sauce with your cooked pasta add about 1/2 cup freshly grated Parmesan into the pasta and toss to combine - enjoy!
To freeze the remaining sauce, just allow it to fully cool and then place it in an airtight container and freeze for up to 2 months.