Potato Skin Thins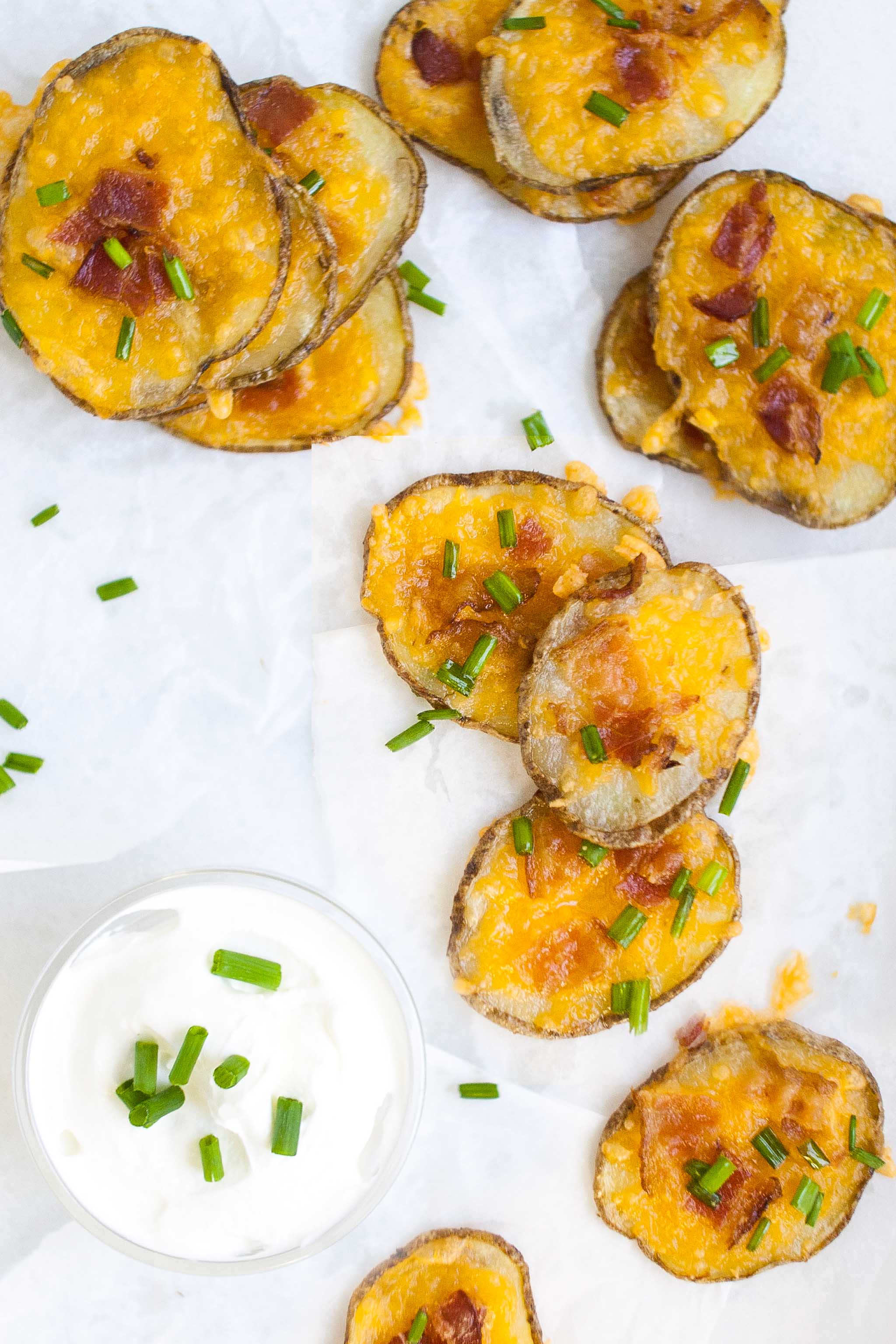 Guys. I think I have a new crush… On these Potato Skin Thins. They. are. SO GOOD. I've been putting off posting this recipe because I've recently gone vegan/gluten-free/soy-free/fun-free for a month. This is my last ditch effort to get off the last of my baby weight. I know that many of you out there eat this way every day, all the time, and I seriously applaud you because I'm counting down the days until I can slowly add back some healthy meats, dairy and carbs.

But back to these Potato Skin Thins… these babies don't fit into my diet plan, but they are delicious. And they're actually much better for you than traditional potato skins because the potato is sliced so thin. So that makes them lo-carb, woohoo!


If you'd prefer these to be thicker rounds of potato, you can totally slice the potatoes thicker but I loved the way these turned out to be like potato skin "chips." These chips were then perfectly easy to dip right into some sour cream. Since one small potato yielded 16 rounds, I feel like that pretty much classifies these in the "guilt-free" category. I'm planning on making these Potato Skin Thins for the Super Bowl on Sunday and I will be eating them because just a few will totally satisfy that never-ending potato skin craving that haunts me. And yes, in case you're wondering, I also was unable to photograph these without eating a few – they're that good!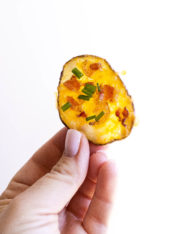 Potato Skin Thins
Ingredients:
3 small-medium Russet potatoes
2 tbsp unsalted butter, melted
Salt, to taste
1 1/2 cups cheddar cheese, grated
6 slices bacon, cooked and chopped
Bunch of fresh chives, finely chopped
Sour cream, for dipping
Directions:
Preheat oven to 400°F
Wash the potatoes and slice them very thin (I used to mandolin to get super thin, even slices).
Place the potato slices in a single layer on a parchment paper (you can also use aluminum foil) lined baking sheet. Brush each side of the potato with butter.
Sprinkle the potato rounds with salt and bake for about 15 minutes (if you slice them a little thicker you might need to bake them longer), flipping them over halfway through. *If you want to prep these ahead of time, you can definitely stop here and let them cool. Cover them with plastic wrap and chill until you're ready to pop them back in the oven with the toppings.
Remove the rounds from the oven and top with the cheddar cheese and bacon bits. Place the baking sheet back into the oven and bake (or broil on low) for an additional 5 minutes or so until the cheese is nice and melty and they look crispy.
Top with the chopped fresh chives and serve with sour cream for dipping.