Chocolate Chip Muffins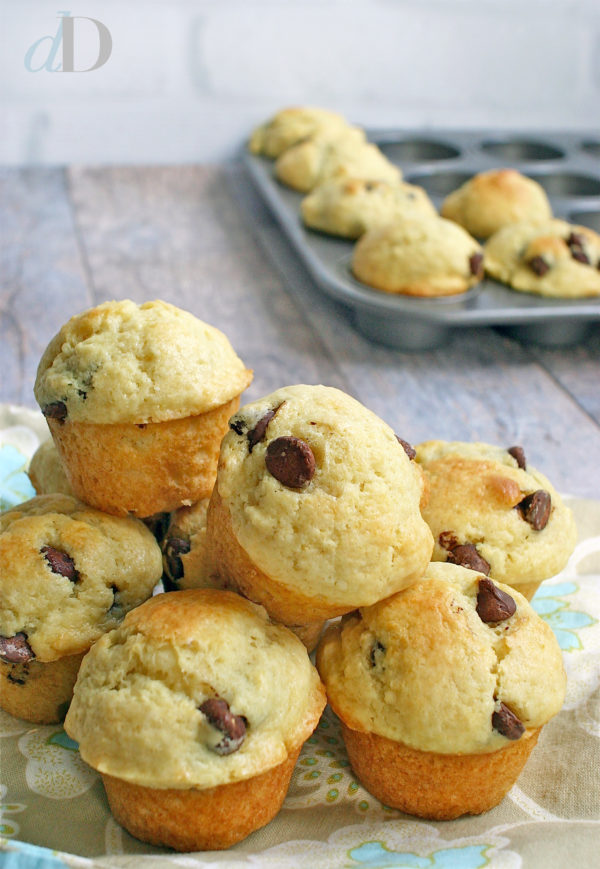 I hope everyone had a great Thanksgiving! I still can't believe that it already came and went… and now it's time to start thinking and prepping for Christmas! I love hosting Christmas day and really enjoy preparing for it – this is my 4th year doing it and I pretty much have it down to a science.
In the coming weeks, I'll be posting some ideas for your Christmas dinner menu based on our family favorites. But for now, I needed to find a use for that extra sour cream I had hanging around from Thanksgiving. These Chocolate Chip Muffins were the perfect way to use it up. Charlie took one bite and yelled, "Mom! It tastes like a pancake!!" And he was right. These are basically fluffy, chocolate chip pancake muffins. So good. And yes, I froze the rest and they defrost perfectly for breakfast on the go. 🙂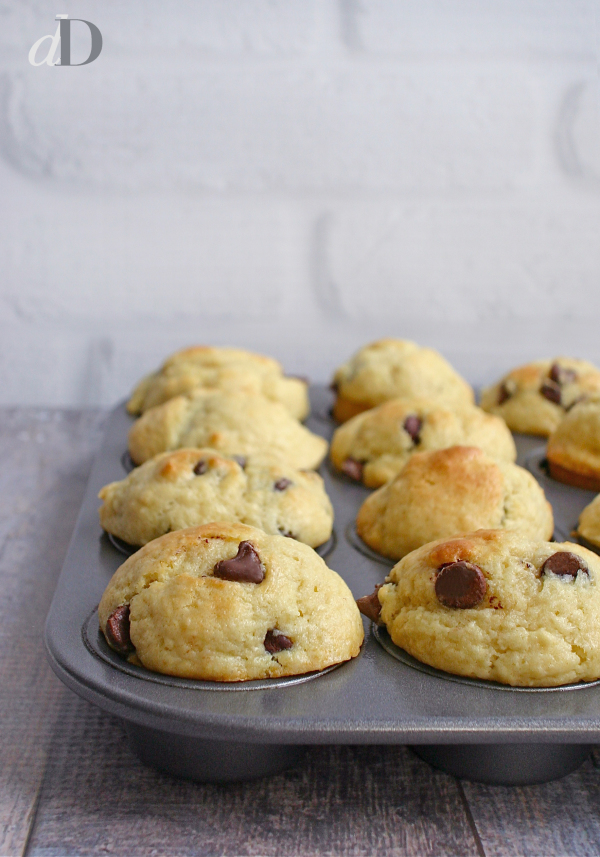 Chocolate Chip Muffins
Ingredients:
1 1/2 cups flour
2/3 cup sugar
3/4 tsp baking soda
1/4 tsp salt
1 large egg
1 cup sour cream
5 tsbp unsalted butter, melted and cooled
1 tsp vanilla
1/2 cup semi-sweet chocolate chips
Directions:
Preheat the oven to 350F.
Spray your mini muffin pan with nonstick spray (or use mini cupcake liners).
In a large mixing bowl, mix together the dry ingredients: flour, sugar, baking soda and salt.
In a separate bowl, mix the egg, sour cream, butter and vanilla.
Add the wet ingredients to the dry ingredients and mix with a spoon or spatula until it's just combined - don't over mix.
Add in the chocolate chips and and mix until thoroughly combined.
Evenly divide the batter amongst the cups (I use a mini ice cream scooper to get evenly sized muffins) - they should be about 3/4 full.
Bake until a cake tester comes out clean - about 15-18 minutes.
Recipe adapted from The Curvy Carrot