Frosted Slice-and-Bake Cookies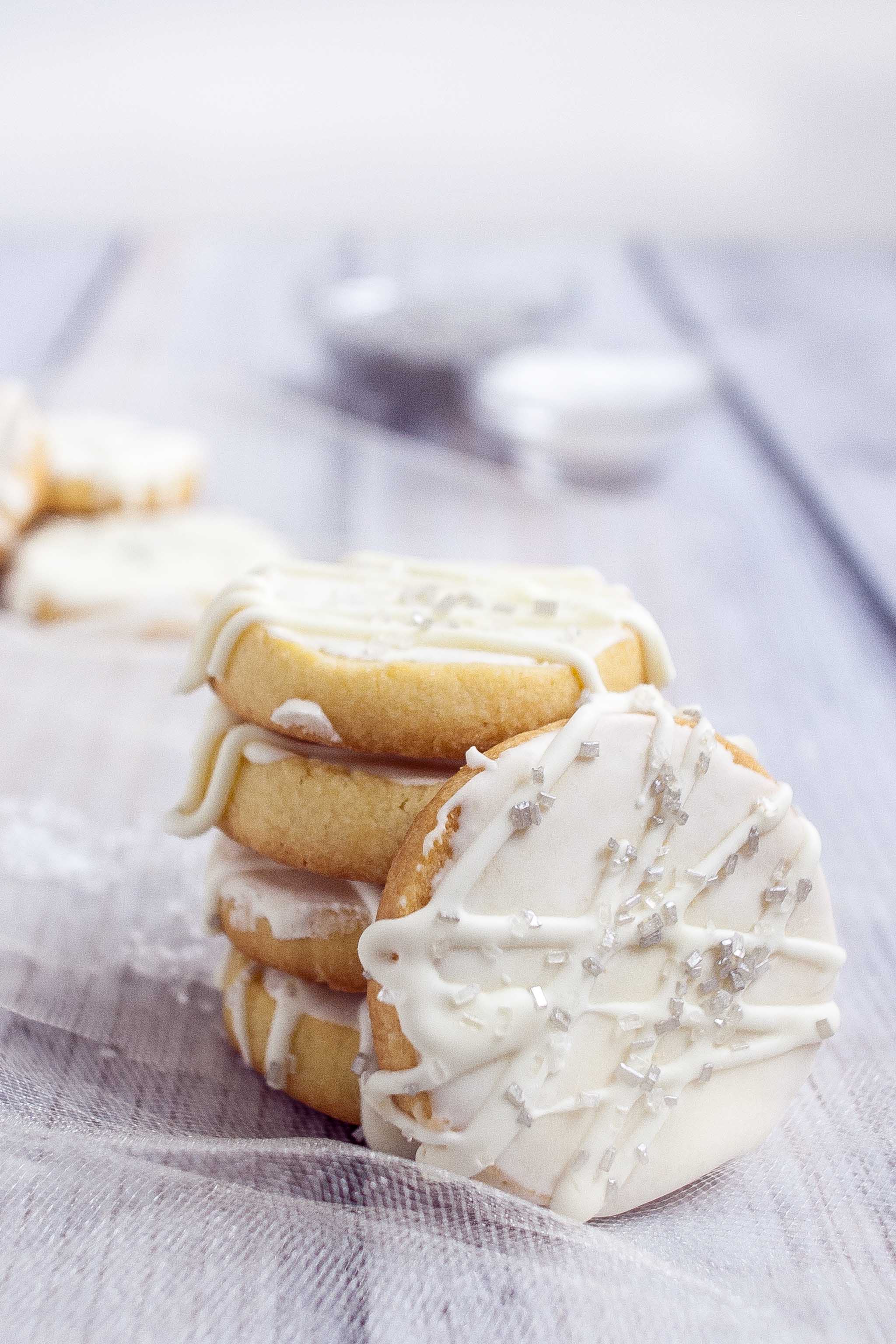 I LOVE the way these Frosted Slice-and-Bake Cookies came out! They look like little glistening snowballs – so festive! They taste pretty amazing too. They're a simple and classic crunchy butter and sugar cookie topped with royal icing to give them a really polished look.
You could top these cookies with a simple icing (powdered sugar + water), too, and they'd be just as good. I'm pretty sure Charlie ate about 6 of these right when they came out of the oven – so, yes, kids do like them. His only complaint was that they were all white – so, I had a fair share that were doused in red and green nonpareils. 🙂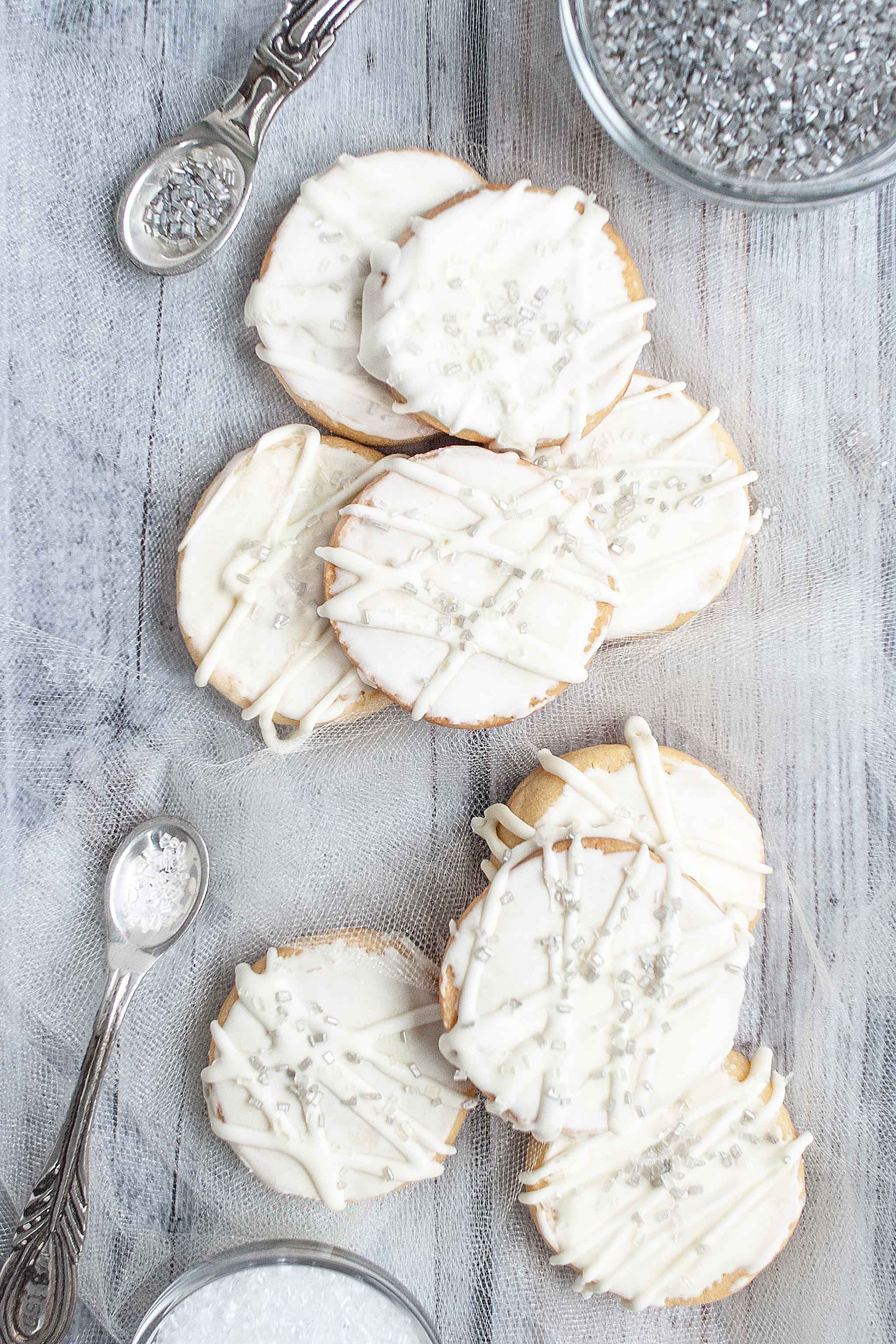 Another great thing about these Frosted Slice-and-Bake Cookies, is how easy they are to make. They're "slice-and-bake", as in, make the dough, form it into a log, refrigerate it until firm and then literally slice it into little rounds. (Note: you can also make these ahead and freeze the log until you're ready to bake them.) You might just need to reshape the log a little bit before cutting if you have a flattened bottom. I got them as round as I could in log-form and then once they were all cut and thawed a bit, I used the flat part of a large knife and my palm to go all the way around the cookies making them perfectly circular (yes, I might have OCD). Regardless, these cookies require very few, pantry staple ingredients and a simple method to make.
I'm a little sad that this will be my last new cookie post until after Christmas but I suppose it's time for me to focus on prepping for hosting Christmas Day. Happy Holidays!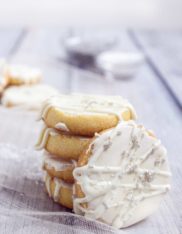 Frosted Slice-and-Bake Cookies
Ingredients:
Cookies
2 1/2 cups all-purpose flour
1/2 tsp salt
1 cup (2 sticks) unsalted butter, roomt temp
3/4 cup sugar
1 tsp vanilla
4 large egg yolks
Royal Icing
1 egg white
1/2 tsp lemon juice
1 3/4 cup confectioners sugar
Directions:
Cookies
Using an electric mixer on medium-high speed, beat together the butter, sugar and vanilla.  Occassionally scrape down the sides until the mixture is light and fluffy.
Add the egg yolks, one at a time, until its just combined.
In a separate bowl, whisk together the flour and salt.
Reduce the speed to low and slowly add in the flour mixture.  Mix until everything is well combined, occassionally scraping down the sides of the bowl.
Divide the dough in half; then roll each half into a 10" log with about 1 3/4" diameter.
Wrap the log of dough in plastic wrap and refrigerate until firm, at least 1 hour.  At this point, the dough can be refrigerated for 2 days or frozen for up to 1 month.
Preheat the oven to 350F and line 2 baking sheets with parchment paper.  Unwrap 1 dough log and, using a sharp, lightly floured knife, cut it into 1/4"-thick rounds.  Place the rounds on the baking sheet 1" apart.
Bake until cookies are firm and golden brown around the edges - about 12-15 minutes.  Let cool on the baking sheets for 1 minute and then transfer to a wire rack to cool completely.
Repeat with the remaining dough log using cooled baking sheets and new parchment paper.
Once the cookies have completely cooled, decorate as desired.
Royal Icing
In a microwave safe bowl, mix together the egg white, 1/3 of the sugar and the lemon juice.

Microwave in 30 second increments at 70% power until the temperature of the mixture reaches 160°F.

Beat the egg white mixture with a whisk attachment on low speed and slowly add in all of the confectioners sugar.  Turn the mixer up to medium-high speed and beat until stiff peaks form.  You're going to want a pretty stiff consistency to get a nice firm line along the edge of the cookies.  If you need to thin it out, add a little bit of water.  If you accidentally make it too thin, just add more sugar.

I used a small spatula to get good coverage on the cookies and let that first layer set before using a piping bag with a small round tip to get that drizzled look on top.