Shredded Mexican Chicken

At last! A real FOOD recipe. Since Cinco de Mayo is right around the corner, I figured this would be the perfect recipe to post. I've made this Shredded Mexican Chicken recipe a bunch of times and every time we're reminded of just how good it is. It's also so easy to make and can be made ahead or made using a slow cooker. Plus, I've taken leftovers, wrapped them up in burritos with cheese and frozen them wrapped in aluminum foil just like that. They defrost perfectly and make a delicious on-the-go lunch.

This Shredded Mexican Chicken is the perfect filling for burritos, tacos, quesadillas, baked chimichangas – it's so versatile! Also, the extra liquid you have after cooking the chicken will make your side of Mexican rice or quinoa unbelievably flavorful. Whenever I've made these, I've doctored up store-bought fresh salsa with fresh chopped pineapple, fresh lime juice and some extra chili powder – it really takes it to the next level. I serve this Shredded Mexican Chicken wrapped up in a burrito with cheddar cheese and topped with sour cream and pineapple salsa. I also always make Mexican quinoa on the side using that flavorful reserved liquid from the cooked chicken in addition to corn, diced red peppers and black beans.
I'll be putting this Shredded Mexican Chicken in our line-up for dinner next week for Cinco de Mayo and you should probably do the same 🙂 Now, all I need to do is find the perfect Margarita to go along with this…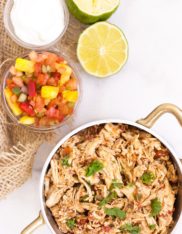 Shredded Mexican Chicken
Ingredients:
2 lbs chicken breast
1 tbsp olive oil
1/2 cup fresh mild salsa (if you can't find fresh salsa at your market, jarred salsa is ok)
3 tbsp brown sugar
1 - 4 oz. can mild green chiles
1 - 14.5 oz. can diced tomatoes, drained
1 tbsp chili powder
1 tsp cumin
1 tsp garlic powder
1 tsp onion powder
1/2 tsp smoked paprika
1/2 tsp dried oregano
1 1/2 tsp salt
1/2 tsp black pepper
*This is a very flavorful but non-spicy, kid friendly version of this recipe. If you want more heat, you can use a spicier salsa, or add 1/2 tsp ground chipotle pepper or hot sauce to taste.
Directions:
Rub the chicken breasts with oil and place in the bottom of a heavy lidded pot (ex. Le Creuset or Staub style pot) over medium heat - alternatively, you can place the chicken in a slow cooker. If you don't have a pot like this or a slow cooker - don't fret! I'm sure it'll turn out fine in a regular pot as well.
Add all of the remaining ingredients (except for the hot sauce, if using it) and give it a good stir.
Cook over medium-low heat for 2-3 hours, you want it to be simmering, not boiling; after 2 1/2 hours, check the chicken to see if it has been cooked enough to shred easily. If using a slow cooker, cook on high for 2-4 hours or on low for 6-7 hours or until the chicken is tender enough to shred.
Remove the chicken to a cutting board and allow it to rest for 5 minutes before shredding. Shred the chicken and then return it to the pot with the juices and let it simmer for an additional 20 minutes so it can absorb some of the liquid. Drain all the excess liquid but DEFINITELY reserve it to use to boost your side of rice or quinoa. Add additional hot sauce to the chicken if you want to add more heat.
Enjoy with your burritos, tacos, nachos, quesdadillas - anything goes!