Red Velvet Crinkle Cookies

Every year, I use Valentine's Day as an excuse to make something – anything – red velvet (years past included these Red Velvet Cheesecake Brownies and Red Velvet Cupcakes). I didn't grow up eating red velvet but once I had it, I knew it was something GOOD. I love how it's a flavor that's not quite chocolate but not quite vanilla… but there's one thing it is: delicious.


These Red Velvet Crinkle Cookies fit right in with that delicious red velvet profile. These are thick and cakey cookies, full of red velvet flavor and creamy white chocolate chips. I was a little nervous when the recipe called for "buttered hands" to roll the dough into balls, but the dough was actually very easy to work with – especially if you have a cookie scooper. It does require a little chill time but these Red Velvet Crinkle Cookies are worth the wait.
Since the test run of these went well, I will be making them again in the coming weeks because, what's Valentine's Day without treats?? Especially red ones. Red Velvet Crinkle Cookie ones. And as if you needed more convincing, my picky 2 yr old has had a permanent red cookie-crumbed face ever since I made these. He's totally obsessed with these "cute!" cookies.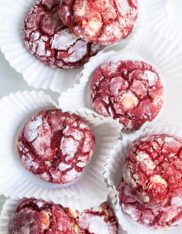 Red Velvet Crinkle Cookies
Ingredients:
3 cups flour
1/4 cup unsweetened cocoa powder
1/4 tsp baking soda
3/4 tsp salt
3/4 cup (1 1/2 sticks) unsalted butter, room temp
1 1/3 cups sugar
3 large eggs
1 tbsp buttermilk (or 1 tbsp milk + 2 tsp lemon juice)
1 1/2 tsp vanilla extract or vanilla bean paste
Red food coloring (gel is preferred but liquid works, too)
1 cup white chocolate chips
1 cup confectioners sugar
Directions:
In a large bowl, whisk together the dry ingredients: flour, cocoa powder, baking soda and salt - set aside.
In the bowl of an electric mixer fitted with a paddle attachment, beat together the butter and sugar together until it's light and fluffy - about 2 minutes.
Add in the eggs, 1 at a time until everything is well incorporated.
Add in the buttermilk (if you don't have this on hand, mix together 1 tbsp of milk with 2 tsp of lemon juice and allow it to sit for 5 minutes before using), vanilla and red food coloring.  I started with 1 tsp of red gel food coloring and added until the color was what I desired.  The original recipe suggests using 5 tsp liquid red food coloring.
With the mixer on low, slowly add the dry ingredients to the wet ingredients and mix until just combined.
Stir in the chocolate chips, cover the dough with plastic wrap and refrigerate for 2 hours or until it's firm (I baked mine after 1 1/2 hours).
Once the dough is firm, preheat your oven to  350°F and scoop out balls that are about 2 1/2 tbsp of dough - I used a cookie scooper similar to this one that is perfect for making cookies that are all the same size.  Lightly dust your fingers with the confectioners sugar, roll the dough into a ball and then coat it in the confectioners sugar.
Bake the cookies for 13-14 minutes.  Allow the cookies to rest on the baking sheet for a few minutes before transferring to a wire rack to cool completely.