Red Velvet Cheesecake Brownies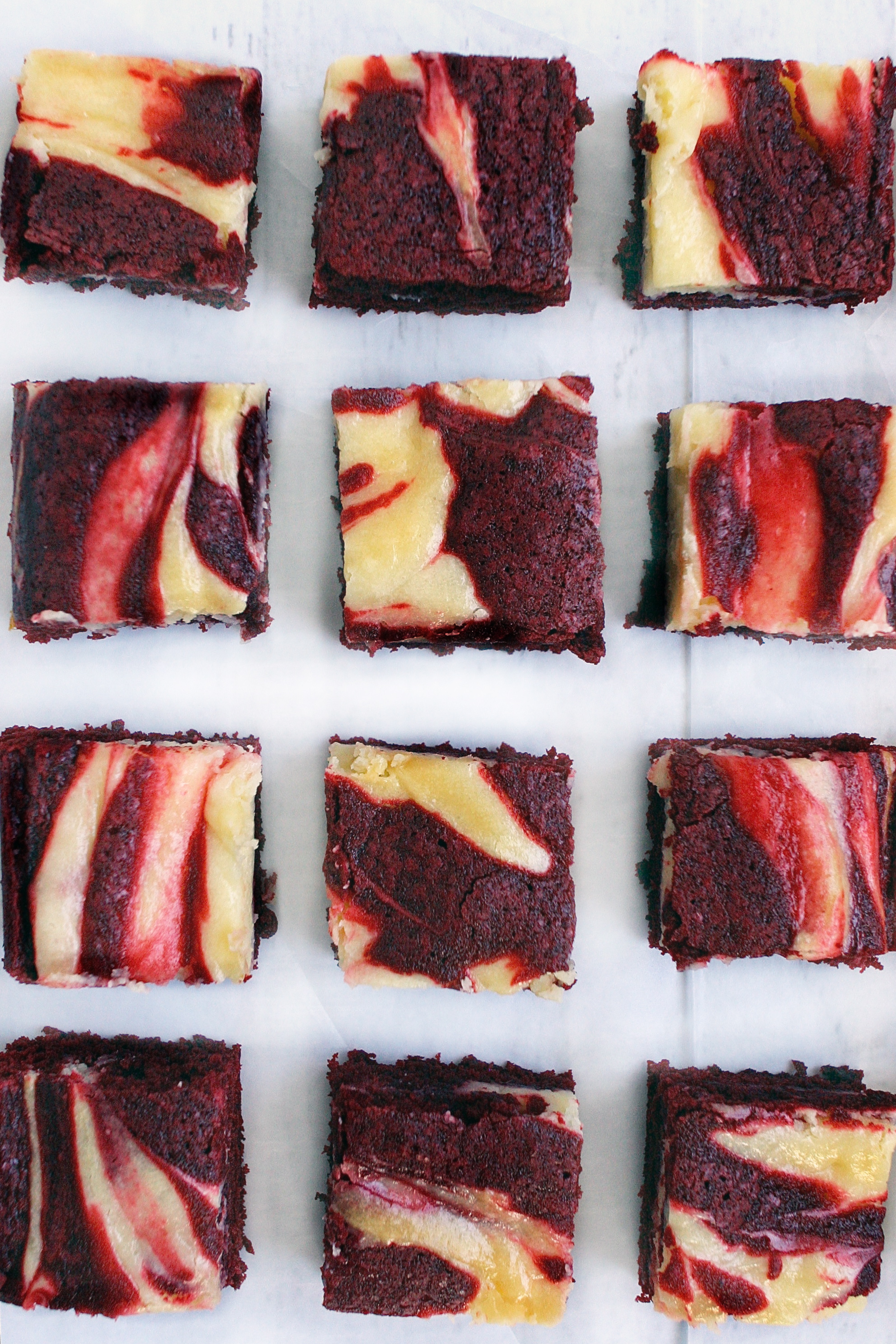 Since Valentine's Day is right around the corner, I figured out I'd make something a little bit festive. These brownies are ridiculously good. They've got the perfect amount of chocolate and the cheesecake swirl just makes them extra moist and over the top. Plus, they're red, which puts anyone in the Valentine's Day mood.
I cut these into bite-size treats for portion control and to get more out of the 8″x8″ pan (I got about 36). But you could definitely cut them larger and get about 16 brownies total. Whichever way you decide to cut the pan – just make these. Your Valentine (i.e. you) will thank you(rself).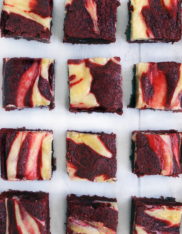 Red Velvet Cheesecake Brownies
Ingredients:
Red Velvet Brownies
2 large eggs
1/2 cup (1 stick) unsalted butter
1 cup granulated sugar
2 tsp vanilla extract
1/4 cup unsweetened cocoa powder
1/8 tsp salt
1 tbsp liquid or gel red food coloring
3/4 tsp white vinegar
3/4 cup all-purpose flour
Cream Cheese Swirl
8 oz. cream cheese, softened
1/4 cup granulated sugar
1 egg yolk
1/2 tsp vanilla extract
Directions:
Red Velvet Brownies
Preheat the oven to 350F. Spray an 8"x8" baking pan with cooking spray and then line it with two strips of parchment paper that overlap one another and overhang all 4 edges of the pan - then spray again with cooking spray. This will make it super easy to remove the brownies from the pan once they've cooled so you can cut them into perfect squares.
In a small bowl, beat the 2 eggs together - set aside.
Melt the butter in a large microwave safe bowl in 30 second increments until totally melted.
To the butter, stir in 1 cup sugar, 2 tsp vanilla extract, cocoa powder, salt, food coloring, and vinegar - mix each of those ingredients into the batter in that order.
Whisk in the eggs, then fold in the flour until completely incorporated - be careful not to overmix.
Pour the brownie batter into prepared baking pan, leaving about 1/2 cup for the top.
Cream Cheese Swirl
Using a handheld or stand mixer, beat the cream cheese on medium until it's smooth.
Add in the sugar, egg yolk and vanilla and beat until everything is totally incorporated.
Dollop the cream cheese onto the brownie batter and flatten it a bit with the back of the spatula.
Then fill in any "holes" with the brownie batter you have remaining.
Run a knife through the batter to create the cream cheese swirls.
Bake for 28-30 minutes or until a cake tester comes out clean. Let the brownies cool for 30 minutes before lifting them out of the pan and cutting into squares.