If you've ever been a fan of the store-bought kind or the semi-homemade version of this dip then you'll love making it from scratch. It takes a small amount of extra effort by caramelizing the onions, but in my opinion, it's totally worth it. The end result is light, really flavorful and not chock full of any unpronounceable ingredients.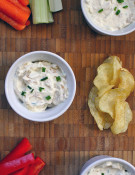 Onion Dip
Prep Time: 5 minutes
Cook Time: 45 minutes
Total Time: 50 minutes
Ingredients:
2 tbsp olive oil
1 1/2 cups Vidalia onion, diced
1/4 tsp salt
1 1/2 cups sour cream (I used low fat)
1/2 cup mayonnaise (I used low fat)
1/4 cup whipped cream cheese (you could use regular, just make sure it's room temp)
1/4 tsp garlic powder
1/4 tsp ground white pepper
1/2 tsp salt
1 tbsp fresh chives, finely chopped
Directions:
Heat the olive oil in a saute pan over medium heat
Add the onions and 1/4 tsp salt
Cook the onions until they are caramelized - for me, this took about 45 minutes.  Be careful not to burn them and stir them frequently
When they're caramelized, remove them from the heat and set aside to cool
In a bowl, whisk together the remaining ingredients and then add in the cooled onions
Refrigerate for at least 30 minutes and stir again before serving
Recently...