3 Bean Chili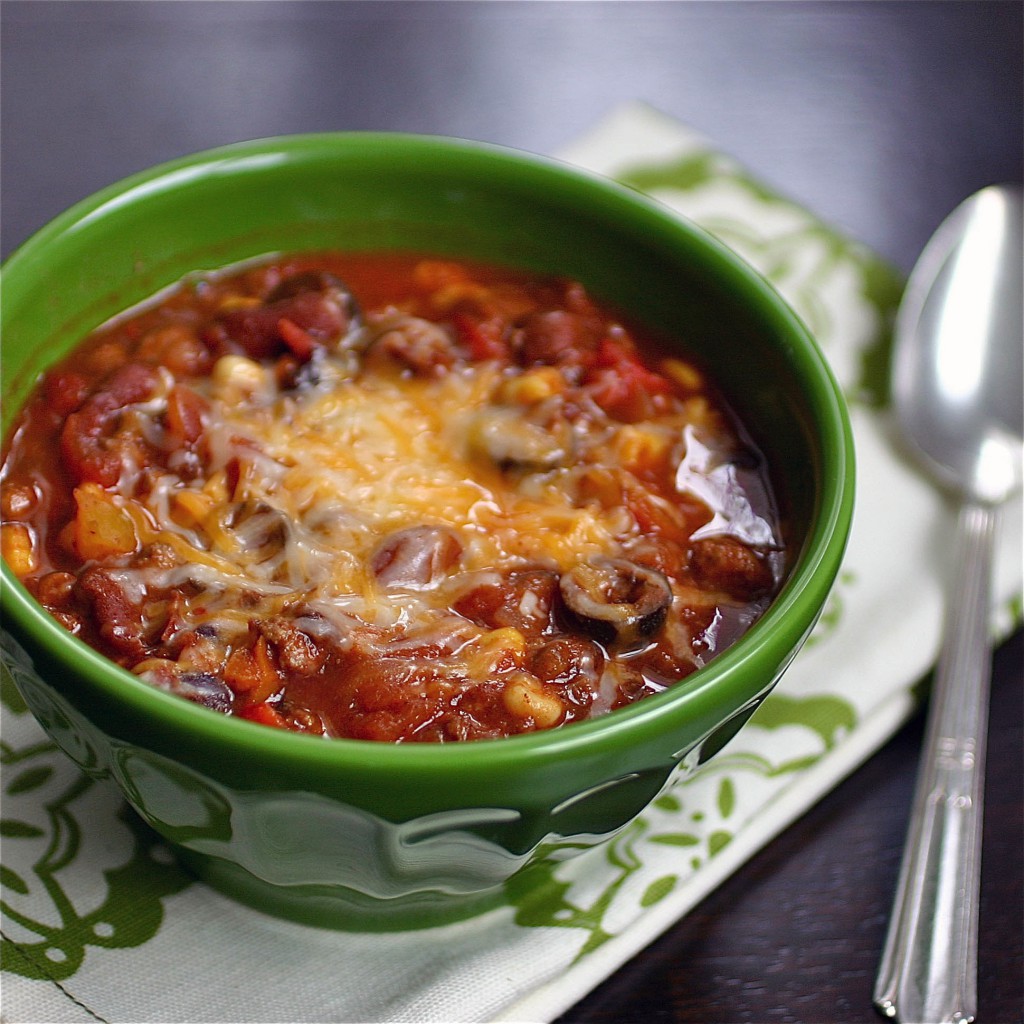 This chili recipe is full of flavor and amazing with meat or without… I keep tweaking it and making it differently each time, but I think this is the best version.
INGREDIENTS
1 lb. ground beef or turkey (optional)
1 vidalia onion diced
2 cloves of garlic pressed
Olive oil
3 peppers chopped (1 red, 1 orange, 1 yellow)
1 can of corn
1 can of black beans
1 can of dark red kidney beans
1 can of light red kidney beans
1 small can diced black olives
2 large (28 oz.) cans diced tomatoes
1 cup dark beer (I like using New Castle)
1 cup chicken broth
3 tbsp chili powder (at least)
1 tsp paprika
1 tsp cumin
1 tsp salt, or to taste
Shredded cheddar cheese, for topping
HOW TO MAKE IT*
If you're using ground meat, brown it in a large soup pot with 1 tbsp olive oil and season with salt and pepper
Add the diced onion and pressed garlic to the meat with another tbsp olive oil – saute until the onions are translucent
Add the chopped peppers to the pot and stir
Add the diced tomatoes, beer and chicken broth and stir well
Rinse the beans well and add them to the soup along with the corn and olives
Add the salt, paprika and cumin and start with 3 tbsp of chili powder
Stir the contents of the pot well and let it simmer for about 20 minutes, then taste the soup and add more chili powder if you desire more spice (you may also want to add some salt, too)
Let it simmer uncovered while stirring frequently for at least an hour
Top with shredded cheddar cheese and enjoy!
*If you want to make this chili in a crock pot, follow the same directions but cook it on high for 1 hour and then low for 4-5 hours.