Modern Beef Wellington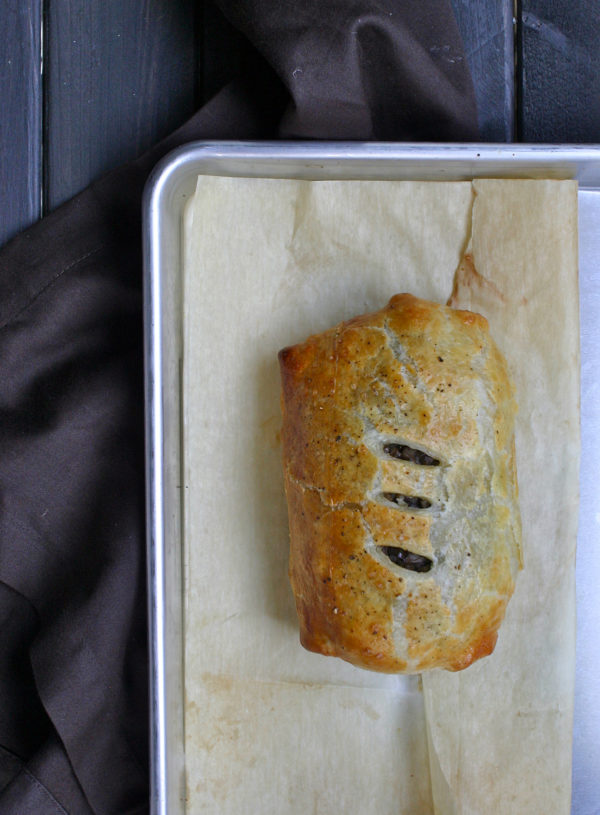 If you're looking for something to serve for small dinner party that's super impressive – this. is it. It also makes a great anniversary or birthday dinner. Let's face it – filet mignon is not a cheap cut of meat. Each 6 oz. steak cost me about $10 from the butcher. However, for special dinners this meal just wins. What's also great about it is that it can be prepared ahead of time – even the day before! Which is huge when it comes to prepping for a small dinner party. Impress a special someone or yourself with this treat; you won't be disappointed.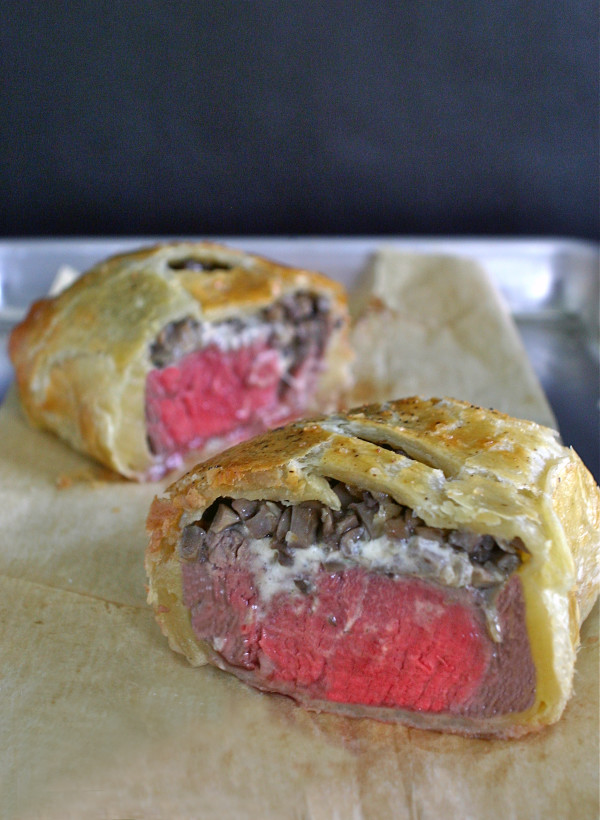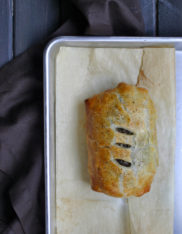 Modern Beef Wellington
Ingredients:
4 - 6 oz. filet mignons (ideally, you want a thick cut - around 1 1/2 - 2 inches)
1 tsp salt
1/2 tsp pepper
1 tbsp olive oil
4 heaping tbsp Boursin Cheese Spread
1-2 sheets Pepperidge Farm Puff Pastry, thawed but still chilled (best way to do this is leave it in the fridge overnight)
Mushroom Duxelles, recipe follows
MUSHROOM DUXELLES
1 tbsp unsalted butter
2 tbsp shallots, finely chopped
1/2 tsp garlic, pressed
10 oz. button mushrooms, finely chopped
1/4 tsp salt
1/8 tsp white pepper
2 1/2 tbsp white wine (a good one that you'd drink)
Directions:
MUSHROOM DUXELLES
Heat the butter in a medium frying pan over medium-high heat
Add the shallots and garlic and cook, stirring, for 30 seconds
Add the mushrooms, salt and pepper – reduce the heat to medium and cook, stirring until the mushrooms have given off their liquid and they've begun to caramelize (about 10-12 minutes)
Add the wine and cook on medium-high heat, stirring to deglaze the pan, until all of the liquid has evaporated
Remove from heat and let it cool before using
SEAR THE STEAKS
Season both sides of each filet with 1/4 tsp salt and 1/8 tsp pepper
Heat the oil in a large frying pan over medium-high heat
Add the filets and sear for 1 minute - 1 minute 30 seconds on all sides - 1 minute will give you medium-rare steaks. Transfer to a plate and cool completely
PUTTING IT ALL TOGETHER...
Roll out the sheet of puff pastry on a lightly floured surface – cut into two or four equal squares (this will really depend on the size and thickness of your steaks and you will have to use your best judgement)
Spread approximately 1 heaping tbsp Boursin Cheese on top of the filet, and then place 1/4 of the Mushroom Duxelles on the center of your puff pastry rectangle
Place the filet on top of the mushrooms, cheese side down. Use a pastry brush to line the edges of the puff pastry with your egg wash. Pull one side of the puff pastry over to the center of the filet. Then pull the other side over the puff pastry you just pulled to the center of the filet. Basically, you fold the pastry over the filet like you're wrapping a package and press or pinch the edges to seal. You'll need to trim some dough off the sides because if it's too thick, it won't cook completely.
Place the "packages" on a baking sheet lined with parchment paper
Brush the egg wash over the tops and sides of each package and cut three slits in the top for the air to vent. I like topping mine with some course salt and freshly ground pepper as well

If you're not planning on eating these right away, do not brush them with the egg wash yet. Just cover them with plastic wrap and refrigerate until you're ready to bake them - take them out about an hour before you're ready to bake them so the meat isn't too cold.

Bake at 425°F until the pastry is golden brown – approximately 20 minutes for medium rare