Spinach and Sausage Lasagna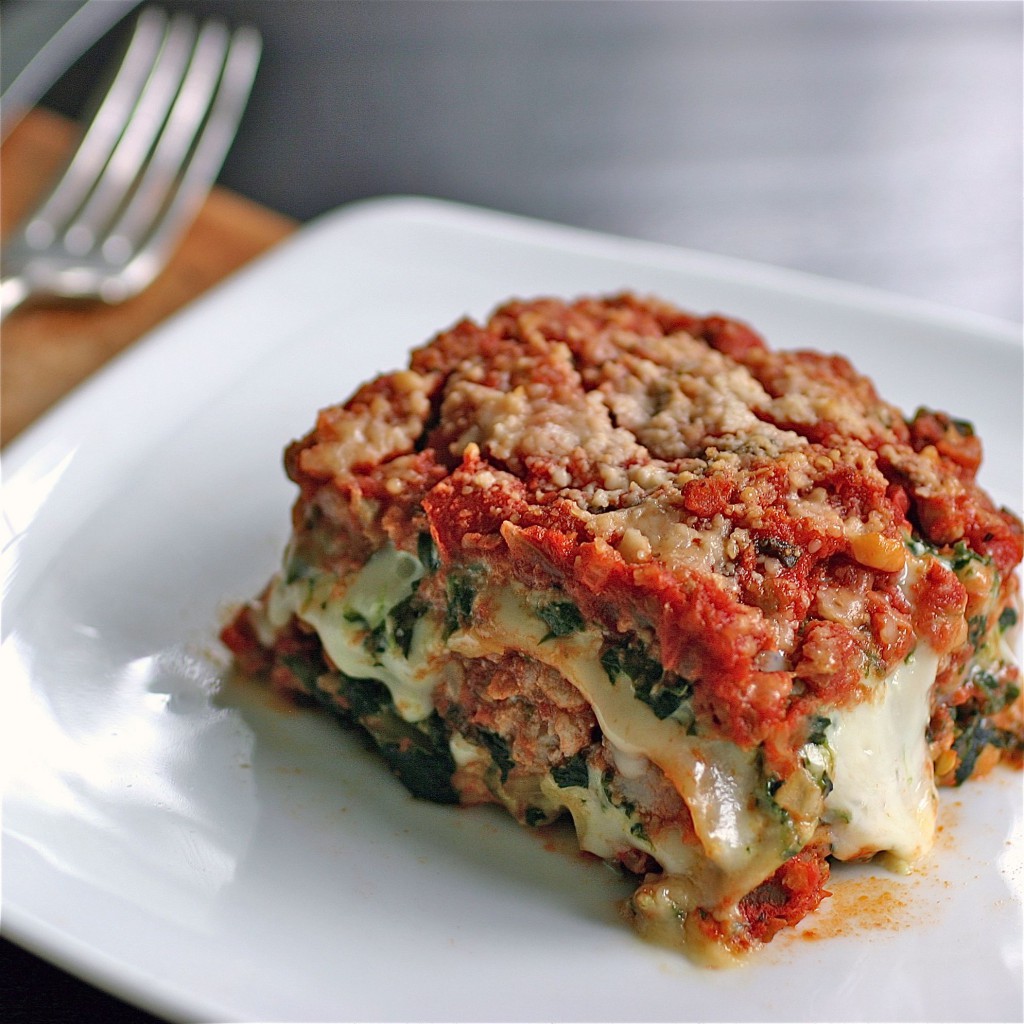 This recipe is not your typical lasagna, but it's a delicious twist on the classic.  Since the whole thing only uses 1/2 lb. of pasta, it's really easy to make this very healthy by using extra lean sausage and low-fat cheeses.  
INGREDIENTS
2 tbsp olive oil
1 small yellow onion, chopped
3 cloves garlic, pressed
3/4 lb. spicy lean Italian sausage, casing removed
3/4 lb. sweet lean Italian sausage, casing removed
1 – 28 oz. can crushed tomatoes in tomato puree
1 – 6 oz. can tomato paste
1/4 cup fresh parsley, chopped (separate out 2 tbsp)
1/2 cup fresh basil, chopped
1/2 lb. lasagna noodles
1 – 10 oz. package frozen chopped spinach, thawed and strained really well
16 oz. ricotta cheese
1 cup grated Parmesan
1 egg, lightly beaten
2 cups (8 oz.) shredded mozzarella
Salt and pepper
Approximately 1/4 cup powdered Parmesan for topping
HOW TO MAKE IT
Heat the olive oil in a large saute pan – add the chopped onions and cook over medium heat until they're translucent, about 5 minutes, then add in the garlic and cook just until fragrant
Add the sausage and cook until it's no longer pink – keep breaking it up into small pieces with the back of the spoon
Add the crushed tomatoes, tomato paste, 2 tbsp parsley, basil, 1 1/2 tsp salt and 1/2 tsp pepper
Simmer uncovered over medium-low heat for 15-20 minutes, until it has thickened
While that's simmering, soak the lasagna noodles in the hottest tap water for 20 minutes
In a medium bowl combine the chopped spinach with the ricotta, Parmesan, egg, 1/2 tsp salt and 1/4 tsp pepper – set aside
Spoon 1/3 of the sauce into a 9×12 in. baking dish – spread it evenly across the bottom of the dish
Next, place a layer of 1/2 the noodles on top of the sauce
Sprinkle the 1 cup of mozzarella cheese next and spoon 1/2 of the spinach mixture on top of that – try to distribute the cheeses in one layer as evenly as possible
Top the cheese with another 1/3 of the sauce and then the other 1/2 of the noodles, and then the spinach mixture
Lastly spread the rest of the sauce evenly on top and sprinkle with an even layer of powdered Parmesan
Bake at 400°F for 30 minutes, or until the sauce is bubbling
*Recipe adapted from Barefoot Contessa
Leave a Comment
You must be logged in to post a comment.