Cake Pops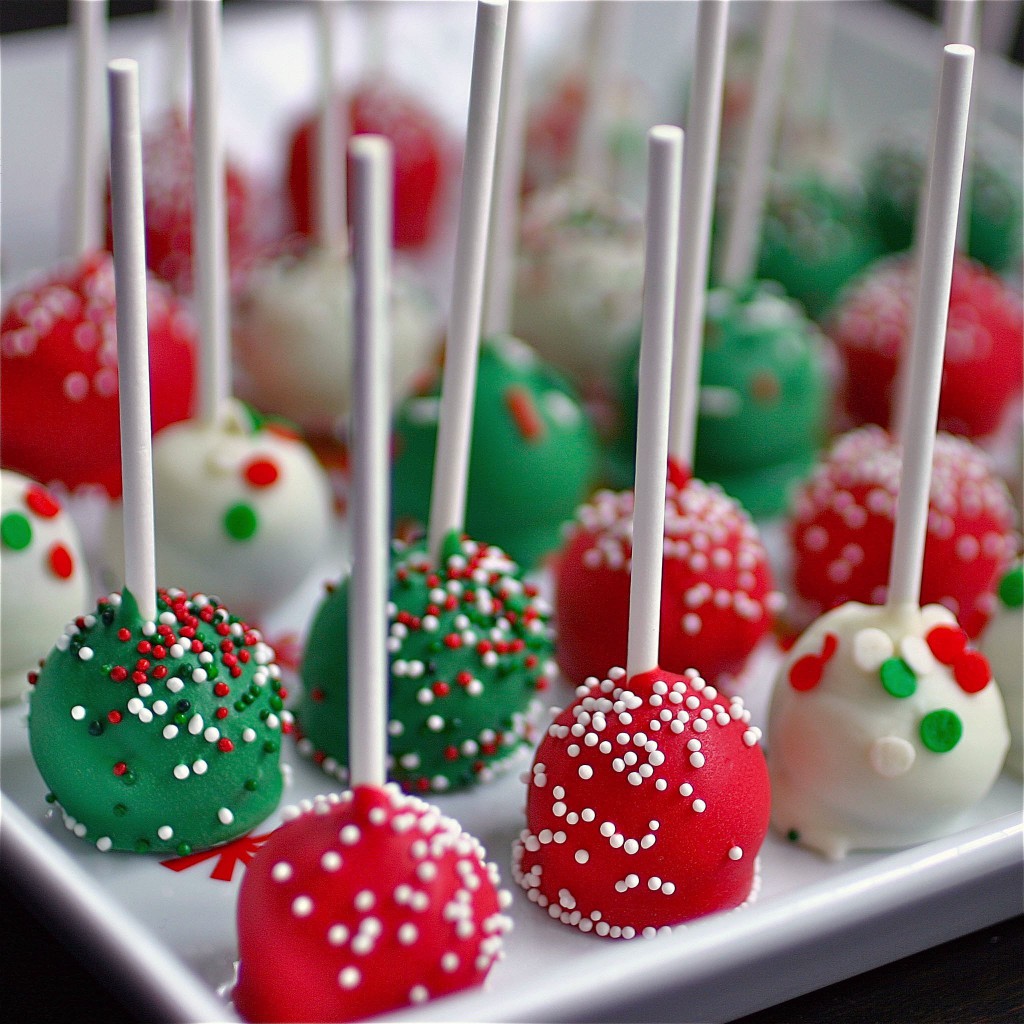 Here's the second new treat I'm trying out before Christmas.  These seemed daunting but are actually not too bad.  Basically, you can make these as simple or complicated as you want – i.e. you can use boxed cake mix and Duncan Hines frosting or you can go all out and make both from scratch.  Also, the flavor combinations are endless.  Basically, you pick your favorite cake and frosting combo and go from there…  All in all, very tasty treats and quite impressive looking, too!
INGREDIENTS
CHOCOLATE CAKE
3 ounces good quality semisweet chocolate (I used Ghirardelli)
1 1/2 cups hot brewed coffee
3 cups sugar
2 1/2 cups all-purpose flour
1 1/2 cups unsweetened cocoa powder (not Dutch process)
2 teaspoons baking soda
3/4 teaspoon baking powder
1 1/4 teaspoons salt
3 large eggs
3/4 cup vegetable oil
1 1/2 cups well-shaken buttermilk
3/4 teaspoon vanilla
*WARNING: This recipe will yield approximately 160 cake pops!   If you're not planning on needing that many, definitely halve the recipe.  
CREAM CHEESE FROSTING
1/2 cup (1 stick) unsalted butter, room temperature
3/4 cup cream cheese, room temperature
2 cups confectioners sugar
1/4 tsp vanilla extract
CANDY COATING
Approximately 6-12 oz. bags Wilton Candy Melts

You could also use white chocolate and add food coloring

Lollipop sticks (you can find these at craft stores like Michael's)
HOW TO MAKE IT
CAKE
Preheat oven to 300°F and grease 2-10″* round cake pans 
Finely chop chocolate and in a bowl combine with hot coffee

Let mixture stand, stirring occasionally, until chocolate is melted and mixture is smooth

Into a large bowl sift together sugar, flour, cocoa powder, baking soda, baking powder, and salt
In another large bowl with an electric mixer beat eggs until thickened slightly and lemon colored (about 3 minutes with a standing mixer or 5 minutes with a hand-held mixer)
Slowly add oil, buttermilk, vanilla, and melted chocolate mixture to eggs, beating until combined well
Add sugar mixture and beat on medium speed until just combined well
Divide batter between pans and bake in middle of oven until a tester inserted in center comes out clean, 1 hour-1 hour and 10 minutes
Cool layers completely in pans on racks
*This recipe will overflow if you bake it in 9″ pans — I used 2 – 9″ pans and also made 6 cupcakes.  I baked the cakes for 55 minutes and the cupcakes for 30 minutes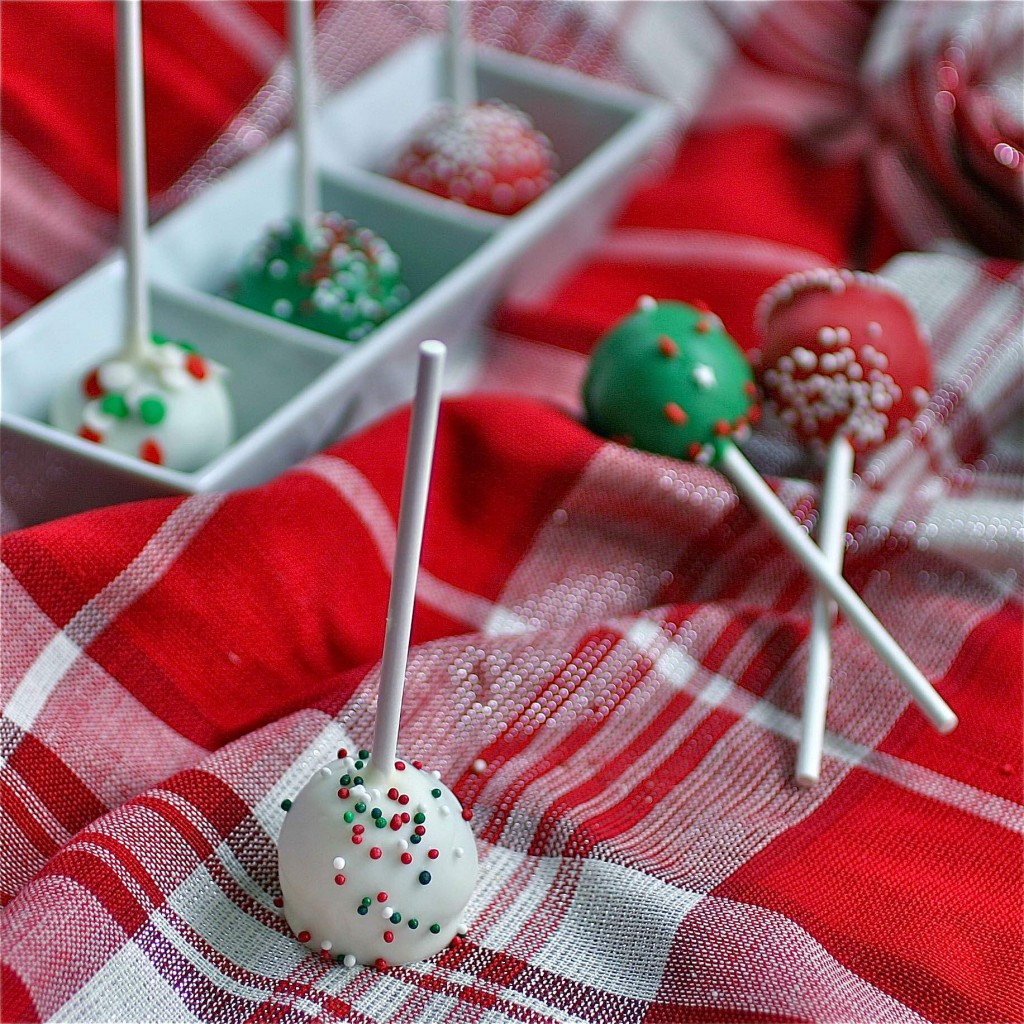 FROSTING
With an electric mixer on medium-high speed, beat butter and cream cheese until fluffy, 2 to 3 minutes
Reduce speed to low and add sugar, ½ cup at a time, and then vanilla, and mix until smooth and combined, scraping down sides of bowl as needed
PUTTING IT ALL TOGETHER
CAKE BALLS
Once the cake has completely cooled, use your hands and/or a fork to break it up into fine crumbs
Once you've got a crumb cake mixture, add in the frosting a spoonful at a time and get mixin' with your hands
You're going to want this mixture to be the consistency of play dough.  You should be able to easily roll it into a ball without it falling apart (at this point you can refrigerate the mixture for a couple of days before using)
When you've reached the right consistency, start rolling the mix into balls (I used a 1″ ice cream scooper to make every ball the same size) and place them on a parchment lined baking tray

If you're finding that the mixture is too soft, just put it in the fridge or freezer for a bit and it will firm right up

Once you've got the cake balls made, you are ready to start dipping (again, at this point you can refrigerate or freeze the cake balls until you're ready to use them)
DIPPING
In a small bowl, melt about 1/2 cup candy in the microwave (heat it in 30 second intervals)
Dip the tip of the lollipop stick into the melted candy and then insert it into the cake ball – this will harden and act like glue
Once you've done this to all of the balls, put them in the freezer for about 20 minutes or until they're really firm but not frozen solid
Set up your double broiler and melt 2 bags of candy melts (I think it's best to do these in smaller batches to keep the coating fresh)

For a double broiler, I just used a metal bowl over a 4 quart sauce pan that I filled with 4 cups of water – I think this works best with metal bowls
Bring your water to a rapid boil and then place the bowl on top of the sauce pan
Add the candy melts, turn the heat to low and keep stirring until everything is evenly melted – then turn off the heat

Take your cake pops out of the freezer in batches of about 12 and begin dipping into the melted chocolate (I would go back and forth with a baking tray lined with parchment paper)
If you want to present these "standing up" you'll need a piece of styrofoam to stick them into for the candy shell to harden – if you're going to make them "face down" like I did, after you've dipped the cake pop in candy, place it "face down" on the a parchment lined baking tray and immediately sprinkle with your decoration of choice
Leave a Comment
You must be logged in to post a comment.