Vodka Sauce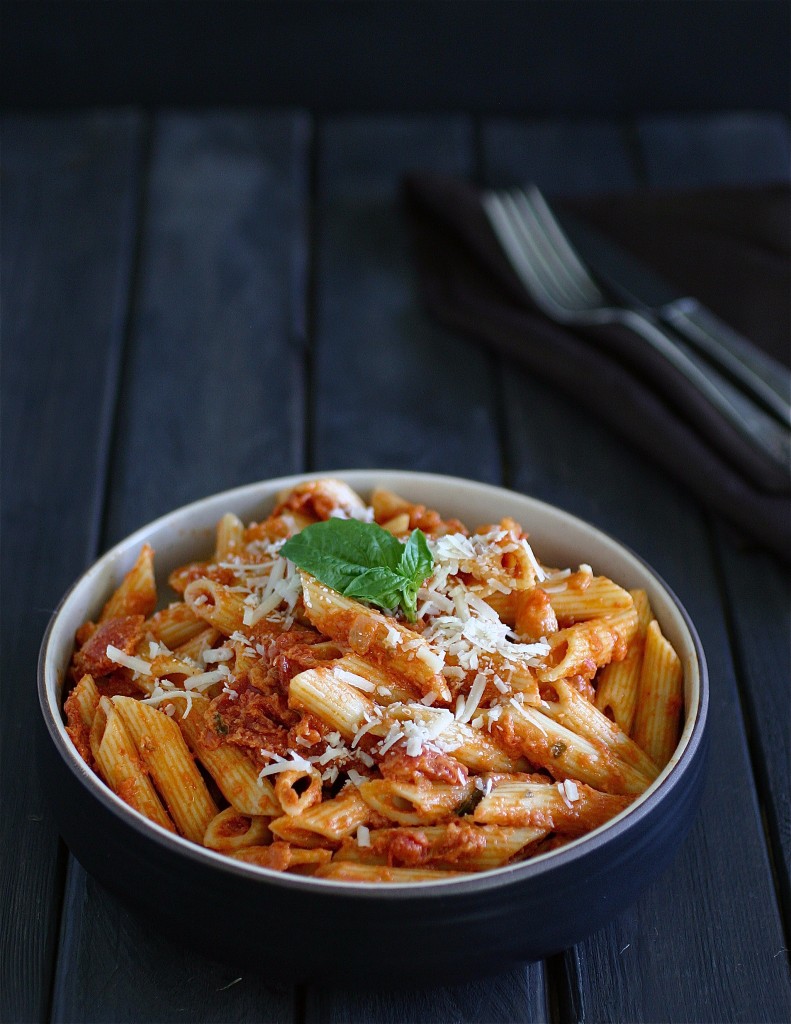 This sauce has gotten a few tweaks over the years, so I'm reposting the current version.  This sauce isn't too creamy but definitely has the richness that a vodka sauce should have. It's heavy enough to stand on its own as a meal but you could pair it with something else as well – all depends on how much self control you have.        
INGREDIENTS
1 – 28 oz. can Pastene 'Kitchen Ready' tomatoes
1 – 28 oz. can diced tomatoes
1 small onion chopped finely
2 cloves garlic minced
4-6 fresh basil leaves for the sauce + more for garnishing
2 dried bay leaves
1/2 cup olive oil
1 cup vodka
1 cup heavy cream (room temp)
1/2 cup grated Parmesan cheese
1 tbsp sugar
Salt to taste
Pepper to taste
HOW TO MAKE IT
Saute the onion, garlic and 1 tbsp olive oil until the onions are translucent
Add in both cans of tomatoes along with the rest of the olive oil, chopped basil leaves (save a bit for garnishing later), bay leaves, sugar, salt and pepper
Simmer the sauce for at least 1 hour or until it's thick (leave the pot uncovered and stir often – I also like to break down the tomatoes with the back of the spoon while it's simmering)
Add in vodka on low heat until mixture reduces by 1/4, stirring often – about 20 minutes
Stir the cream into the tomato and vodka sauce (I've used light cream instead of heavy cream and it still tasted good, just not as rich – hence, not as good)
Simmer over low heat until sauce is heated through
Stir in the Parmesan cheese until melted and well blended
Combine sauce with your desired pasta, top with fresh basil and enjoy!