Mills' Mac 'n Cheese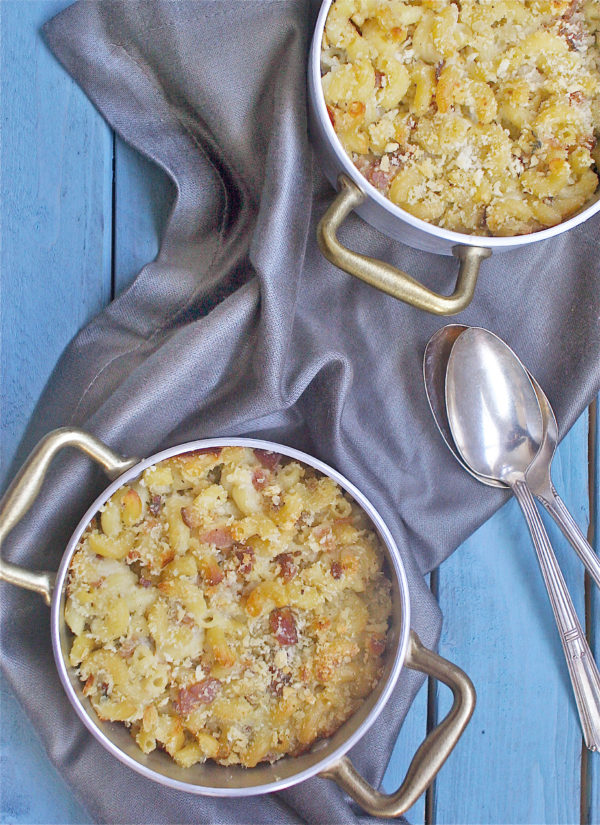 Mills Tavern is one of the best restaurants in town (Providence, RI) and has some sentimental value to me and my hubby.  It was where he took me on our first date way back when and we've been going back ever since.  He used to work there, so he likes going back to see familiar faces and, well, the delicious food speaks for itself.
We were there this past Fall and had an unbelievable mac 'n cheese – a new variation on what they usually served.  I could tell there was fresh thyme and bacon involved but I had to ask the waiter what kind of cheese was in there.  Much to my surprise it was Gorgonzola (usually not my thing), Gouda and Cheddar.  I'm not much of an unmelted cheese eater -which might sound strange – so the sound of Gouda and Gorgonzola sounded really surprising (and gross?) to me.  Alas, I wanted to try recreating it at home and trusted that the waiter wasn't lying to me.  He wasn't.  This "grown up" mac 'n cheese is awesome – and tasted just like Mills' version.
Mills' Mac 'n Cheese
Ingredients:
4 oz. bacon
2 cups elbow macaroni
1 1/2 cups milk
2 tbsp unsalted butter
2 tbsp flour
4 oz. Cheddar, shredded
3 oz. Gouda, shredded
2 oz. Gorgonzola, crumbled
1-2 tsp fresh thyme, finely chopped
1/4 tsp black pepper
1 tsp salt
Approximately 1/2 cup Panko breadcrumbs for topping
Directions:
Preheat the oven to 400°F
Place a baking rack on a sheet pan and arrange the bacon in 1 layer on the baking rack - bake for 15 to 20 minutes, until the bacon is crisp
Transfer the bacon to a plate lined with paper towels and chop it up when it's cool enough to handle
Bring a large pot of salted water to a boil. Add the macaroni and cook according to the directions on the package, 6 to 8 minutes - drain well and be sure not to overcook
While the pasta is cooking, heat the milk in a small saucepan, but don't boil it
Melt the butter in a medium pot and add the flour
Cook over low heat for 2 minutes, stirring with a whisk
While whisking, add the hot milk and cook for a minute or 2 more, until thickened and smooth - it doesn't need to get too thick
Off the heat, slowly add in the Cheddar, Gouda and Gorgonzola, fresh thyme, 1 tsp salt, 1/4 tsp pepper - keep stirring it until the cheese is all melted
Add the cooked pasta and crumbled bacon to the cheese sauce and stir well
Pour the pasta into your desired serving dish and sprinkle liberally with the Panko crumbs
Bake for about 20 minutes or until the sauce is bubbly and the pasta and breadcrumbs are browned
Method adapted from Ina Garten and recipe adapted from Mills Tavern