Chicken Soup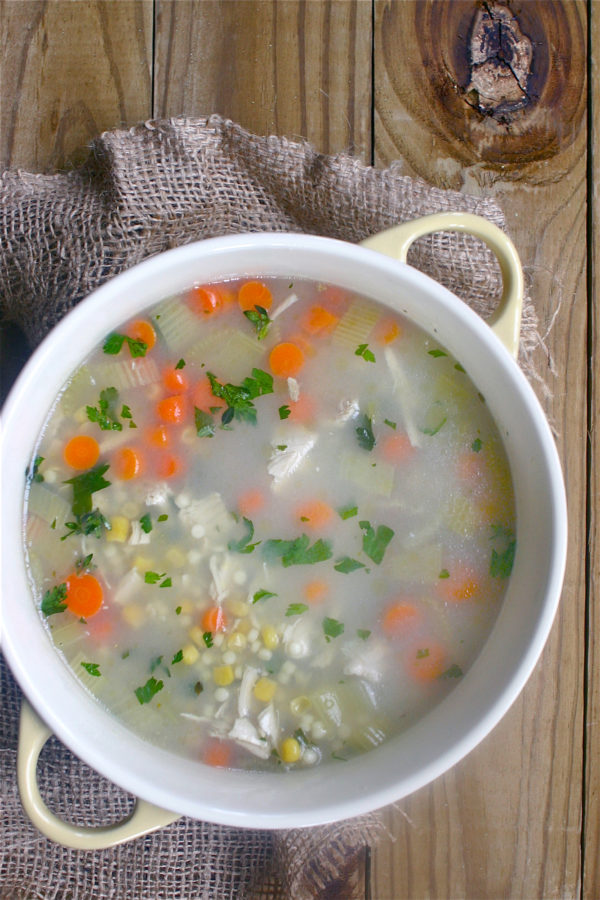 I cannot believe that it is still. snowing. Ugh. When will Spring arrive in New England?! Looks like we'll be making the household staple a couple more times before it's grilling season. This chicken soup recipe has become a serious staple around here this Winter – especially since I can puree it and the baby loves it. I usually double the stock recipe and then freeze half the stock with the chunks of chicken in it. Then when I need dinner in 30 mins, voila! Homemade chicken soup – and all I need to do is chop up some carrots, celery and parsley and throw in some pasta. This recipe has been adapted from my mom's recipe and it's fresh, full of lots of veggies and really just hits the spot on any cold, damp day.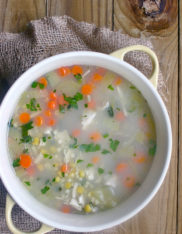 Chicken Soup
Ingredients:
2 large split chicken breasts
2 tbsp olive oil
3 large carrots, chopped (approximately 1 cup) + more for the stock
3 large stalks of celery, chopped (approximately 1 cup) + leaves and small ones for the stock
1 can of corn
1 cup small pasta (I like to use Acini di Pepe)
1/3 cup fresh parsley, chopped
CHICKEN STOCK
12 cups water
1 bullion cube (when doubling I use 3)
1 yellow onion, peeled and quartered
1-2 carrots, roughly chopped
A handful of small stalks of celery plus leaves
A few springs of fresh thyme, rinsed
A handful of fresh parsley (stems and all), rinsed
1 tbsp salt
1 tsp whole peppercorns
Directions:
CHICKEN STOCK
Heat the olive oil over medium-high heat  in a large pot
Salt and pepper the chicken breasts and then add them (bones and all) to the pot and saute for 3-5 minutes until the skin is golden brown
Next, add the water, bullion, onion, carrots, celery, fresh thyme, fresh parsley, 1 tbsp salt, 1 tsp whole peppercorns
Cover the pot and bring everything to a boil (be careful not to let it boil over)
Once it's boiling, reduce it to a simmer for 45-60 minutes
After 45 minutes check to see if the chicken is cooked - if it is, remove it and place it on a cutting board to cool before removing the skin and cubing
Once the chicken is fully cooked, remove the skin and chop the chicken into bite-size pieces.  Then place the skin and bones back into the pot of stock and let it simmer for another 30-60 minutes
Strain the entire contents of the pot into a clean pot- what you're left with is your delicious homemade chicken stock!
PUTTING IT ALTOGETHER...
Place the pot of chicken stock over medium-high heat and add in the cup of chopped carrots, cup of chopped celery, corn and cubes of chicken
Bring the soup to a boil and then reduce it to a simmer
Add in the cup of pasta to the simmering soup and stir frequently until the pasta is cooked
Once the pasta is cooked, turn off the heat, cover the pot and let it sit.  It's definitely ready to eat immediately, but I think it's better if it sits for about 20 minutes, covered and with the heat off
When you're ready to serve, add in the chopped fresh parsley and top with your favorite crumbled crackers  (mine are Ritz) - yum!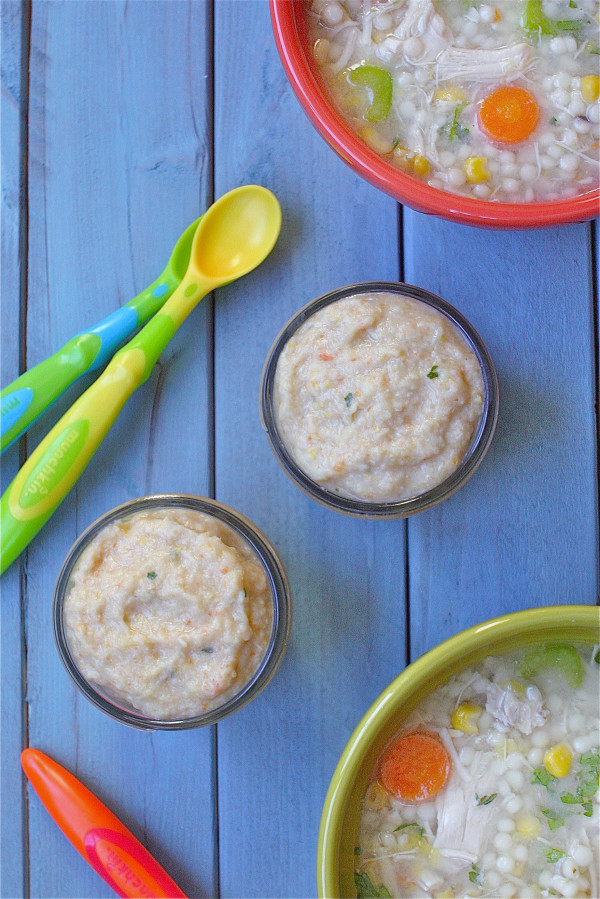 *Please consult with your pediatrician before feeding your baby any solid food