Al Forno's Grilled Pizza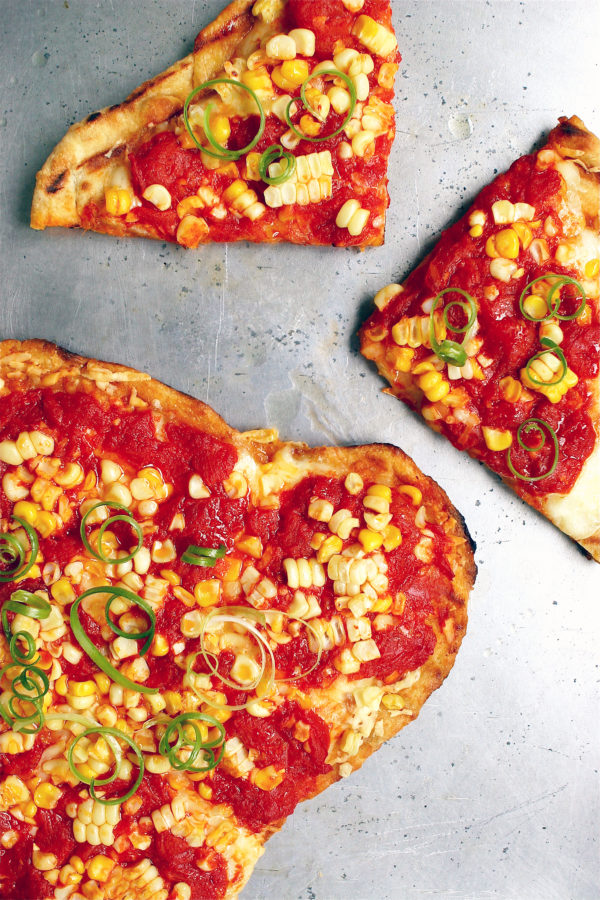 If you've never been to the restaurant Al Forno in Providence, RI – you're missing out. Really, you are. They have the best pizza ever. I have their cookbook and, naturally, the first thing I tried to recreate was the grilled pizza. The taste is there – 100%.

However, for the life of me, I cannot get my crust to be as thin as theirs is. In the restaurant it's literally cracker thin. Mine ends up being about 1/4″ thick – which isn't that thick – it's just not Al Forno thin. Regardless, I'll keep making this pizza at home because it's still just that good. And I'm open to any suggestions anyone may have as to how I can get my crust to be thinner! Lastly, If you're ever in Lil' Rhody – do yourself a favor, and get to Al Forno.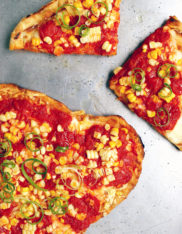 Al Forno's Grilled Pizza
Ingredients:
DOUGH
1 envelope (2 1/2 tsp) active dry yeast
1 cup warm water
Pinch sugar
2 1/4 tsp kosher salt
1/4 cup johnnycake meal or fine-ground white cornmeal
3 tbsp whole-wheat flour
1 tbsp olive oil
2 1/2 to 3 1/2 cups unbleached white flour
GARDEN TOMATO SAUCE
6 tbsp virgin olive oil
4 large cloves minced fresh garlic
2 - 28 oz. cans whole peeled tomatoes (you could also use 24-30 fresh Italian plum tomatoes), seeded and chopped
1 tsp sugar
1 tsp kosher salt
TOPPINGS
2 cups loosely packed, shredded fontina
1/2 cup freshly grated Pecorino Romano
4 ears fresh corn, cooked and cut off the cob
Scallions, thinly sliced
Directions:
DOUGH
Dissolve the yeast in warm water with the sugar
After 5 minutes, stir in the salt, johnnycake meal, whole what flour and olive oil
Gradually add the white flour, stirring with a wooden spoon until a stiff dough has formed
Place the dough on a floured board and knead it for several minutes, adding only enough additional flour to keep the dough from sticking
When the dough is smooth and shiny, transfer it to a bowl that has been brushed with olive oil.  To prevent a skin from forming, brush the top of the dough with olive oil and cover it with plastic wrap.  Let it rise in a warm place away from drafts until it's doubled in size, 1  1/2 - 2 hours
Punch down the dough and knead it once more.  Let the dough rise again for about 40 minutes
Punch down the dough - if it's sticky knead in a bit more flour
GARDEN TOMATO SAUCE
Heat the olive oil in a deep saute pan or heavy bottomed pot
Add the garlic and saute until fragrant
Add the chopped tomatoes and sugar and cook over moderate heat, stirring frequently for about 10 minutes or until the sauce starts to thicken
Add the salt - set aside until ready to use (at this point, if you want to make it exactly the way they do at Al Forno, you can puree the sauce using an immersion blender or regular blender/food processor)
PUTTING IT ALL TOGETHER...
Prepare a hot grill (or hot charcoal fire if you have one) - get it up to about 500°F
On a large, oiled, inverted baking sheet, spread and flatten the 1/4 of the pizza dough with your hands into a 10-12" free form circle 1/8" thick.  Do not make a lip and make sure it's an even thickness
When the fire is hot, use your fingertips to lift the dough gently by the two corners closest to you, and drape it onto the grill.  Catch the loose end on the grill first and guide the remaining dough into place over the fire.  Within a minute the dough will puff slightly, the underside will stiffen, and grill marks will appear
Using tongs, immediately flip the crust over onto the coolest part of the grill.  Quickly brush the grilled surface with olive oil.
Scatter the cheese over the dough and spoon dollops of tomato sauce over the cheese - do not cover the entire surface of the pizza with tomatoes
Finally, drizzle the pizza with 1-2 tbsp olive oil and the corn and slide the pizza back toward the hot side of the grill - but not directly over it
Using tongs, rotate the pizza frequently so that different sections receive the high heat; check the underside to be sure it's not burning
The pizza is done when the top is bubbly and the cheese melted (about 6-8 minutes)
Top with the sliced scallions (to get the scallions to curl, slice them into thin strips and place them in an ice bath) and serve immediately!
Because the recipe for dough makes enough for 4 pizzas, I always double their Garden Tomato Sauce recipe (I've written it as doubled).  I like my pizza a little saucier than it is in the restaurant so I like having extra sauce as an option.  Plus, this sauce is also delicious over pasta, so it never goes to waste.