Chocolate Dipped Shortbread

This is one of those recipes that you probably already have all the ingredients to right in your pantry. It mainly requires butter, sugar and flour – and oh yeah, chocolate. What sensible person doesn't always have a stash of chocolate in their cupboard? This is a Barefoot Contessa recipe and it does not disappoint. It's so simple, but so good. Plus, it makes adorable Christmas cookies that look very festive and would be perfect for gifting.

I usually stick to the star shaped cookie cutters but you could definitely make these in any shape you desire – snowflakes and Christmas trees would also be super festive. You can find tons of cookie cutters right on eBay! They also have great options for holiday cellophane bags to wrap up these cute goodies as well as holiday nonpareils and sprinkles for decorating.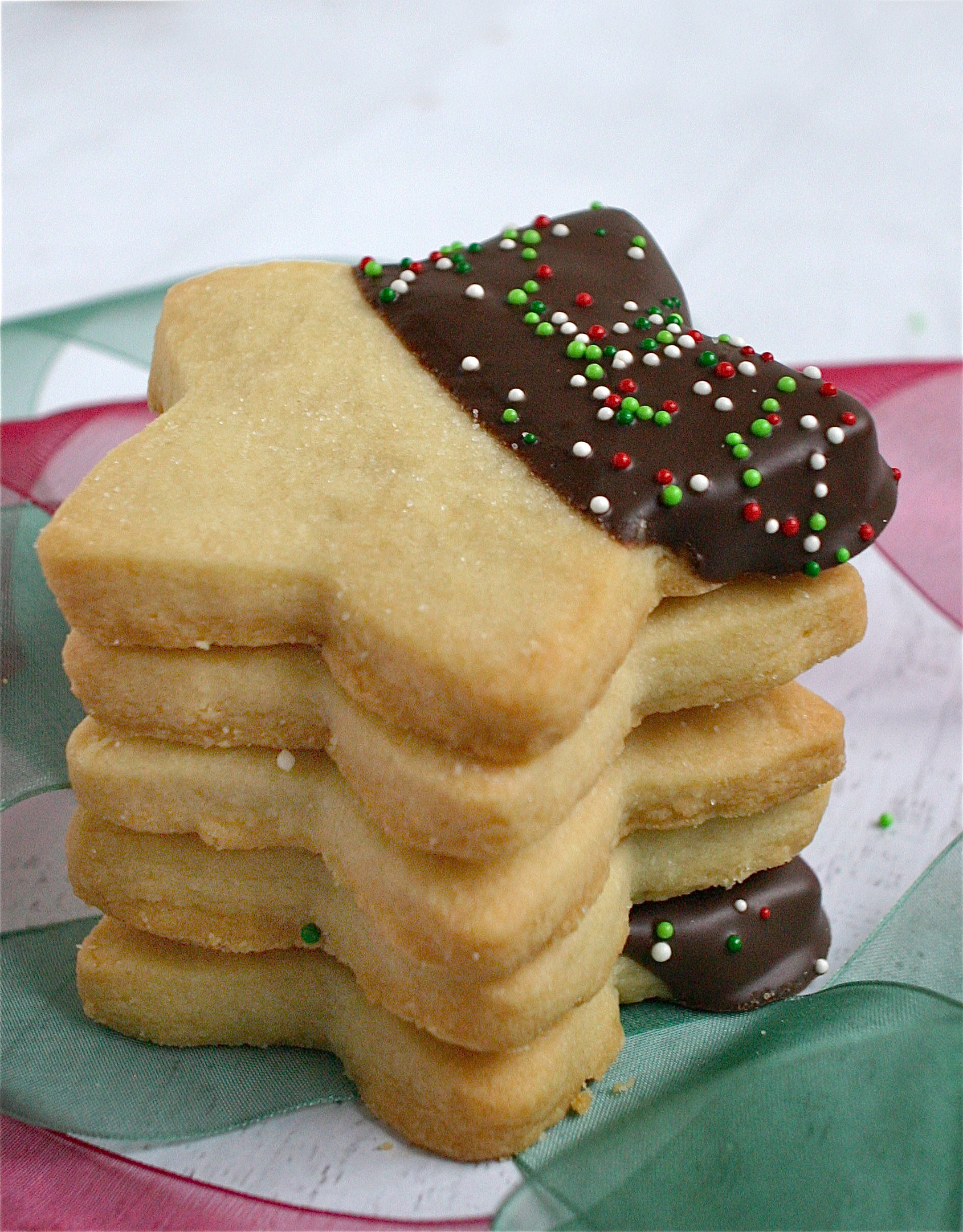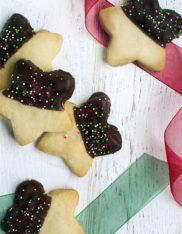 Chocolate Dipped Shortbread
Ingredients:
3 sticks unsalted butter, room temp
1 cup sugar, plus more for sprinkling
1 tsp vanilla
3 1/2 cups flour
1/4 tsp salt
6-7 oz. good semisweet chocolate (I like to use Ghirardelli)
Directions:
Preheat the oven to 350F.
In the bowl of an electric mixer fitted with the paddle attachment, beat together the butter and sugar until they're just combined.
Add the vanilla and mix it in.
In a separate bowl, sift together the flour and salt.
With the mixer on low speed, add the flour to the butter and sugar mix until the dough starts to come together. This might take a few minutes, so just be patient. It will look crumbly at first but then it will start to come together.
Transfer the dough to a floured surface and form it into a flat disk.
Wrap the dough in plastic wrap and chill for 30 minutes.
Roll the dough 1/2" thick and cut out with your cookie cutters. Place the cookies on an ungreased baking sheet, sprinkle the cookies with some sugar, and bake for 20-25 minutes - until the edges begin to brown.
Alow the cookies to cool and then get ready to dip them. Get a baking sheet lined with parchment paper ready for the chocolate dipped cookies.
Melt the chocolate using a double broiler or using your microwave. If using the microwave, put it in a glass bowl and microwave on high power for 30 second increments - stirring it up each time you take it out. You want the chocoalte to be just melted - be careful not to overdo it!
Dip half the cookie into the chocolate and then place on the parchment paper and sprinkle with nonpareils. Allow the cookies to set until the chocolate has hardened again.