Baked Shrimp Scampi

I posted this Ina Garten recipe awhile back but I didn't do it enough justice. This is hands down the BEST shrimp scampi you will ever eat. I literally order shrimp scampi in every Italian restaurant I go to – mainly because I'm not a big fish person, so cooking it is not second nature. But every time I make this dish myself, I'm reminded that A) it doesn't compare to anything I've had in a restaurant and B) it's actually quite easy to make. Baking the shrimp in the oven allows you to prep it ahead, which is always a bonus for me. Plus, it creates a delicious, crunchy buttery topping that you get with baked stuffed shrimp not traditional shrimp scampi.
The pasta that I like to serve with it is the perfect complement. It's not overpowering and it's fresh, requires few ingredients and can also be prepped ahead of time (double bonus). So, at the end of the day, the only thing you're doing "last minute" is boiling pasta. That's my kind of dinner. Don't deprive yourself of this perfect summer meal – if any part of you likes shrimp scampi and baked stuffed shrimp, this baked shrimp scampi needs to be on your dinner table.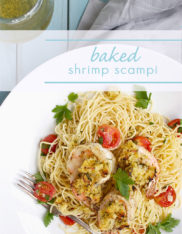 Baked Shrimp Scampi
Ingredients:
Shrimp
2 lb. large shrimp (U8-12), deveined with the tails still on
3 tbsp olive oil
3 tbsp dry white wine
1 1/1 tsp salt
1 tsp black pepper
Topping
8 tbsp (1 stick) unsalted butter, softened
4 tsp minced garlic (4 cloves)
1/4 cup shallots, finely chopped
3 tbsp fresh parsley, finely chopped
1 tsp fresh rosemary, finely chopped
1/4 tsp crushed red pepper flakes
1/2 tsp salt
1/4 tsp pepper
1 tsp grated lemon zest
2 tbsp freshly squeezed lemon juice
1 extra large yolk
1 cup panko
Pasta
1 lb. angel hair
1/3 - 1/2 cup olive oil
4 large cloves garlic, finely chopped
1/2 cup fresh parsley, chopped
1/2 tsp red pepper flakes, or to taste
1 cup parmesan cheese
2 cups cherry tomatoes, halved
Directions:
Butterfly the shrimp but leave the tails on.
Place the shrimp in a mixing bowl and combine with the olive oil, white wine, salt and pepper - let the shrimp sit and marinate at room temperature while you prepare the topping.
In a small bowl, mash the softened butter together with the garlic, shallots, parsley, rosemary, red pepper flakes, lemon zest and juice, egg yolk, panko and salt and pepper (don't be afraid to use your hands to get everything well mixed).
Arrange the shrimp in one layer, cut side down around the edge of a 14 inch oval gratin dish, you want the tails curling up facing in towards the middle of the dish - pour the remaining marinade over the shrimp.
Spread the topping evenly over the shrimp. If you're making this ahead, stop here and refrigerate until you're ready to bake.
Bake at 425°F for 12-15 minutes (last time I made this I ended up cooking for 20 minutes because I had prepped it in the morning and it was still cold when it went into the oven) or until its hot and bubbly and the shrimp is totally pink - you can broil it for a minute or so to brown the top if it's not crunchy enough.
While shrimp is cooking, prep the pasta. Boil the angel hair according to package directions.
In a small saute pan, saute the garlic and red pepper flakes in the olive oil until the garlic is fragrant.
Once pasta is cooked, coat it with the garlic olive oil, and then tosss it with the chopped parsley, cherry tomatoes and parmesan cheese.
Serve the pasta up topped with shrimp and drizzled with sauce from the shrimp as well as the crispy breadcrumbs!