Christmas Sugar Cookies
I cannot believe that Christmas is almost 10 days away!  How did that happen?  My kids will be out of school Friday, which means it will be crazy mayhem around here 24/7.  Glad I'm prepping for Christmas by making more Christmas cookies instead of wrapping gifts – whoops.  Priorities, priorities.  Anyway, these Christmas Sugar Cookies are delicious, fun and looking like they're going  to be a holiday staple around here.
This Christmas Sugar Cookie recipe is easy to make and perfect for cutting out fun shapes to decorate with the kids or by yourself, in peace – I enjoyed both the former and the latter. I made a double batch of these Christmas Sugar Cookies to bring to school last week so the kids in first grade could decorate them for a holiday craft party. They were a major success. The kids loved both decorating the cookies and eating massive quantities of frosting and candies. Lucky for me, I packed up my stuff just as their sugar high set in… byeeeee kids! 😬
I ended up decorating the rest of the cookies myself and, not gonna lie, had fun doing it. I had bought Betty Crocker Cookie Icing for the kids to use and had extra in Red, Green and White. This stuff is amazing and so easy to use. I've made royal icing in the past and, by all means, if you have the time and energy – go for it. But, this ready-made cookie icing makes decorating Christmas cookies much, MUCH easier. To get this look, I just traced the edge of the star cookie in alternating colors all the way to the center. Then I used a toothpick to swirl the colors into one another and it turned into this beautiful marbleized pattern. This particular pre-made icing sets very quickly and I thought the cookies looked great. I would have had 5 more examples of color combinations to photograph if my boys hadn't eaten 5 cookies right before bed the night before I was set to take these pictures, but you get the idea. 😉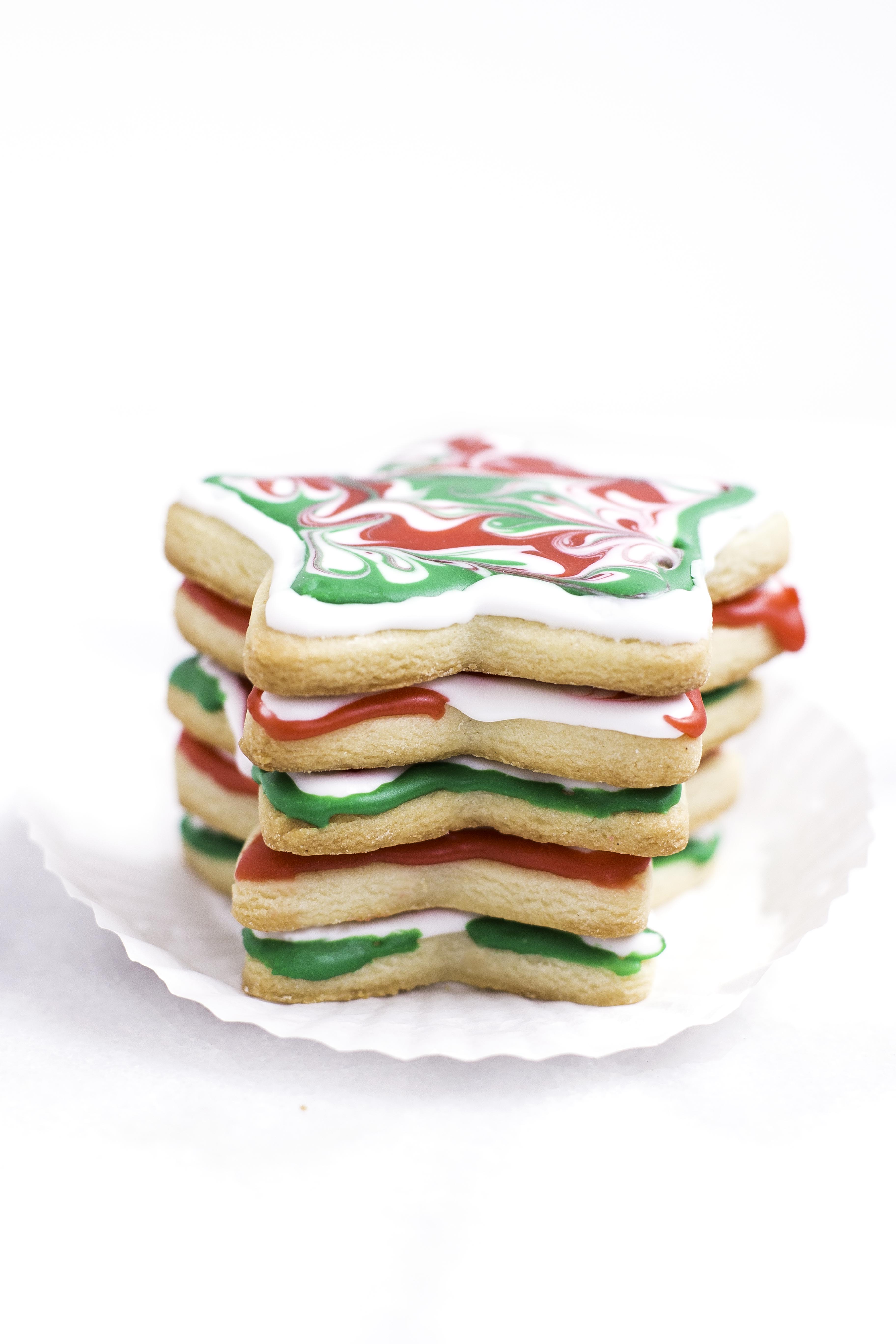 The sugar cookie itself isn't overly sweet and is firm; it holds its shape well when cutting out the shapes, which is always a plus. I think these Christmas Sugar Cookies have definitely earned a spot in our holiday cookie repertoire. Happy decorating!

Christmas Sugar Cookie
Ingredients:
1 cup sugar
2 sticks unsalted butter
1 tsp vanilla
1 egg
3 cups flour
2 tsp baking powder
1 tsp salt
Betty Crocker Cookie Icing (red, white and green)
Directions:
Cream together the sugar and butter until light and fluffy.
Scrape down the sides and add in the vanilla and egg, mix until combined.
In a medium bowl, sift together the flour, baking powder and salt.
Slowly add the dry ingredients to the wet ingredients with the mixer on low.  Mix until it's no longer crumbly and has formed into a solid dough.
Form the dough into a flat disc and wrap with plastic wrap.  Refrigerate for 1-2 hours or until firm.
When you're ready to make the cookies, preheat oven to 350°F and line 2 baking sheets with parchment paper.
Roll the dough out on a lightly floured surface until it's about 1/4" thick and cut out the shapes.  Bake for about 10 minutes or until the edges are golden.  Allow the cookies to cool completely before decorating.
To get the look of these cookies, trace the edge of the cookies with alternating colors until you get to the middle.  Once the surface of the cookie is covered with icing, use a toothpick to swirl through the colors to get the marbleized effect.  Allow the icing on the cookies to completely set before storing.