Chicken Paella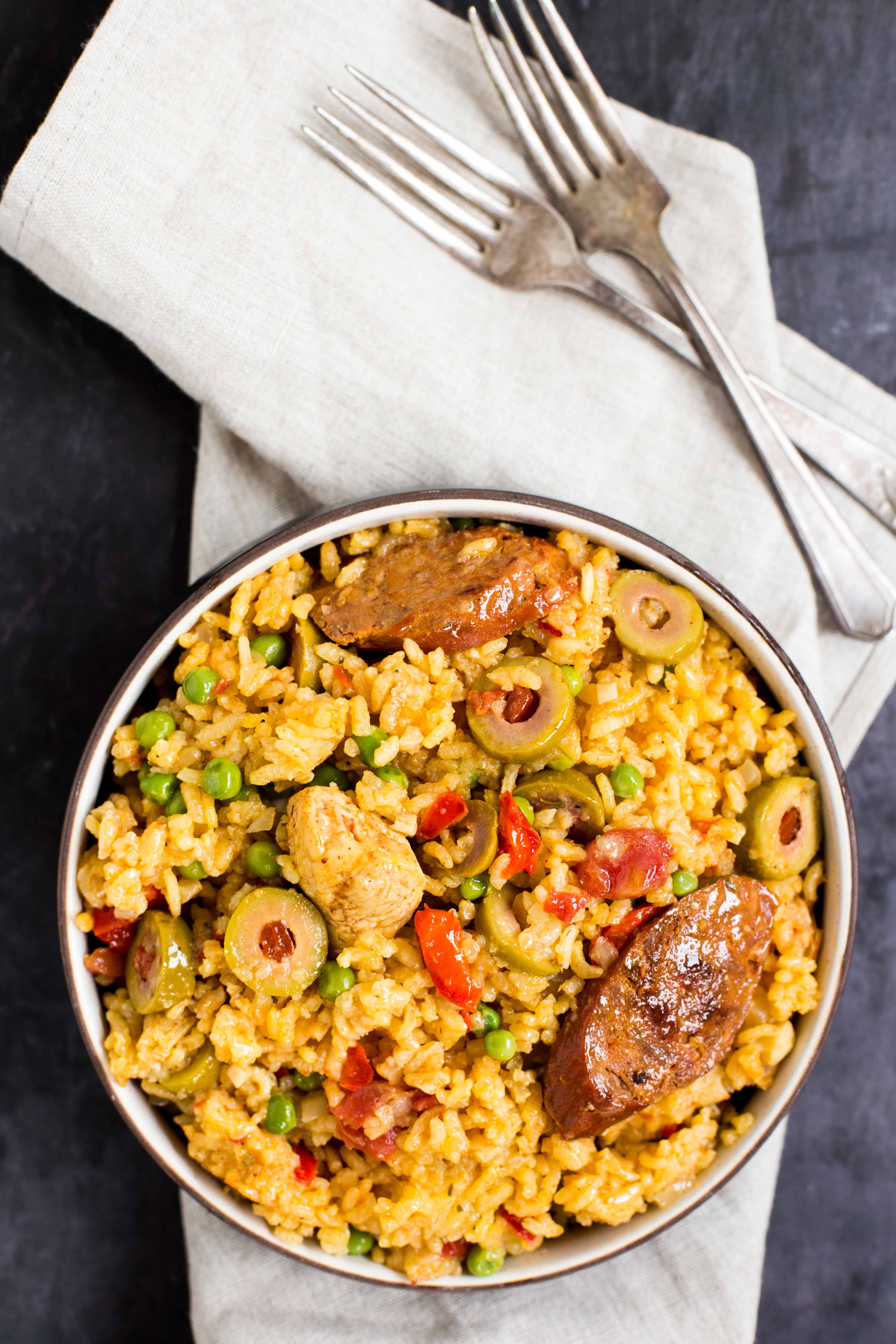 I cannot believe that summer is only 3 short weeks away for my kiddos! That is an INSANE thought. This year has flown by… even though this winter was literally the most torturous winter ever. We've been crazy busy around here with baseball, end-of-year happenings and life in general. But, I wanted to post something and this Chicken Paella was something I made for dinner this week that I hadn't made in a long time. I wanted to update the picture for the recipe and directions and reintroduce this delicious dish because I feel like it has gotten lost in the archives.
The first time I attempted Chicken Paella was while pregnant with Henry in October 2012 – it was a serious pregnancy craving of mine. I've made it many times since and each time it gets better and better; it never disappoints. You could also easily substitute or add in shrimp with the chicken if you prefer that flavor.
Another reason things have been a little quiet around here is because I've been working on my children's book, which looks like it's finally coming together!


I'm working with an amazing illustrator, Ian Chio and he's doing an unbelievable job bringing my vision for the characters and story to life. I cannot wait to share more about this project with everyone as it gets closer to completion and publication.  This has certainly been a learning experience but I'm so glad that I'm doing it.  As we head to into summer I'll be getting this ready to print and (hopefully!) by the time it's ready to go we'll all be back in Christmas mode, haha!
As we head towards the weekend, consider making this tasty Chicken Paella for your relaxed Sunday dinner – it's a great one pan dish that is really surprisingly easy to make.  And – bonus – you'll have leftovers to start your week off!  Have a great weekend, everyone,  and hopefully we can get in some nice weather and fun times outside.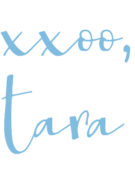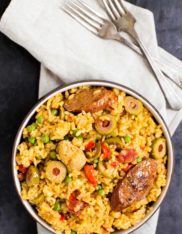 Chicken Paella
Ingredients:
Approximately 1 lb. chicken tenderloin or thick breast (a bit over is good), chopped into bite-sized pieces

Season with paprika, oregano, salt and pepper

1 medium link of chourizo/chourico (spicy Spanish/Portugese sausage)
1/8 cup olive oil
1 medium Spanish onion (sweet onion), finely chopped
4 cloves garlic, pressed
1 red pepper, chopped small
1 cup green Spanish olives (the kind stuffed with pimentos), sliced
1 - 15 oz. can diced tomatoes, drained
1 cup frozen peas, thawed (take these out a the beginning of your prep so they're thawed by the time you need them)
2 cups medium-grain rice (don't use Uncle Ben's)
4 cups chicken broth, warmed
Pinch of saffron (yes, it's expensive, but a little bit goes a long way - consider it an investment)
Salt, pepper and crushed red pepper flakes to taste
Directions:
Add the pinch of saffron to the warmed chicken broth and allow it to bloom while you prepare everything else.
Slice up the chicken tenderloin into bite-size pieces and season both sides with salt, pepper, paprika and oregano - set aside.
Remove the casing of the chourizo (just give it a shallow slice down the middle and pull it off), then slice it on an angle into thick pieces.
Heat the olive oil in a large, deep saute pan (you need one with a lid) - add the chourizo and brown it, then remove it and set aside.
Add the chicken to the same pan and cook it in the oil from the chourizo - once the chicken is browned and mostly cooked, remove it and set aside.
Add the onion to the pan and cook it for a few minutes, then add the garlic and peppers and saute until the vegetables have softened.
Pour in the drained tomatoes and toss in the olives and season with salt, pepper and crushed red pepper if you want some kick.
Add in the rice and stir until it is all evenly coated with the juices from the vegetables.
Place the chicken and chourizo back into the pan and add in the warmed chicken broth with saffron.
Give everything a stir and bring the contents of the saute pan to a boil and then lower the heat to low and cover with the lid.
Leave the paella alone for 15-20 minutes - check to see if the rice is cooked and if it is not give it a quick, gentle stir and put the lid back on for another 10 minutes (I usually cook it for about 25-30 mins), turn off the heat, add in the thawed peas and stir.
Put the lid back on and let it rest for at least another 5 minutes, then enjoy!