Eggplant Parmesan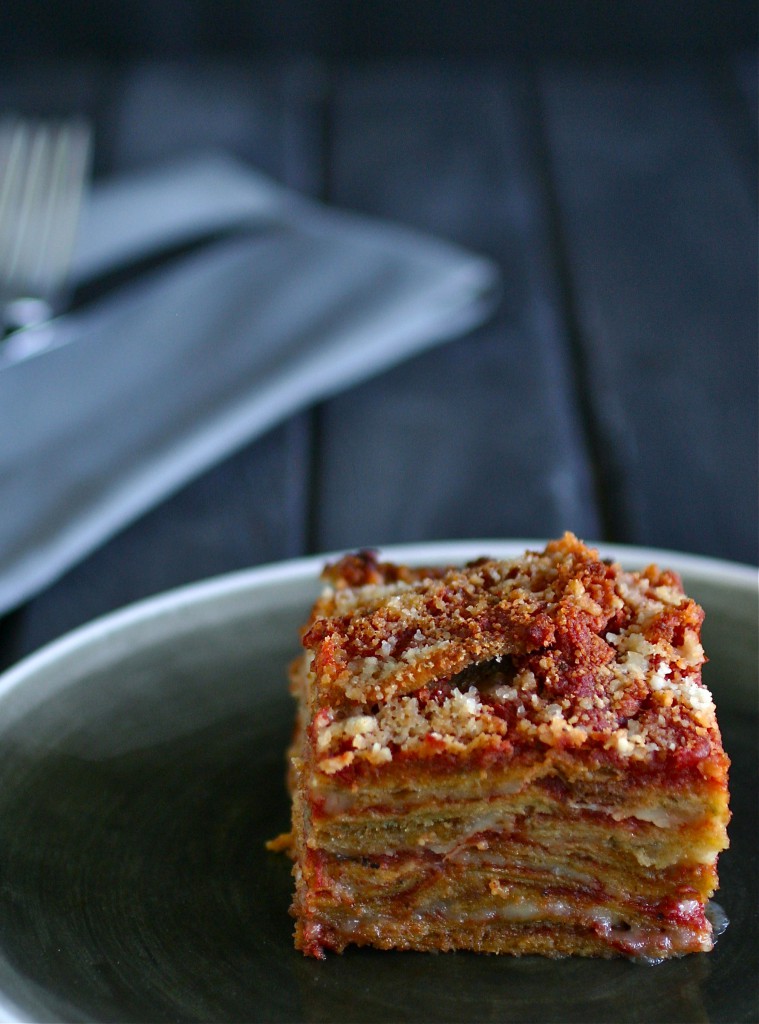 If you couldn't tell, I'm slightly obsessed with Italian food… I'm pretty sure that even if you don't like eggplant, you'll like this. 
INGREDIENTS
1 large eggplant (try to pick a male eggplant because they have less seeds – here's how you tell if it's male or female)
5-6 eggs, beaten
2-3 cups Italian breadcrumbs
Approximatel 1 1/2 cups olive oil
Robust Red Sauce (approximately 1-2 cups, depending on preference)
Mozzarella cheese, grated
Parmesan cheese (or Pecorino Romano), grated
HOW TO MAKE IT
Prepare your eggplant by peeling it and slicing it very thin, at most 1/8″ thick (I think I'm going to buy a mandolin to make this process easier)
Pour the eggs, and breadcrumbs into two separate containers (I use these breading pans – they're great)
Dip your eggplant slice into the egg and then coat it in breadcrumbs
Continue this process with all of the eggplant slices
Brush a baking tray with olive oil and place the eggplant onto the tray
Generously brush the breaded eggplant slices with olive oil
Bake for 20 minutes (10 minutes on each side) at 350°F
Remove the eggplant from the oven and layer the slices on a dish in between paper towels (to blot excess oil)
Lightly coat the bottom of a deep casserole dish like this one with the tomato sauce
Place a layer of eggplant down and spoon more sauce on top of eggplant, I usually make sure it's covered but I don't like to use too much
Next, put down a layer mozzarella cheese and then sprinkle a bit of parmesan (or pecorino) – you can make this as cheesy as you want, but I wouldn't put down too much because it adds up over the layers
Put another layer of eggplant on top of that and follow the same steps until you reach your desired height
Bake in the oven at 350°F for about 30 minutes (covered for 20, uncovered for 10) or until it's heated through
Note: Re-shot the pic because the original wasn't doing this deliciousness any justice.  Original pic taken:
Trackbacks/Pingbacks

Leave a Comment
You must be logged in to post a comment.