Meatballs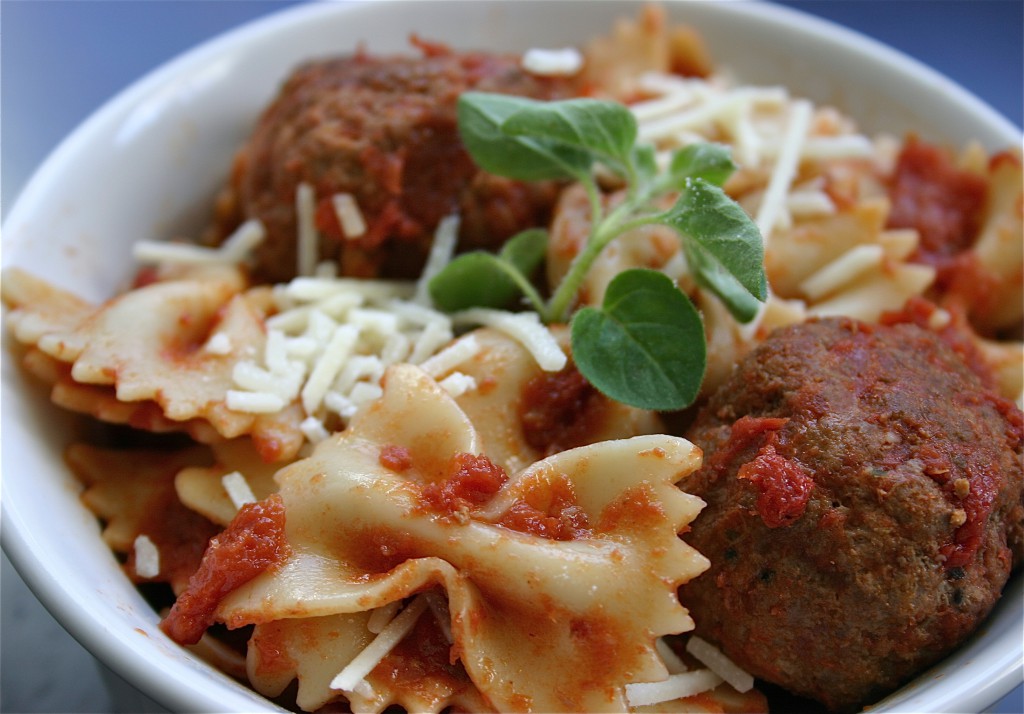 I must admit, I had never made meatballs until I tried this Barefoot Contessa recipe.  My mom usually makes them in bulk and gives me some – so I never had the opportunity to make them myself.  But I'm glad I tested this recipe out because it tastes very different from my mom's meatballs – the meat is very tender and not overpowered by any particular flavor, it's just perfectly blended and seasoned.  
INGREDIENTS
1/2 pound ground veal
1/2 pound ground pork
1 pound ground beef
1 cup fresh white bread crumbs (4 slices, crusts removed – pulse in food processor until they've become crumbs)
1/4 cup seasoned dry bread crumbs
2 tbsp chopped fresh flat-leaf parsley
1/2 cup freshly grated Parmesan cheese
2 tsp salt
1/2 tsp black pepper
1/8 teaspoon ground nutmeg
1 extra-large egg, beaten
Vegetable oil
Olive oil
HOW TO MAKE IT
Place the ground meats, both bread crumbs, parsley, Parmesan, salt, pepper, nutmeg, egg, and 1/2 – 3/4 cup warm water in a bowl
 Combine very lightly with a fork
Using your hands, lightly form the mixture into 2-inch meatballs. (You will have 14 to 16 meatballs, if you make them a bit smaller you can get up to 24)
Pour equal amounts of vegetable oil and olive oil into a large (12-inch) saute pan until the bottom of the pan is liberally coated.  Heat the oil.
In batches, place the meatballs in the oil and brown them well on all sides over medium-low heat, turning carefully with a spatula or a fork

This should take about 10 minutes for each batch
Don't crowd the meatballs
Remove the meatballs to a plate covered with paper towels
Alternatively, you could bake the meatballs in the oven at 350°F for 10 minutes

Add the meatballs to a pot full of Robust Red Sauce
Cover, and simmer on the lowest heat for 25 to 30 minutes, until the meatballs are cooked through

If you've made more meatballs than you need, don't fret!  These freeze beautifully – I usually freeze them as meals with sauce; perfect for a weeknight dinner!