Rainbow Cake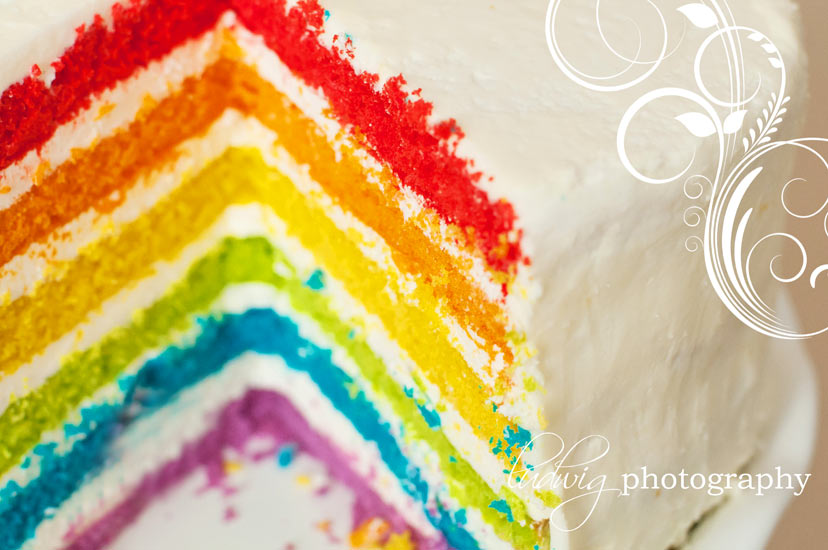 The minute I came across this recipe on Whisk Kid's blog, I just had to try it.  I also had the perfect occasion to do so – Charlie's 1st Birthday!  Not only does the cake and Swiss Meringue Buttercream frosting taste amazing, but it's also such a fun cake!  The professional photos are courtesy of the amazing photographer, Beth Ludwig of Ludwig Photography, who took Charlie's 1 year photos.  She did an unbelievable job capturing his little personality.  I really felt like I had accomplished something with this cake, and hope that Charlie likes it enough to want it on his birthday every year!
*You could definitely try to do this with boxed white cake and store-bought frosting, however, I think that the density of this particular cake and most definitely the frosting is what gives it its structural integrity and makes it look so perfect.  With that said, I won't judge…
INGREDIENTS
CAKE
2 sticks unsalted butter, room temp
2 1/3 cups sugar
5 egg whites, room temp
2 tsp vanilla
3 cups flour
4 tsp baking powder
½ tsp salt
1 1/2 cups milk, warmed for 30 seconds in microwave to bring to room temp
Red, orange, yellow, green, blue and purple GEL food coloring

Liquid will not be vibrant enough!
FROSTING
To fill and crumb coat:
9 egg whites
1 ¾ cups sugar
4 sticks unsalted butter, room temp
2 tsp vanilla extract (I used the artificial clear vanilla extract to be sure the frosting stayed as white as possible)
To frost:
5 egg whites
1 cup sugar
2 sticks unsalted butter, room temp
1 tsp vanilla extract
HOW TO MAKE IT
CAKE
Preheat the oven to 350°F. Oil and line how ever many 9" cake pans you have (I have four and I just reused them)
Sift together the flour, baking powder and salt. Set aside.
Cream the sugar and butter, then add the egg whites (I cracked them all into one bowl) and add them a little at a time.
Add the vanilla and mix until fully incorporated.
Then, alternating between wet and dry, add the milk and flour mixture in two parts.
Divide the batter amongst 6 bowls (it's about 1 cup each)
Whisk a fair amount of the appropriate food color into each bowl

Keep in mind that the color of the unbaked batter will be the color of the baked batter.

Pour into the pans and bake for approximately 15 minutes each
When you remove them from the oven, let them rest on the cooling rack, in the pan, for ten minutes. Then flip, wrap in plastic wrap, and stash them in the freezer to cool quickly
FROSTING
Cook the egg whites and sugar in a small saucepan over medium heat, whisking constantly, until the mixture has reached 160°F
The sugar should be completely dissolved (test by rubbing some between your fingers. If it's completely smooth, it's done)
Pour into another bowl (a stand mixer is preferable) and whip on high speed until room temp.
Then, on a medium-slow speed, add the butter, waiting until each piece is completely incorporated before adding the next (count to 10 in between each piece)
After all the butter has been added, turn the mixer back to high speed and whip until it has come together, about five minutes
Add the extract, beat briefly and then use

If the buttercream seems soupy after all of the butter is added and does not come together after whipping, refrigerate for 5 to 7 minutes and continue whipping until it becomes fluffy and workable.
Here are Whisk Kid's step-by-step directions for making this frosting, I recommend reading this over before attempting it!
PUTTING IT ALL TOGETHER…
Stack the layers in your preferred order and fill and frost as you would any other cake – make sure you have a good amount of frosting in between each layer so you get the right visual effect
Once frosted, the cake can be left on the counter without any problems, but you can also refrigerate it.
Just be sure that the cake is at room temperature when serving or the frosting will be hard, not smooth