Gnocchi Primavera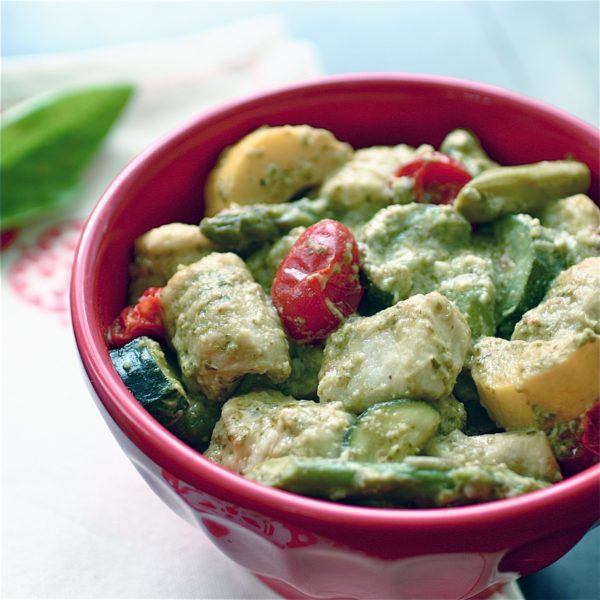 I feel like I've been posting an awful lot of sweets lately, so here's a nice summery dinner option.  I was able to whip up a batch of fresh pesto (thanks to my little herb garden) and put the gnocchi I've got stocked up in the freezer to good use.  You can really make this with whichever fresh veggies you want, but these worked well.  The light sour cream gives the pesto a richness and creaminess without much extra fat.
INGREDIENTS
1 – 16 oz. bag of gnocchi (either store-bought or homemade)
1 bunch of large asparagus

Woody ends snapped off, cut into thirds

 1 pint (12 oz.) cherry or grape tomatoes

Make a small slit in the skin, this will prevent "exploding" tomatoes later

1 medium yellow summer squash
1 medium zucchini

Cut both of these in half lengthwise and then crosswise into 1/2″ pieces

3/4 cup pesto (either store-bought or homemade)
1/2 cup light sour cream
HOW TO MAKE IT
Bring a large pot of salted water to a boil
Add the asparagus, squash and zucchini to the pot – return to a boil and boil for 1 minute
Add the gnocchi; cover the pot just until the water returns to a boil
Uncover and cook for 2 minutes more or until the gnocchi float to the surface and the vegetables are crisp tender
Strain the veggies and gnocchi and transfer to a serving bowl
Mix pesto and sour cream in the pot, stir in the tomatoes
Pour the sauce over gnocchi and toss to coat everything evenly
*Recipe adapted from Woman's Day – Easy Italian Meals
Leave a Comment
You must be logged in to post a comment.