Pesto Tortellini Salad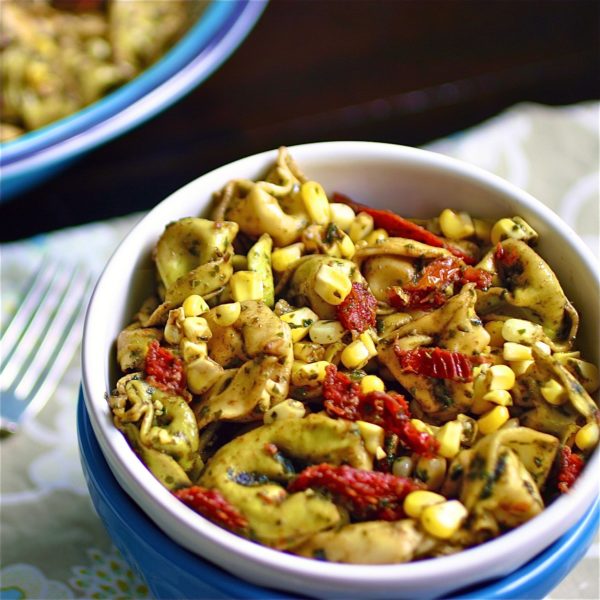 I could literally eat this dish for breakfast, lunch or dinner – it's that good.  Lots of fresh summer flavors in there and it's a nice departure from the usual pasta salad.
INGREDIENTS
1 lb. fresh cheese tortellini (I like to use Buitoni mixed cheese tortellini - one package is actually 1 lb. 4 oz.)
1/2 cup sun dried tomatoes in oil, drained and chopped
1-2 ears of corn, boiled or grilled and then cut off the cob
 1/2 cup pesto sauce (store-bought or homemade)
Approximately 1/3 cup balsamic vinaigrette
Salt, to taste
HOW TO MAKE IT
Bring a pot of salted water to a boil and then cook your tortellini according to the package directions and then immediately strain
Place half of the pesto sauce in the bottom of the pot you just cooked the tortellini in and then add the tortellini back to the pot – add in the rest of the pesto sauce and mix well until the pasta is evenly coated in pesto
Add in the chopped sun dried tomatoes and corn kernels (you can add as much or as little of these ingredients, it's up to you)
Lastly, pour over the balsamic vinaigrette – keep in mind that the pasta will absorb a lot of this liquid
Season with salt to your taste and then refrigerate until you're ready to serve

I like to bring it up to room temperature before I serve and I'll add in a little bit more vinaigrette if it needs it
Leave a Comment
You must be logged in to post a comment.