Chocolate Covered Banana Ice Cream Cake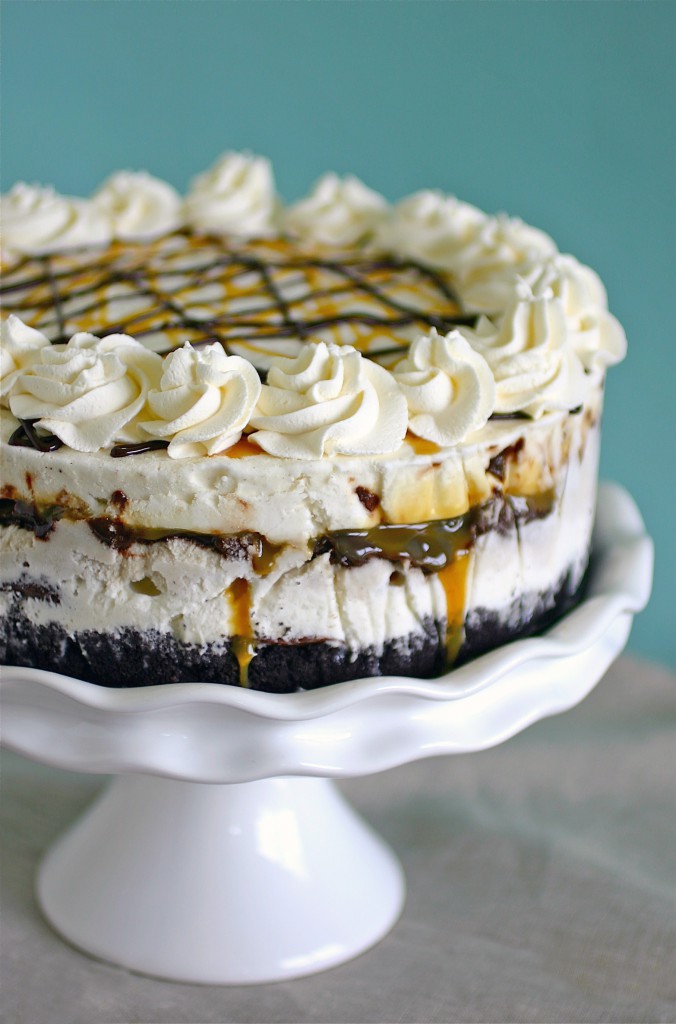 In the midst of this heat wave, why not give you all another excuse to eat a delicious ice cream treat.  I thought this up after I was tempted to try out the "fat free banana soft serve" you can make by tossing frozen bananas into a food processor… it's a good thing I took that fat free "soft serve" and added fudge, caramel, oreos, chocolate covered bananas and ice cream to it (oh, and fresh whipped cream).  I guess some things are just not meant to be fat free.  Consider this my take on a Banana Split ice cream cake and indulge.
INGREDIENTS
20 whole Oreo cookies
3 tbsp butter, melted
2 ripe bananas, frozen
1-2 ripe (but not overly ripe) bananas, not frozen and sliced 1/4″ thick
1 – 11.5 oz bag milk chocolate chips (I used Ghirardelli) + 1 tbsp shortening (I use Crisco)
2 – 1.5 quarts Edy's Vanilla Bean Ice Cream
Approximately 1 cup chocolate fudge, warmed so it's loose (can be store-bought or homemade) + more for decorating
Approximately 1 cup caramel sauce (store-bought or homemade) + more for decorating
2 cups fresh whipped cream for decorating (store-bought or homemade)
HOW TO MAKE IT
Cut a 24-by-6-inch strip of parchment paper (you can also use plastic wrap)
Butter the side of an 8-inch springform pan, then line the side with the parchment paper; the paper will extend a bit above the rim of the pan
Place the Oreos in your food process and process until they're fine crumbs – then add in the melted butter and pulse a few times until it's incorporated
Press the Oreo crumb mixture into the bottom of the pan to form your crust – you can extend it up the sides if you want, set aside
Line a sheet pan with wax paper to prepare for the chocolate dipped banana slices
Pour the chocolate chips into a microwave safe bowl and microwave on high in 30 second intervals, stirring in between (I never exceed 1 minute 30 seconds)
Dip your unfrozen banana slices into the chocolate and place in the refrigerator on a wax paper lined sheet pan
Take your frozen bananas and ice cream out of the freezer – set aside ice cream to thaw while you prep bananas
Place frozen bananas in the food processor and process until very smooth (this takes a bit of time but WILL happen) – scrape down the sides as needed, it will be the consistency of soft serve
Now you're ready to assemble…
Put a layer of chocolate dipped bananas on top of the Oreo crust
Next, put down a thick layer of ice cream (halfway up the pan) – smooth it out with a spatula
Now add your layer of soft serve banana goodness
Next heavily drizzle your fudge and caramel, then add vanilla ice cream until you've reached the top of your pan – smooth it out with a spatula
Freeze until firm, at least 6 hours or overnight
Remove the side of the springform pan and the parchment and decorate with the whipped cream and more fudge and caramel
Serve immediately or freeze for up to 2 days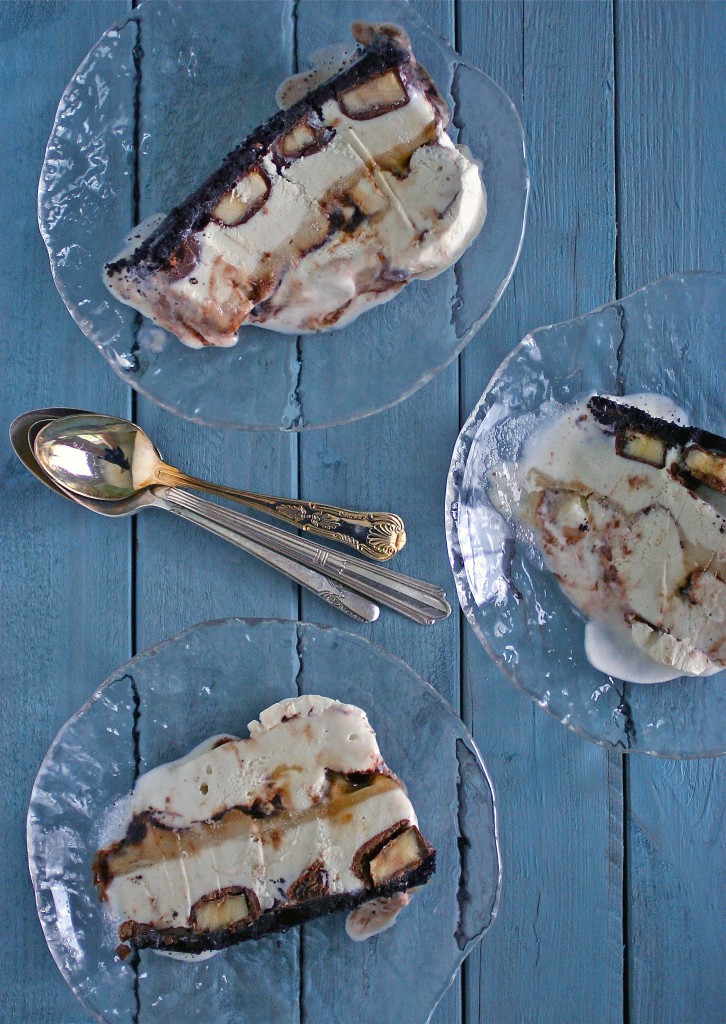 *To get this look with the decorating, I used squeeze bottles for the fudge and caramel sauces and a pastry bag for the whipped cream
You must be logged in to post a comment.