Tomato Bisque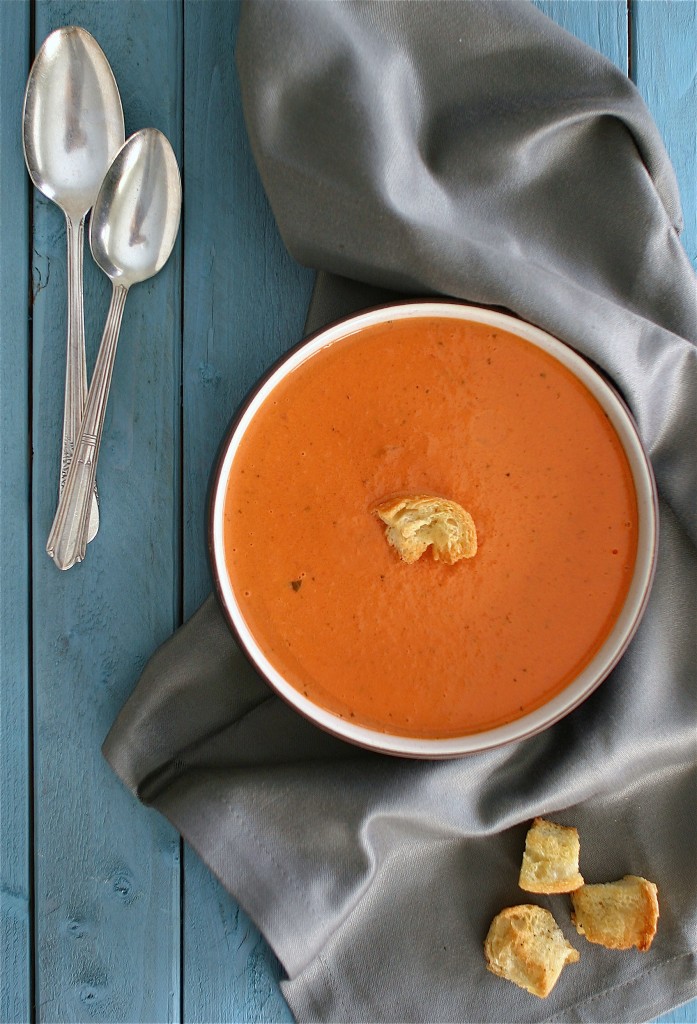 Another one of my husband's all-time favorite foods is tomato bisque.  Seems easy enough, right?  As he explained, "Just mix some tomato paste and water together and add some sugar" — Not quite.  I also wanted something that wasn't just a marinara sauce that we were calling "soup."  And we found it.  The addition of sherry to this soup gives it an edge and the perfect amount sweetness.  This soup is full of flavor, simple and pairs perfectly with a toasty grilled cheese or homemade croutons.
I know I should be starting the new year off with a light and healthy recipe – but this soup is too good not to share.  If you have one ladle… with a salad… it's not that bad for you.  After all, isn't it all about moderation?  Happy New Year!
INGREDIENTS
1 medium white or yellow onion, finely chopped
6 tbsp salted butter
2 – 14.5 oz. cans petite diced tomatoes
1 – 46 oz. can/bottle plain tomato juice
3 tbsp sugar
2 chicken bouillon cubes
1 cup sherry
1 1/2 cups heavy cream
1 tsp salt
Fresh ground black pepper, to taste
1/4 cup fresh basil, chopped
1/4 cup fresh parsley, chopped
HOW TO MAKE IT
Start off by chopping the onions and melting the butter in a large pot or dutch oven – sauté the onions until they're translucent
Next, add in the diced tomatoes and stir and then the tomato juice and stir to combine
Add in the sugar and salt – stir to combine
Next toss in the bouillon cubes and stir
Turn up the heat and let it go until the soup is almost boiling, then turn it down to low
Add in the sherry and cream and stir to combine
Lastly, toss in the basil and parsley and add in the fresh ground pepper
At this point, if you like your soup a little "chunky" leave it as is.  I preferred to use an immersion blender to get a really smooth and slightly thickened soup (if you don't have one of those you could also use your food processor or blender to puree the soup; just make sure you wait until it has cooled down – DON'T ever do it while it's hot!)
Most importantly, once you think you're done, taste the soup!  If the seasonings need to be adjusted make sure you do that until it tastes just right.  I always find that after I let it "sit" for awhile off the heat I can really gauge the flavor.
Source: Recipe adapted from Ree Drummond