Shepherds Pie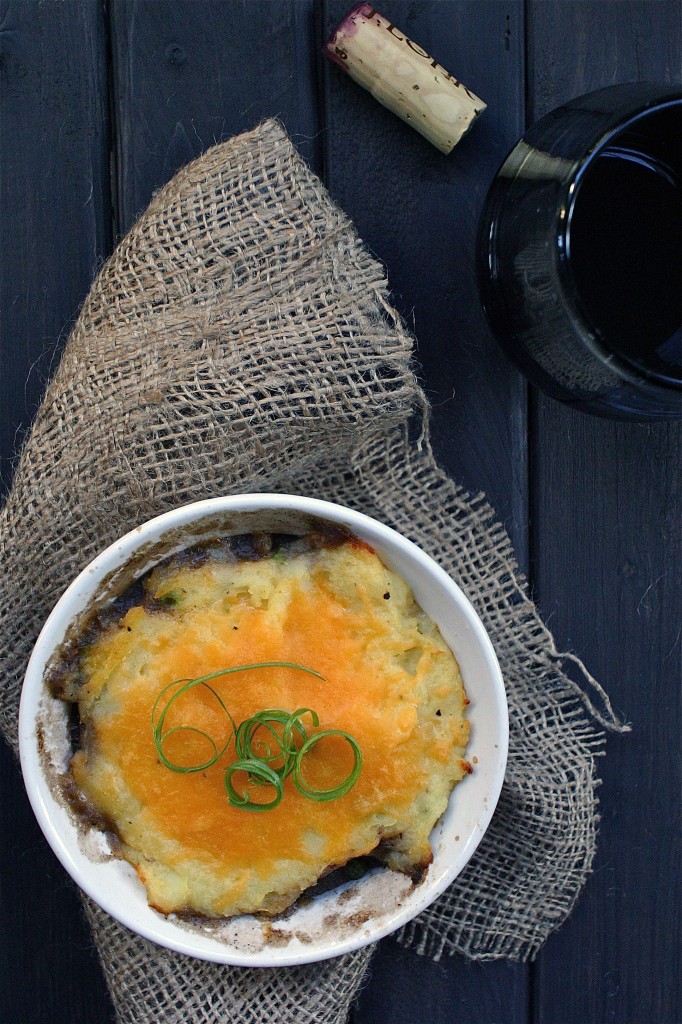 Although my mother is an unbelievable master of Middle Eastern cuisine, some American basics were just not happening growing up.  For example, mashed potatoes.  Made in a food processor.  We ate them anyway, but as soon as I learned how to cook for myself, mashed potatoes was something I wanted to master.
Which brings us to Shepherds Pie – definitely one of my favorite wintertime comfort foods.  The buttermilk scallion cheddar mashed potatoes on top of the mushroom wine sauced meat is ridiculously good.  Think of this as the Shepherds Pie you know and love stepped up a notch or two in the flavor department.  You'll definitely want seconds.
INGREDIENTS
FILLING 
1 tbsp olive oil
1 1/2 lb ground beef
1 medium onion, finely chopped
1 cup carrots, finely chopped
1/2 pound mushrooms, finely chopped
1 cup corn
1 tbsp tomato paste
1 tbsp fresh thyme, chopped
2 tbsp fresh parsley, chopped
1/8 tsp cinnamon
1 tbsp all-purpose flour
1 cup red wine
1 1/2 cups beef stock
Salt and ground black pepper, to taste
TOPPING
3 lb Yukon gold potatoes
6 tbsp unsalted butter
1/2 cup buttermilk
1/2 cup milk
1 cup cheddar cheese, shredded
3 scallions, finely chopped
1 tsp salt (if you have seasoned salt on hand, I'd do 1/2 tsp regular, 1/2  tsp seasoned) and fresh ground black pepper to taste
HOW TO MAKE IT
FILLING
Heat olive oil over medium-high heat in a deep saute pan
Season the ground beef with salt and pepper and brown it; then remove the meat from the pan with a slotted spoon
Add the onions to the pan and saute until the onions are tinged brown at the edges – about 5 minutes
Add the chopped carrots and cook for 5 minutes
Add the mushrooms, corn, tomato paste, thyme, parsley and cinnamon – stir and saute for 2 minutes
Next, stir in the flour, which will soak up the juice, then stir in the wine and the beef stock
Taste and add salt and pepper, as needed. Return the meat to the pan and bring to a boil
Cover, turn down the heat to low and simmer for about 30 minutes
TOPPING
While that's simmering, peel the potatoes, cut them into large even-sized pieces and place into a pot of cold, salted water
Bring the water to a boil and cook potatoes until they are tender, about 10 minutes – potatoes are done when a knife can easily go through
When the potatoes are done, drain off the water, return them to the saucepan over low heat until the extra water has evaporated
Next, add the butter and milks and mash them to a puree – then fold in the cheese and scallions (reserve some of each to sprinkle on top as well) and season with salt and pepper
When the meat is ready, spoon it into a 9-by-13-inch baking dish and level it out with the back of the spoon
After that, spread the mashed potato evenly all over. Sprinkle the reserved scallions and cheese on top of the potato
Bake the pie until the top is crusty and golden, about 25 minutes.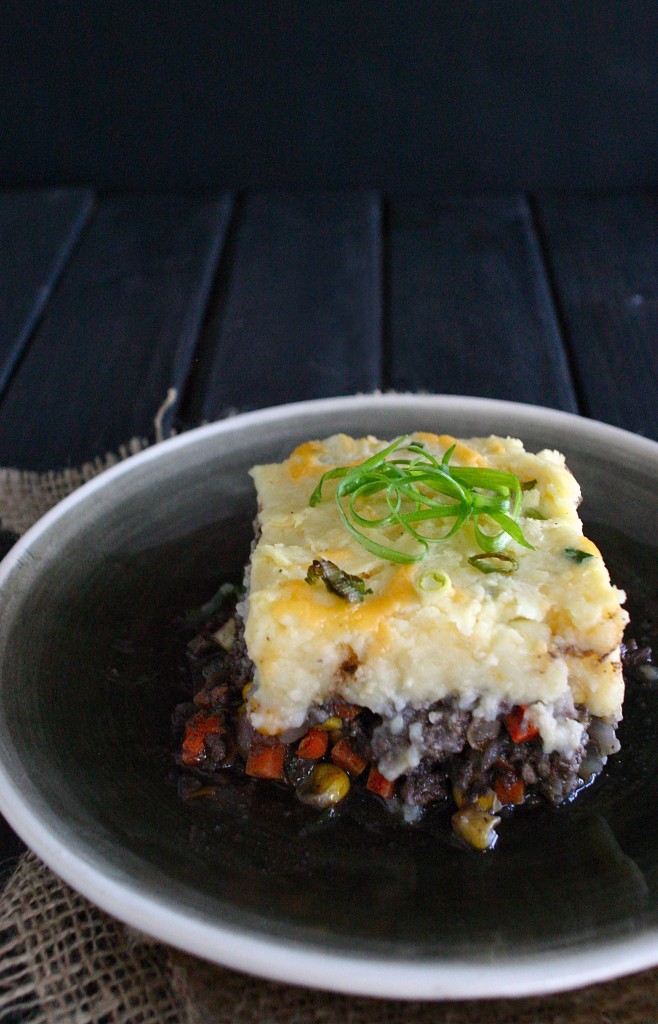 Source: Recipe adapted from Michael Chiarello