Sweet and Spicy Wings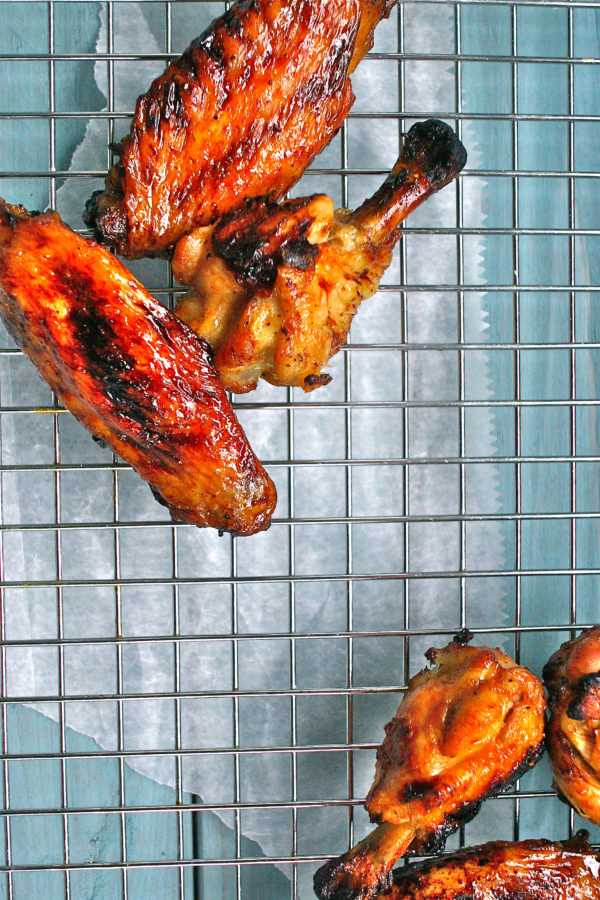 My best friend's husband recently invented a really cool product called Wingerz. This invention is the latest disposable product to "protect the thumb, index and middle finger against all greases and sticky sauces that may prevent you from enjoying Buffalo wings, ribs or any other finger foods due to the mess they leave behind." I will regularly be featuring a tasty but messy recipe that Wingerz would totally be perfect for; and we're kicking it off with these sweet and spicy wings! These wings live up to their name and are deliciously spicy and sweet at the time without being overpowering.

I had never made wings before and was admittedly confused when I took the wings out of the bag from the butcher. "Oh, I need to separate these?" – I thought to myself. Luckily, it's pretty easy to figure out and I'm pretty sure you can buy them already separated as well. Wings are actually very easy to cook in the oven and can totally be grilled as well. Since Bob wasn't around to fire up the grill when I made these, I just threw them in the oven. But I will definitely be posting recipes with grilling instructions as well, so stay tuned. Also, be sure to check out the Wingerz Facebook page and give them a 'Like'!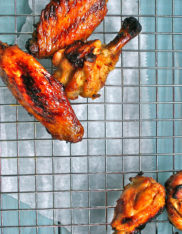 Sweet and Spicy Wings
Ingredients:
4 pounds bone-in chicken wings, tips removed; drumettes and flats separated
2 tbsp vegetable oil or light olive oil
2 tsp salt
SAUCE
1/4 cup balsamic vinegar
1/4 cup honey
1/4 cup hot sauce (i.e. Frank's Red Hot - which I used - or Tabasco, etc.)
Directions:
Preheat your oven to 400°F
Toss the wings into large bowl and evenly coat with the olive oil and salt
Whisk together the Sauce ingredients in a large bowl and set aside
Set a wire rack inside two baking sheets and place the wings in a single layer on the rack (this is so the fat can drip off and they can get really crispy)
Bake for 30 minutes and then remove from the oven and carefully transfer the hot wings into the large bowl with the Sauce and coat liberally
Place the wings back on the rack and continue to cook for an additional 15-20 minutes or until the wings are crispy and caramelized

Note: The hubby wished there was more Sauce on these wings (I was trying to keep the spiciness in check for the babe), so next time I will keep basting them every 5 minutes or so for that last stretch of baking.