Reese's Brownie Ice Cream Cake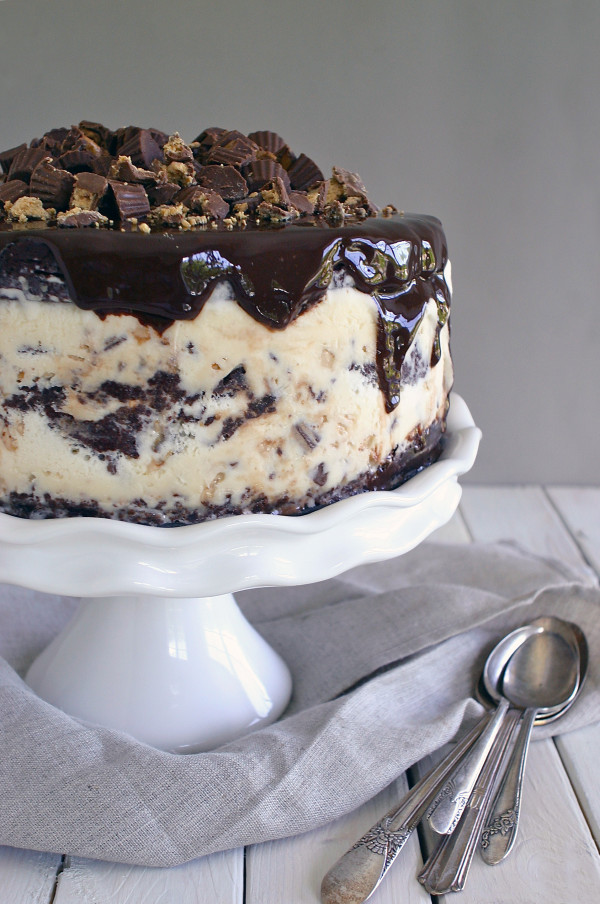 When I saw this cake on Bakers Royale, I just knew I had to make it. I love this blog – the pictures are amazing and the recipes all look unbelievably good. I'm going to start by saying that this cake was delicious. It really was. However, it was next to impossible to cut and serve. I seriously debated whipping out my electric knife to cut through it (and yes, I let it sit out for 10 minutes and dipped the knife into hot water before cutting). Problem is, the super gourmet and rich and chewy brownie she used freezes so hard that it makes it very difficult to cut. With that said, if you don't care about presentation – go ahead and make this exact recipe. Otherwise, I honestly think that next time I might try making this cake with boxed mix brownies – A) because I have no shame and love Betty Crocker's brownies; and B) because I don't think they'll freeze as hard. Regardless of which way you choose to try this cake out – try it. It's ridiculously good. So glad the weather's finally getting warm!
Reese's Brownie Ice Cream Cake
Ingredients:
BROWNIE LAYER
24 tbsp (3 sticks) unsalted butter
12 oz.  unsweetened chocolate
 3 3/4 cups sugar
 3 tsp vanilla extract
 3/4 tsp salt
 6 large eggs
 1 1/2  cups all-purpose flour
ICE CREAM LAYER
Approximately 2 - 1.5 quarts Vanilla Ice Cream (you'll probably use a little less than that)
3 cups mini Reese's cups, chopped
1 1/2 cups toffee bits
TOPPING
1 1/2 cups hot fudge, warmed a bit so it's loose, but not hot!
1 1/2 cups mini Reese's cups, chopped
Directions:
BROWNIE LAYER
Preheat oven to 400F
Place butter and chocolate in a bowl over simmering water - stir frequently until the mixture is melted
Remove chocolate mix from heat and stir in sugar, vanilla and salt
Add the eggs one at a time, stirring until each one is incorporated before adding another
Stir in flour and beat with a wooden spoon until you have a glossy batter - approximately 1 minute
Divide the batter evenly amongst 3 - greased 8" round pans (if you don't have round pans, use a regular rimmed baking sheet for 2/3 of the mix and a half sheet for the remainder)

Note: If you have parchment paper rounds or sheets I would use those as well and still grease the pan before putting the paper down

Bake for 15-20 minutes or until the brownie starts to pull away from the sides of the pan
Allow the brownies to cool completely before assembly
ICE CREAM LAYER
Place the softened ice cream in a bowl and fold in the Reese's and toffee bits
PUTTING IT ALTOGETHER...
Cut a  24" x 6" strip of parchment paper (you can also use plastic wrap)
Grease the side of an 8" springform pan, then line the side with the parchment paper; the paper will extend a bit above the rim of the pan (If you happen to have some acetate laying around (possibly from making a Momofuku Milk Bar cake) I would definitely use that to line the pan as well to get a nice and smooth exterior.)   If you don't own a springform pan (the kind of pan you'd use for cheesecake) just grease a regular 8" round pan and then totally line it (bottom and all) with 2 layers of plastic wrap with a 1" overhang all the way around.
Place a brownie layer on the bottom and then layer ice cream on top (if you're not using the 8" rounds, use a stencil to cut out as many 8" circles as you can from the sheet pans and then just use the scraps to piece together the middle layer)
Repeat until fully assembled, finishing with a brownie layer on top
Freeze until set - probably at least 3-4 hours
When you're ready to finish it off, remove it from the freezer and give it a few minutes to thaw so you can release the springform pan (if you're not using a springform, you might want to even run a hot dishcloth around the exterior of the pan to melt it a bit so you can free it from the pan).  DON'T freak out if it doesn't come out right away!  It needs to melt a little in order to slide out, just be patient
When the cake is out, pour the warmed fudge on top of the brownie layer and sprinkle with the Reese's crumbs to finish
If you're getting this ready for a party or just not ready to serve immediately, just pop it back in the freezer til you're ready to serve and just remember it needs about 10 minutes to thaw so you can get that knife through!
It definitely helps to use a springform pan - if you own one, use it!