Sausage and Peppers Balsamico

This dish has been a serious work in progress. It was also the first recipe I ever posted on the blog almost exactly 3 years ago. I had no idea what I was doing.
I was first introduced to this dish at Adesso, an Italian restaurant in Providence that sadly no longer exists. When I was in high school, one of my best friends tried recreating it. It was good. (Very good, Pam.) But something was missing. I made this dish all through college and kept tweaking it along the way. Then, recently I was thinking about it and how my husband always said it tasted better the next day, when it had "calmed down." The balsamic alone was too strong and needed to be balanced out by something. I remembered that a waiter at Adesso once told us there was beer in the dish. So, I started experimenting… this latest version is pretty damn close to the original. It's sweet, tangy, savory and not at all overpowered by any one ingredient. A great meal to segue from summer into fall.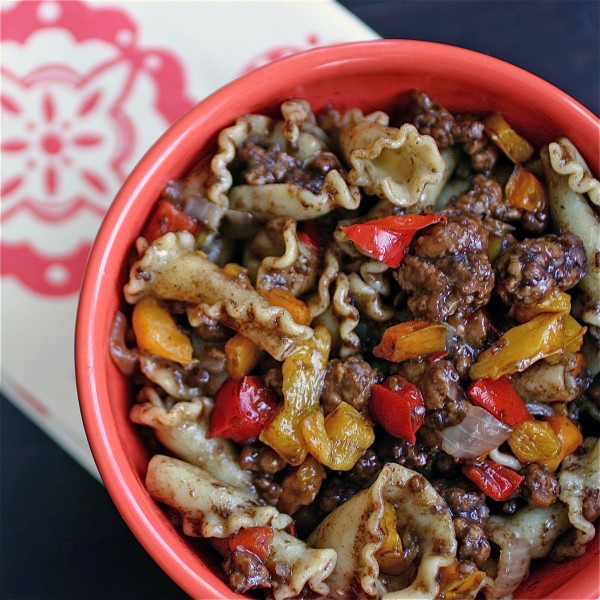 Sausage and Peppers Balsamico
Ingredients:
1  1/2 lb sausage out of the casing (I like to use 3/4 lb spicy, 3/4 lb sweet)
1 red pepper, chopped
1 yellow pepper, chopped
1 orange pepper, chopped
1 large vidalia onion, chopped
2 garlic cloves, chopped
1 lb pasta (any shape you desire – campanelle and penne work well)
SAUCE
2 cups balsamic vinegar
1 cup dark beer
5 tbsp olive oil, divided use
1/2 tsp salt
1 tbsp sugar
3 tbsp cornstarch + 3 tbsp hot water, whisked together
Directions:
Heat 1 tbsp of olive oil in a large, deep saute pan and brown the sausage - once it's mostly cooked, remove it from the pan and set aside in a large bowl
Add the onion to the pan with 1 tbsp olive oil and saute over medium heat until the onions have become translucent, then add in the garlic and saute until fragrant
Add in the chopped peppers and an additional tbsp of olive oil and saute until they're tender - then transfer all contents of the saute pan to the bowl with the cooked sausage
SAUCE
Add the vinegar, beer and remaining 2 tbsp olive oil to the saute pan and bring to a boil, then reduce heat to a simmer
Add in the salt and sugar and let the liquid simmer for 5-10 minutes
Add in the cornstarch and water mixture and stir to combine
Allow the mixture to cook over medium low heat until it has thickened - your sauce is ready
PUTTING IT ALL TOGETHER...
Add the sausage and peppers mixture to the sauce and let it cook together over low heat while you cook the pasta
Cook the pasta in salted, boiling water and make sure to save some (about 1 cup) of the cooking liquid when you strain the pasta
Add the cooked pasta to the sausage and peppers mixture and stir well to combine - if you think your sauce needs to be thinned out a bit use some of the reserved cooking liquid from the pasta to thin it out