Shiitake, Sausage & Leek Stuffing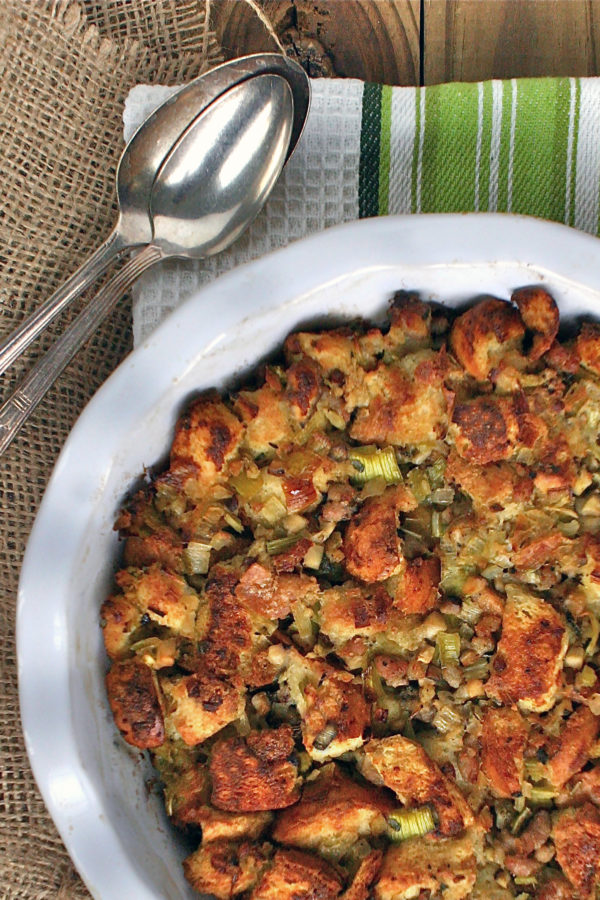 Over the next few weeks I'm going to post a bunch of fabulous fall sides that would be perfect for your Thanksgiving dinner. This stuffing is awesome. I'm not going to lie, I am a fan of the Pepperidge Farm packaged dry stuffing mix and I have an awesome recipe from my sister that she makes every Thanksgiving. But, I was looking to venture away from the pre-seasoned packages and try something totally from scratch. We were not disappointed. The shiitake mushrooms, leeks and sausage work perfectly in this stuffing – it's kind of hard to go wrong with that combination. Of course, if you want to make this vegetarian, you can always leave the sausage out (but I kind of think it makes the dish).
I decided that what I love so much about the pre-seasoned stuffing mixes is that they're really flavorful and not just a bunch of unseasoned bread going into a mix. So, I decided to pre-season my bread with dried herbs before toasting them for a bit in the oven. That, combined with the fresh herbs and everything else makes for an unbelievably flavorful stuffing. You're going to need to gauge the moisture of the stuffing depending on how dried out the bread is. Ideally, you want to be using stale, day old bread – but this recipe is also totally doable with fresh bread.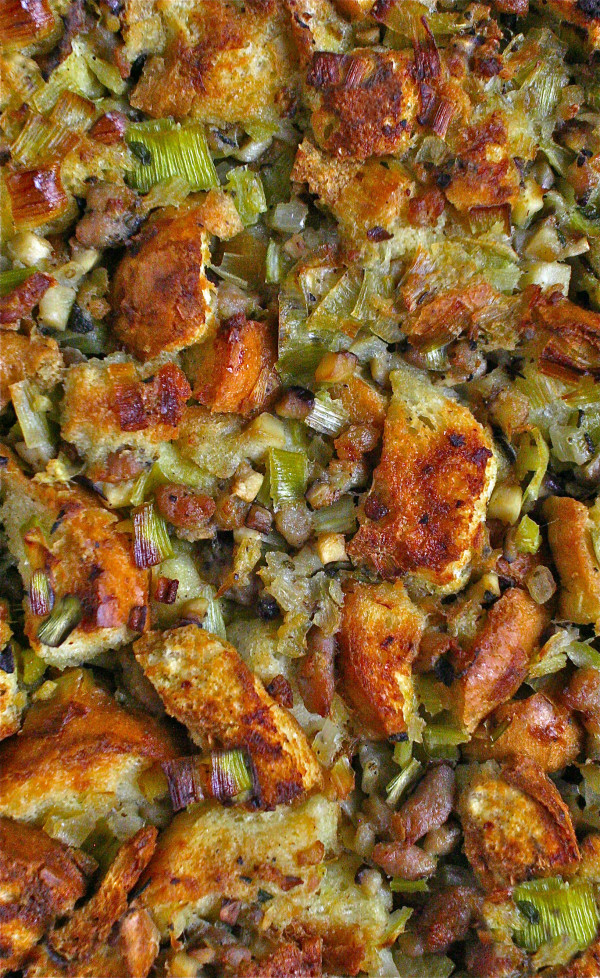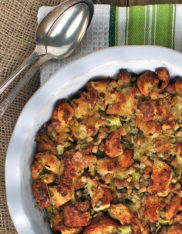 Shitake, Leek & Sausage Stuffing
Ingredients:
THE BREAD
5-6 cups white sandwich bread (approximately 1 large loaf of white bakery style sandwich bread), cut into 1/2" cubes - crusts removed is optional, I happen to like the crust on
Olive oil, for drizzling
1 tsp dried thyme
1 tsp dried sage
Salt and pepper, to taste
THE MIX
2 tbsp olive oil
2 tbsp unsalted butter
1 small white onion, finely chopped
1 leek, white and pale green parts only, finely chopped and rinsed well
1/2 bunch celery, finely chopped
2 garlic cloves, minced
4 oz. shiitake mushrooms stems and caps, finely chopped
1 tbsp fresh thyme
1 tbsp fresh sage
1/2 lb. sweet Italian sausage, casing removed
1 extra large egg, beaten
3/4 - 1 cup chicken broth
6 tbsp unsalted butter, melted
Salt and pepper, to taste
Directions:
Spread the bread cubes into 1 layer on 2 baking sheets - drizzle with olive oil and sprinkle with the dried herbs and salt and pepper
Bake at 350°F for 10-20 minutes depending on if you're using fresh bread or stale bread - the fresher the bread, the longer you need it in the oven.  Toss the bread halfway through baking to ensure even crispness.  Remove them from the oven when the bread is the consistency of a fresh crouton - set aside.
Add the 2 tbsp of olive oil and melt 2 tbsp butter into a large saute pan - add in the chopped onion, leeks, celery and garlic and saute over medium heat until the onions are translucent and tender - about 20 minutes.  Season with salt and pepper to taste.
Add in the mushrooms and cook for another 5 minutes, until they're tender.
Add the fresh thyme and sage to the onion-mushroom mixture and then transfer it to a large bowl and set aside to cool - return the pan to the heat and add in the sausage.  Cook the sausage until it's browned and broken up into small pieces - about 10 minutes.
Add the seasoned bread cubes to the bowl with the onion-mushroom mix and toss to combine - then fold in the sausage.
Before adding the egg to the stuffing mix, taste it to make sure it's seasoned properly.  Add the beaten egg and 3/4 cup chicken broth and mix well - you want the bread to be very moist but not soggy.  If it needs more liquid, add the remaining 1/4 cup of broth.
Place the stuffing into a buttered baking dish and pour the melted butter on top
Bake at 375°F for 45-50 minutes (if you check on it at the 30 minute mark and it's getting too toasty, cover it with aluminum foil)