Marbled Mashed Potatoes

These. are. awesome. After seeing this recipe in the latest Food Network magazine, I knew I had to try it. I'm not really a straight sweet potato kind of gal because I think it tends to be too sweet (especially when topped with marshmallows or candied nuts). So, this mixed up mash perfectly balances the sweet with a really good salty – it's the best of both worlds. I may or may not have a little bit of a mashed potato addiction. The bonus is that they're really pretty looking and would look great on your Thanksgiving table.
Also, on an unrelated note, my comments section – which has apparently never been working properly – should now be fixed! So, please feel free to let me know what you think of this recipe and/or any questions you may have! I'd love to hear from you.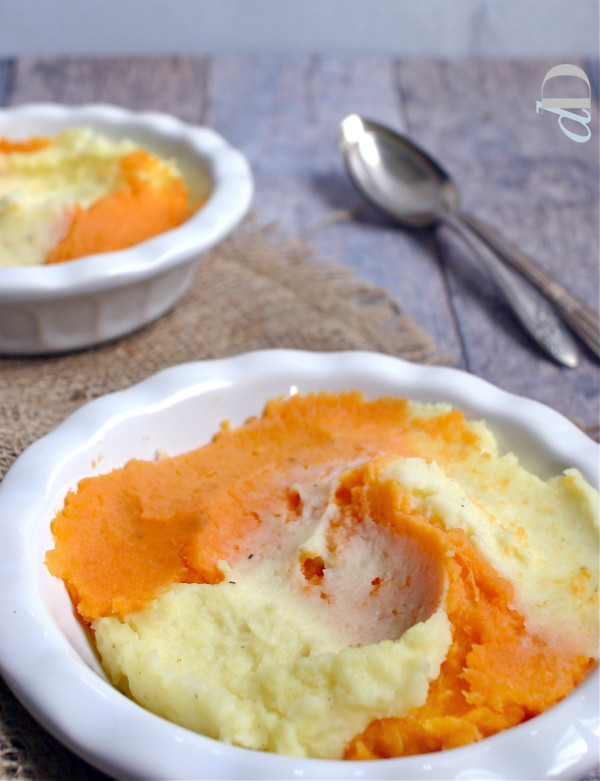 Marbled Mashed Potatoes
Ingredients:
1 lb. Yukon gold potatoes (about 3), peeled and cut into 1/2" thick slices
1 lb. sweet potatoes (about 2), peeked and cut into 1/2" thick slices
6 tbsp unsalted butter, divided
1/3 cup heavy cream, warmed
1/3 cup sour cream
1 tbsp packed light brown sugar
Pinch of cayenne pepper
Salt and black pepper
Directions:
Put the potatoes and sweet potatoes in a large saucepan and cover with cold water by 1" - add a large pinch of salt to the water.  Bring the water to a boil and simmer until the potatoes are easily pierced with a fork (20-25 minutes).
Drain the potatoes and allow them to cool slightly - then separate the two kinds.
To the Yukon gold potatoes, add 3 tbsp butter, heavy cream and sour cream - season with salt and pepper and mash the potatoes with a potato masher (I like to use this ricer to get really smooth potatoes, so I do this step before adding the other ingredients).
To the sweet potatoes, add 3 tbsp butter, brown sugar and cayenne pepper - season with salt and mash the potatoes well.
Alternately dollop the Yukon golds and sweet potatoes in a warmed serving dish and swirl through the middle using the back of a large spoon (potatoes can be made ahead of time and reheated from room temp, covered at 350°F for 20-25 minutes.
Recipe from Food Network Magazine - Thanksgiving Issue