Green Bean Casserole

It seems as though around the holidays there's bound to be a green been casserole making an appearance on the dinner table. I'm definitely one who grew up with the classic recipe on the back of the Campbell's Cream of Mushroom Soup can – and I've also been known to eat those crispy onions on their own. (Who doesn't??) This green bean casserole, however, is something totally different. No, you cannot whip it up in 10 minutes or less. BUT, it's really really good.
And it's seriously topped with onion rings – like REAL onion rings. I'm also a firm believer that you don't need a million and one options for sides; you just need a few really good ones. And trust me – this is a really good, classic one. My boys even loved it and were begging to hop on the "green bean train" – yeah, I went there.
You can prep all three components the day before – the green beans, mushroom cream sauce and the fried onions. Store them separately and put them together before you're ready to bake the casserole. I made the mistake of mixing the sauce with the green beans for the dishes I prepped to take these pictures and they don't look as good as it looked when I baked it immediately after mixing the two (the sauce dropped to the bottom of the dishes and the beans weren't totally coated which is why they shriveled up a bit).  So, next time I'd just keep them separate until right before I'm ready to bake.  It really is worth the extra effort, especially around the holidays and especially if you're offering to bring a side dish to a pot-luck style gathering. Try it just once and you'll have a hard time going back…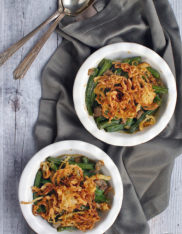 Green Bean Casserole
Ingredients:
1 - 1/2 lbs fresh green beans (if you prefer it to be more sauce, use the lesser amount), trimmed and halved
CRISPY ONIONS
2 medium yellow onions, halved and thinly sliced (I like to use this mandolin to get them really thin)
1/4 cup flour
2 tbsp panko breadcrumbs
1/2 tsp salt
Black pepper, to taste
Canola or vegetable oil for frying
MUSHROOM SAUCE
3 tbsp butter
12 oz. mushrooms, chopped
3/4 tsp salt
Black pepper, to taste
2 garlic cloves, minced
3 tbsp flour
1 1/2 cups chicken broth
1/2 cup heavy cream
Directions:
BEANS
Add the prepared green beans to a pot of salted boiling water and boil for 5 minutes or until they're tender crisp - then transfer them to an ice bath to stop the cooking.
CRISPY ONIONS
Toss together the onion strings/rings with the flour, breadcrumbs, salt and pepper.
Heat 1/2" of oil or so in the same pot you just used and heat it up until it a drop of water splashed in it makes it hiss and sputter.
Add the onions, a handful at a time, so that they're frying in a single layer - fry until they're light golden brown and then remove with a slotted spoon, letting excess oil drip back into the pot, and spread out on a paper towel lined baking sheet.
Repeat with the remaining onions until you're done - set aside until needed.
*If making these ahead of time (up to 1 day), store them loosely wrapped in an open container/bag (I wrapped them in paper towels and put them in an open Ziplock bag).  If you seal these up airtight, they will get soggy.
MUSHROOM SAUCE
Melt the butter over medium high heat in a large saute pan.
Add the mushrooms, salt and pepper and saute until they start releasing their liquid (about 5 minutes)
Add the garlic and saute 1 minute longer - then add the flour and stir it until it totally coats the mushrooms.
Add the broth 1/4 cup at a time, stirring constantly.
Simmer the mixture for a minute then add the cream and bring it back to a simmer, cooking until the sauce thickens - about 5 minutes.
*If you're making this ahead, allow the mixture to cool completely and then store in an airtight container for up to 1 day.
PUTTING IT ALL TOGETHER...
Add the cooked green beans to the creamy mushroom sauce and toss well to coat evenly.
Transfer the green beans to your desired baking dish and top with the fried onions.
Bake at 375°F for about 20 minutes (check on it to make sure the onions aren't getting too dark) - it's done when the sauce is bubbly and the onions have darkened a bit.
*If you've made the components the day before, toss the sauce into a saucepan and heat it up - then add the cooked green beans to the sauce and keep them over low heat until they're heated through.  Then continue as the recipe is written (you may have to bake it a little bit longer if it's not hot going into the oven, like 30-40 minutes and I'd wait til the last 15 minutes to add the onions on top).
Recipe slightly adapted from Smitten Kitchen who adapted from Alton Brown.