Pumpkin Pie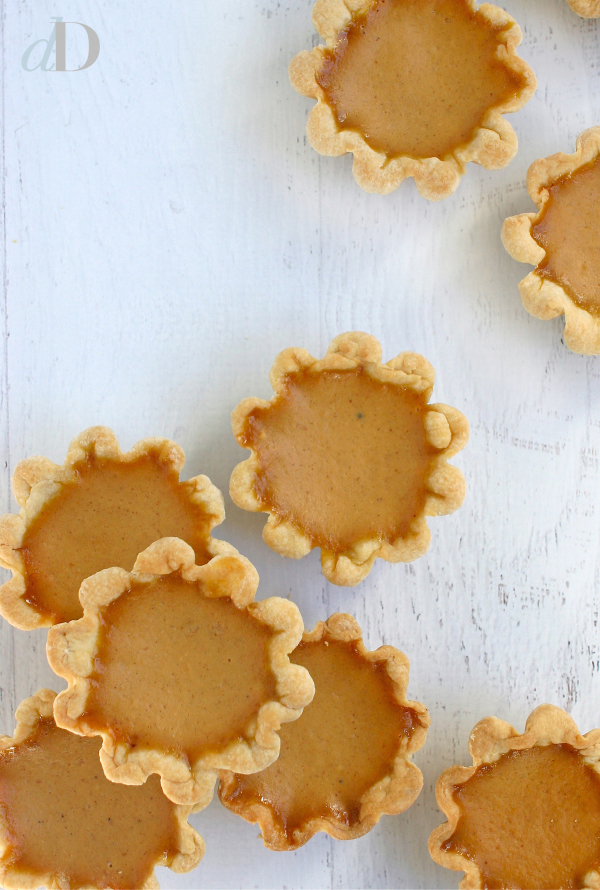 Each Thanksgiving, I'm responsible for bringing the Apple Crumble Pie.  Everyone loves it and everyone looks forward to it… except for my sister, who is the one who hosts us each year at her home.  Her favorite is the classic pumpkin pie.  So, this year, I wanted to bring her favorite dessert as well!  I gave this Martha Stewart recipe a test run and she approved.  It's sweet, but not overly sweet and has just the right consistency. 
If you're making it ahead of time (I suggest only the day before), place a paper towel over the top when storing it in the fridge to soak up the little water droplets that will form on the surface.  I made these into mini pies using small tart pans that I have, but you could also use muffin tins if you want them to be miniature.  Making it into a large pie is easiest though, so if you're tight on time I'd stick with that option.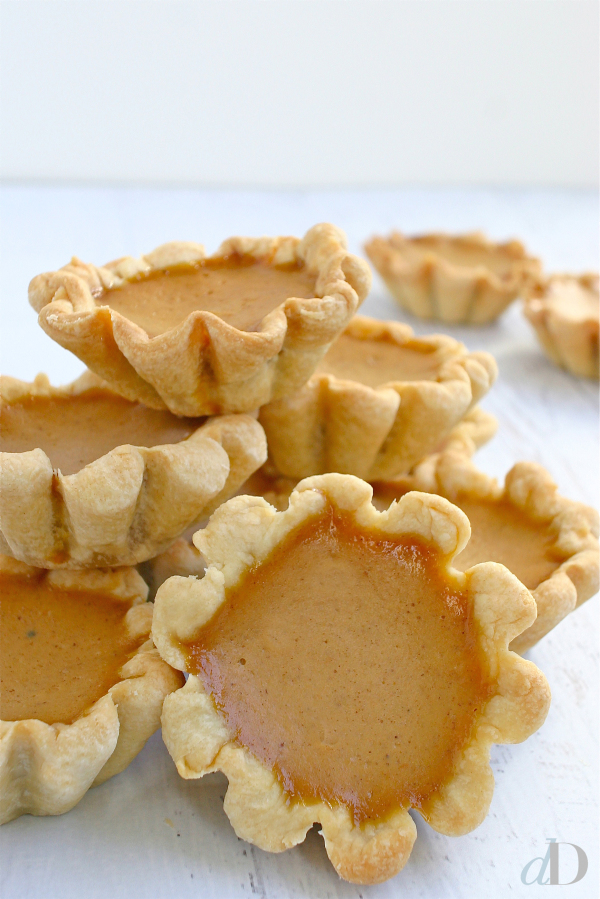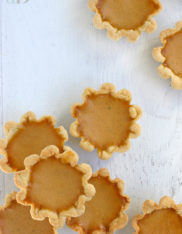 Pumpkin Pie
Ingredients:
PIE DOUGH
1 1/2 cups flour
1/2 tbsp sugar
1/2 tsp salt
6 tbsp unsalted butter, cold and cubed
1/6 cup vegetable shortening (ex. Crisco), cubed
1/4 cup ice cold water (literally put cubes in the water until you're ready to use it)
FILLING
1 1/2 cups canned pumpkin puree (not pumpkin pie filling)
3 large eggs
3/4 cup plus 1 tbsp light brown sugar
1 tbsp cornstarch
1/2 tsp salt
3/4 tsp cinnamon
3/4 tsp ginger
1/4 tsp nutmeg
1/2 tsp vanilla extract
1 1/2 cups evaporated milk
Directions:
PIE DOUGH
Place the flour, salt, and sugar in the bowl of a food processor fitted with a steel blade and pulse a few times to mix.
Add the cubed butter and shortening.
Pulse 8 to 12 times, until the butter is the size of peas.
With the machine running, remove the ice from the water (make sure it's just 1/4 cup) and pour the ice water down the feed tube and pulse the machine until the dough begins to form a ball.
Dump out on a floured board and roll into a ball.
Wrap in plastic wrap and refrigerate for 30 minutes.
*This can be made ahead of time - you can make it 1-2 days ahead and refrigerate; or you can make it up to a month ahead and just put it in the freezer wrapped in plastic wrap and then a Ziplock freezer bag. If you're freezing it, take it out of the freezer the night before you plan on using it and let it defrost in the refrigerator.
FILLING
Add the pumpkin, eggs, brown sugar, cornstarch, salt, cinnamon, ginger, nutmeg, vanilla and milk to a large bowl and whisk well.
PUTTING IT ALL TOGETHER...
Preheat the oven to 375°F.
Roll out the chilled dough onto a lightly floured surface until it's large enough to fit in your pie dish.
Transfer the rolled out dough into the pie dish and tuck the edge of the dough under and press to seal - freeze until firm, about 15 minutes. (If you want to make mini pies, use a round cookie cutter to cut out the pie dough and fit it inside your mini tart pans or muffin tins).
Cut a large circle of parchment paper (or you can use aluminum foil) and fit it into the pie shell - fill it with pie weights or dried beans. Bake for 15 minutes.
Remove the weights and parchment and bake until golden brown 15-20 minutes more (if they're getting too dark, cover with aluminum foil) - cool completely on a wire rack. Reduce oven heat to 350°F.
Once the crust has cooled, pour the mixed pie filling into the pie crust and bake until all but the centers are set, 35-40 minutes. Allow the pie to cool completely on a wire rack. (If you're making the mini pies, bake for 30 minutes and check on them to see if they're set. Add additional time as needed.) Once the pie has totally cooled, store it in the fridge wrapped in plastic wrap and with a paper towel over the top to soak up the moisture droplets that will form on the surface.