Oreo Ice Cream Cake

Since we're getting a taste of summer this week with gorgeous spring weather it's only fitting to post this ridiculously good and easy to make ice cream cake. This cake is every little kid's (and my) dream come true. Layers of Oreo, fudge, caramel, ice cream – you could pretty much put anything you want in there and it would be good. Since it's Mother's Day this weekend, you could layer it up with your mom's favorite ice cream and candy – the options are endless.
I made this one with store-bought ice cream, fudge and caramel but if you really wanted to go all out you could make any of those ingredients from scratch. However, making it with store-bought ingredients is obviously part of why this cake is so easy to put together. Just make sure you plan ahead because it will need to freeze for at least a few hours to set and hold its shape properly. So glad summer is almost here!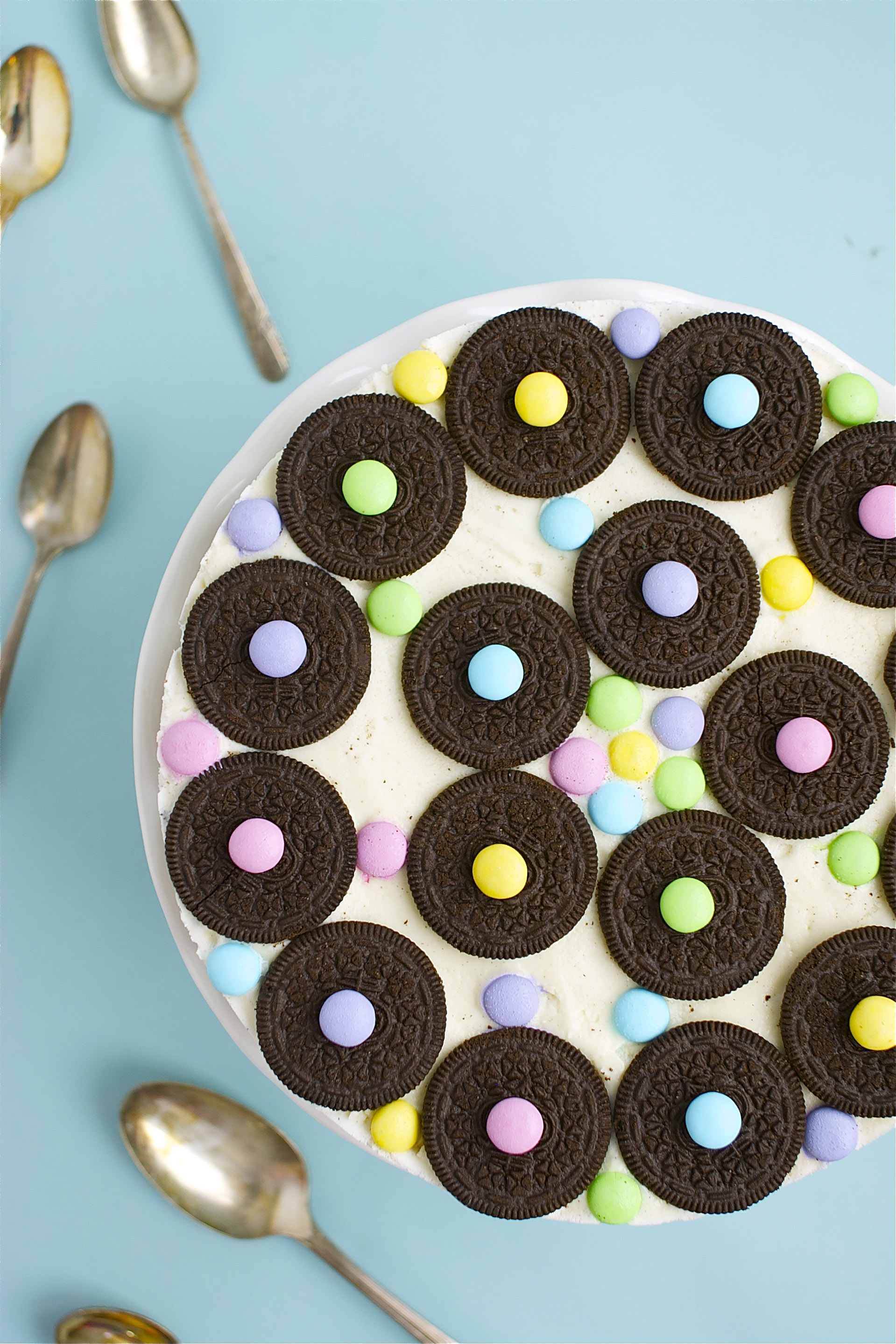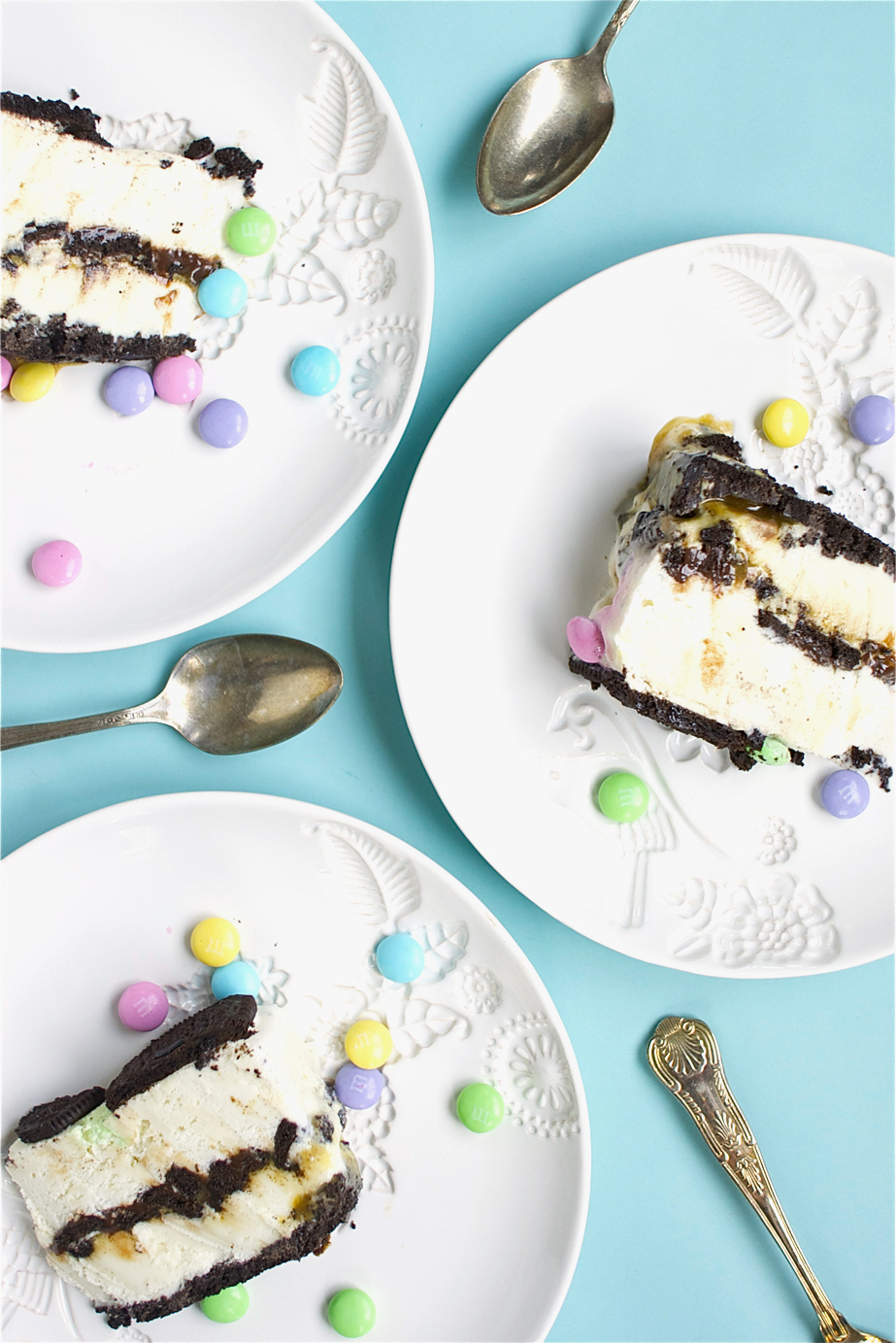 Oreo Ice Cream Cake
Ingredients:
Crust
20 whole Oreos
3 tbsp butter, melted
Layers
2 - 1.5 quarts Edy's Vanilla Bean Ice Cream (feel free to change up the ice cream flavor if you like chocolate)
Approximately 10 Oreos, crushed (feel free to use more)
3/4 cup fudge
3/4 cup caramel
Additional Oreos and M&Ms to decorate the top
Directions:
Take the ice cream out of the freezer and let it thaw a bit while you prep the crust.
Cut a 24-by-6-inch strip of parchment paper (you can also use plastic wrap).
Butter the side of an 8-inch spring form pan, then line the side with the parchment paper; the paper will extend a bit above the rim of the pan.
Place the Oreos in your food process and process until they're fine crumbs – then add in the melted butter and pulse a few times until it's incorporated.
Press the Oreo crumb mixture into the bottom of the pan to form your crust – you can extend it up the sides if you want, set aside.
Spread a thick layer of ice cream about halfway up the pan and smooth it out with the back of a spatula.
Drizzle the ice cream with fudge (you might have to heat it up slightly so it's pourable) top the fudge with the crushed Oreos and then top the cookies with caramel.
Add another thick layer of ice cream to the top of the pan and smooth it out with the back of a spatula until you have an even layer of ice cream.
Cover the pan with plastic wrap and put in the freezer for a few hours so the layers can set.
Once the cake has set, decorate the top with additional Oreos and M&Ms and place back into the freezer until you're ready to serve.
A couple of supplies I keep on hand for easier cake making are cardboard cake rounds and an acetate roll. If you have the cardboard cake rounds, put that down into the pan before you press in the Oreo crust - this will make it easy to separate the cake from the spring form pan. If you have the acetate roll, you will use this instead of the strip of parchment paper or plastic wrap around the edge of the spring form pan - this gets nice, smooth sides to your cake.