Strawberry Ice Cream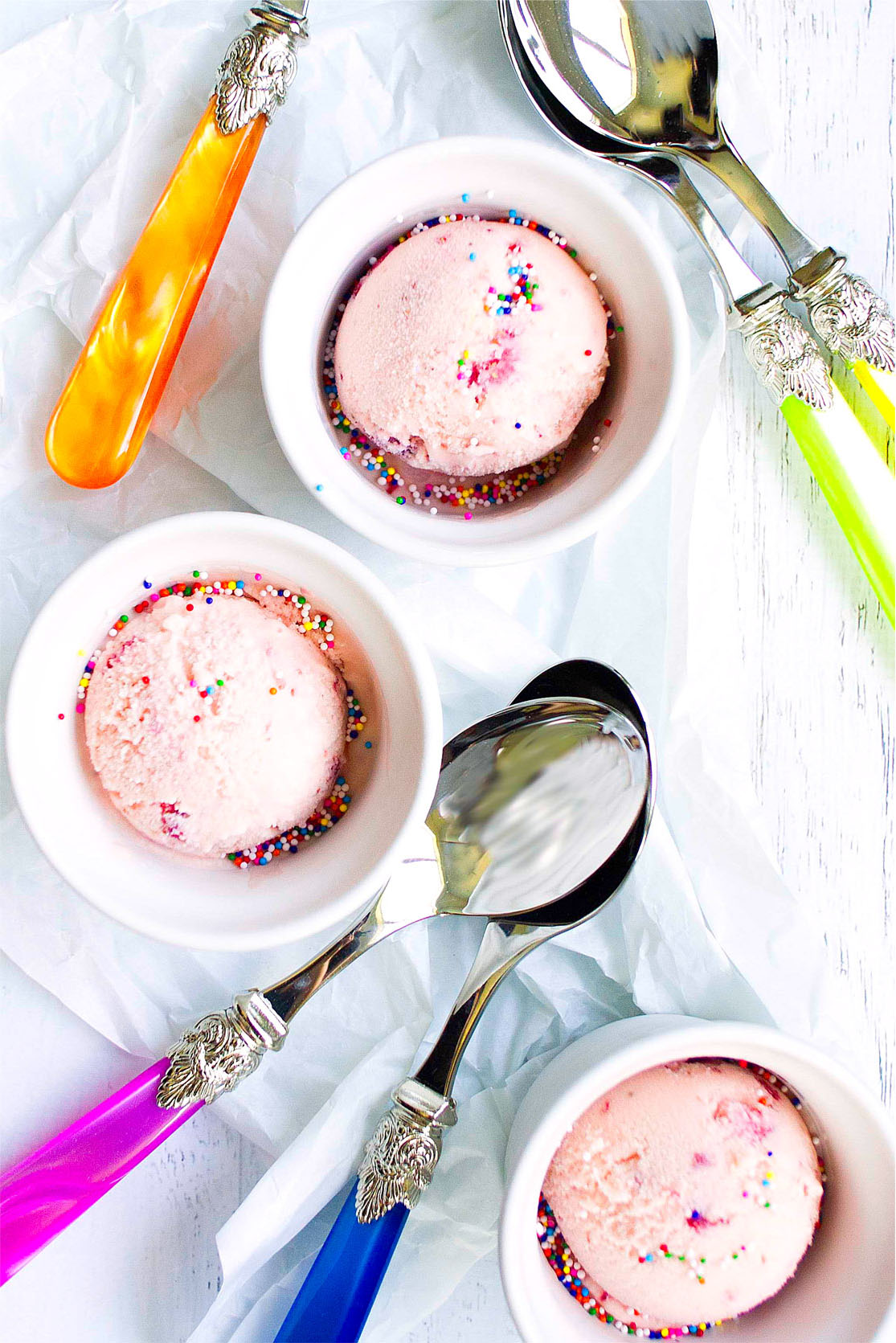 Hellllllo!! Looks like we're somewhat back in business! My baby girl is just one month old and I suppose that means I can get back to normalcy now, right?? Wrong. But I'll try. This strawberry ice cream is heaven. It's fruity, creamy, not overly sweet… just awesome. Since I'm savoring every possible moment of summer we have left, ice cream is definitely a major part of that experience. I usually shy away from ice cream recipes that require a custard base (i.e. tempering eggs) – because who really feels like doing that – but this time I figured I'd give it a try. It's supposed to result in an even creamier and better textured homemade ice cream and yes, that is true. Regardless, I won't judge you if you stick to egg-free ice cream recipes. 😉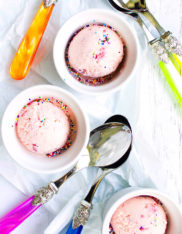 Strawberry Ice Cream
Ingredients:
3 cups strawberries
1 cup granulated sugar, divided
1 tbsp fresh lemon juice
2 cups heavy cream
1 cup whole milk
Pinch of salt
1/2 tsp vanilla extract
5 large egg yolks, lightly beaten
Directions:
Prep strawberries by removing stems and chopping into 1/2" pieces.
Add strawberries to a large bowl with the lemon juice and 1/4 cup sugar. Mix well, cover and chill for 4-6 hours or overnight.
Add 1 cup heavy cream and vanilla in a medium bowl with a mesh strainer set above.
In a medium saucepan over medium heat, combine the remaining heavy cream, milk, salt and remaining 3/4 cup sugar.
Stir to dissolve the sugar and when the mixture begins to steam, add 1 cup of the hot mixture to the beaten egg yolks (this is called tempering). Then add the tempered eggs back into the saucepan and continue to cook over medium heat, stirring occassionally until the mixture thickens and coats the back of the spoon.
Pour the custard mixture through the mesh strainer and stir to combine it with the heavy cream and vanilla.
Allow the mixture to cool to room temperature and then refrigerate for 4-6 hours or overnight.
Prior to churning, combine the strawberry liquid with the custard base - reserve the chopped strawberries.
Churn according to manufacturer's directions and add in the chopped strawberries during the last 10 minutes of churning.
Transfer mixture to a freezer safe container and freeze until firm. Allow ice cream to sit for 5-10 minutes at room temperature before serving.