Back-to-School Blondies

I can't even believe that summer is coming to an end and it's back-to-school time. This summer has been quite the whirlwind with Vivian's arrival and has flown by. But I have to admit – I am kind of excited to get back into a routine and I've always loved back-to-school time (yes, I'm a dork).


These treats are perfect to pack for your little one's school snack – and if you don't have kids to use as an excuse to randomly make baked goods (which is my forte) then who cares, make them anyway. They're that good.
These blondies are buttery, chewy and just such a comfort food. Feel free to jazz them up by adding in some M&M's, white chocolate chips or butterscotch chips. I may even have to make another batch of Back-to-School Blondies for Charlie's classmates – it would be such a shame if he left them in the car by accident… 😉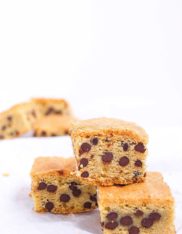 Back-to-School Blondies
Ingredients:
2 sticks unsalted butter, softened
1 cup granulated sugar
1 cup brown sugar
3 eggs
1 1/2 tsp vanilla
3 cups flour
3/4 tsp baking soda
3/4 tsp salt
1 cup mini chocolate chips
Directions:
Line a 9x13" baking dish with parchment paper, leaving a 2" overhand on two sides (this is so you can pick the blondies up out of the pan once they're baked). Preheat the oven to 350F.
Using an electric mixer, beat together the softened butter and both sugars on medium-high speed until it's light and fluffy.
Add in the eggs and vanilla - reduce the speed to low.
Add in 3 cups flour and the baking soda and salt and mix until totally combined.
Stir in the chocolate chips.
Bake for 35-40 minutes, or until a cake tester comes out clean.
Food Network Magazine - 50 Bar Cookies