Orzo and Arugula Salad
My mother-in-law introduced me to this salad earlier this summer and I immediately knew it was going to be something I would make over and over again. The recipe she had didn't have any specifics so I did a little research and found a Giada DiLaurentis recipe that seemed very similar to what she had made. The flavors are bright and fresh while savory, sweet and spicy all at the same time – i.e. this salad is basically a party in your mouth.
We've made this Orzo and Arugula Salad as a side to chicken and pork and it complements both very well. I don't use fennel much but it really has a great mild flavor that adds a little unknown flavor to the mix without being overpowering at all. If you're looking for something different, this salad will hit the spot.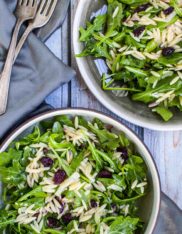 Orzo and Arugula Salad
Ingredients:
1 tbsp olive oil
1/2 vidalia onion, finely chopped
1/2 lb. orzo
1/2 bulb fennel, finely sliced
1/3 cup dried cranberries (Craisins)
4 cups baby arugula
Dressing
1/4 cup olive oil
1/4 apple cider vinegar
Juice of 1/2 lemon
1 tbsp dijon mustard
Salt to taste
Directions:
Add the orzo to a pot of salted boiling water and cook according to package directions for al dente pasta (about 10 minutes).
Heat the olive oil in a sauté pan over medium heat - add in the chopped onion and a pinch of salt and cook until it's golden brown, about 10-12 minutes.
Whisk together the dressing ingredients and then add the cooked onions to the dressing and stir to coat.
In a medium bow, combine the cooked orzo, dried cranberries and sliced fennel. Add the dressing to the cooked orzo, cranberries and sliced fennel and mix until everything is well incorporated.
Allow the pasta to cool to room temperature (about 20 minutes) and when you're ready to serve, add in the arugula and combine well.
If you want to prepare this ahead of time, simply add in a little olive oil to the pasta and stir it up to bring it back to life before serving. For best results, make sure you wait until you're ready to serve before adding in the arugula.