Spooky Swirl Cookies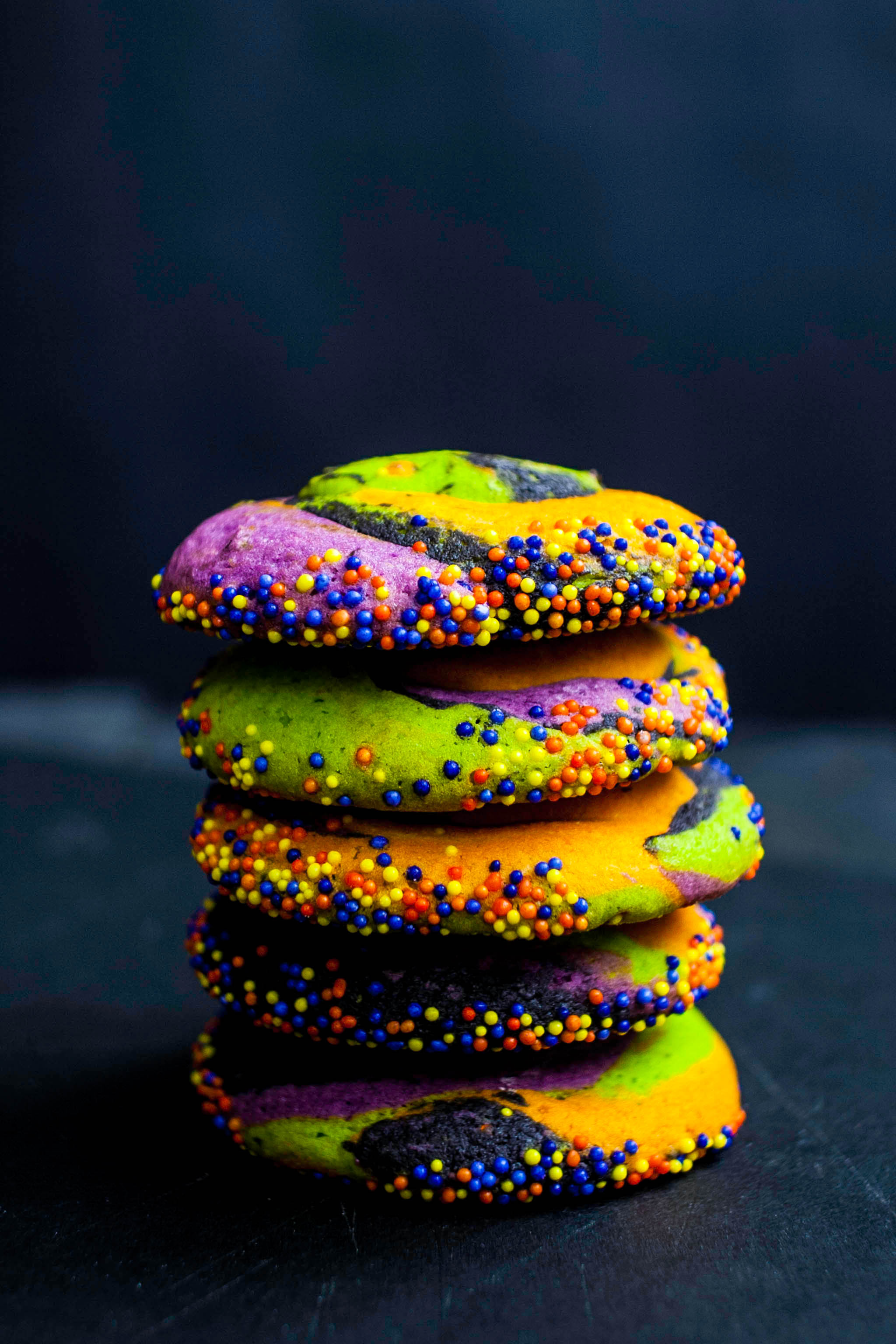 The hectic 'tornado of kids' lifestyle we've got going isn't really slowing down but I was determined to make (and post) a Halloween themed treat! I made some pumpkin cheesecake snickerdoodles last week but I wasn't that happy with them. I've been wanting to adapt the Dr. Seuss Cookies into a Halloween themed cookie for a couple of years now and I've finally done it with these Spooky Swirl Cookies!


I'm planning on using these cookies when I "Boo" my nieces and nephews this week. These festive Spooky Swirl Cookies were a hit with my kids – after all, there's not much to dislike about colorful sprinkle laden sugar cookies. My husband even noticed them and said, "Where did those come from?!" He told me they look like 'Tim Burton' cookies – haha, which is pretty spot on.
These cookies would also make awesome red and green Christmas treats. Yes, I've already started thinking about Christmas cookies and it isn't even November! 🙂 Happy Halloween!
Spooky Swirl Cookies
Ingredients:
2 1/2 cups cake flour

2 tsp cornstarch

1 1/2 tsp baking powder

1/4 tsp salt

1/2 cup salted butter, at room temperature

1/4 cup all vegetable shortening (unflavored), at room temperature

1 cup granulated sugar

1 large egg

1 large egg white

2 tsp vanilla extract

Neon/electric gel food coloring (orange, purple, green and black

)

Nonpareil sprinkles (orange, purple, yellow, green or any combo of those colors)
Directions:
Sift flour, cornstarch, baking powder and salt into a large bowl.

In the bowl of an electric stand mixer, on medium speed, whip together butter, shortening and sugar until very pale and fluffy, about 4 minutes, scrapping down the sides of the bowl as needed.

Add in egg and mix until combine, then add egg white, vanilla extract and mix until combined.

With mixer running, slowly add in dry ingredients and mix just until combined.

Divide your dough evenly into 4 bowls.

Take one ball of dough and put it back into your mixing bowl and add in desired food coloring – repeat with the remaining cookie dough and then refrigerate for 1 1/2 – 2 hours.

Preheat oven to 375°F during the last 10 minutes of refrigeration.

When your dough is done chilling, you're ready to roll – take a grape-sized ball of each color of dough and press them together into a ball and roll it between your palms really fast (it'll look like a small beach ball).

Then take that beach ball and roll it out into a cylinder (mine were about 10 inches long) – at this point, I cut it in half to make two cookies but you could make larger cookies as well.

Coil the cylinder into a round cookie shape and then roll the edge of a cookie in a bowl of nonpareils.

Bake on a parchment paper lined sheet pan for 8-12 minutes

.