Anise Biscotti

Once in awhile I make a cookie that's just for me. Well, that's kind of untrue because my boys do like these biscotti – but Bob won't go near them. Whenever I make a cookie like this, Bob gets this sad, disappointed look on his face as he rummages around searching for oatmeal cookies. However, this happens to be the perfect cookie to dunk into your morning or afternoon coffee, and they're not bad for you (bonus!).
These biscotti aren't too crunchy and the anise flavor isn't overpowering. I'm strongly considering replacing my Egg Biscuits with Anise Biscotti in my Christmas cookie trays; especially since these can be made well in advance since they don't get stale quickly. I'm also considering posting my favorite Christmas cookies as often as I can from now until Christmas because 1) baking Christmas cookies are by far my favorite part of the holiday season and 2) it totally gets everyone in the holiday spirit. Ahh, decisions, decisions…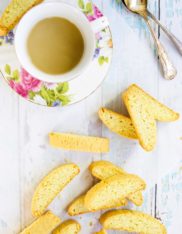 Anise Biscotti
Ingredients:
2 cups flour

1 1/2 tsp baking powder

1/2 tsp salt

3/4 cup granulated sugar

1/2 cup (1 stick) unsalted butter, room temperature

2 large eggs

1 tsp Anise extract
Directions:
Preheat the oven to 350°F.
In a medium bowl, whisk together the dry ingredients: flour, baking powder and salt - set aside.
Beat together the butter and sugar until light and fluffy.
Add in the eggs and Anise extract and mix until well combined.
While the mixer is on low, slowly add in the dry ingredients.
Line a baking sheet with parchment paper and divide the dough in half.  Form one half of the dough into a 16″ long log and lay it on one half of the sheet - then do the same with the other half of the dough and lay that log next to it (leave a few inches of space in between the logs of dough).
Bake for 30 minutes or until it's a light golden color.
Remove the biscotti logs from the oven and allow to cool for 30 minutes.
Reduce the oven temperature to 325°F.
Slice the biscotti into slices of desire thickness (I get about 17 per log) and then lay the slices cut side down ont the parchment lined baking sheet.
Bake for an additional 15 minutes.