Santa Bark

It's December 1st and we're already in full on Christmas mode in our house! I'm pretty excited about it. While I made this Santa Bark, I had Mariah's "All I Want for Christmas" blasting on repeat in my kitchen and she's never sounded so good. My family may or may not have been horrified, but I was in heaven.
I've been wanting to make this Santa Bark for some time now since "barks" are so easy to put together yet make impressive little holiday gifts. You really can't go wrong with what you choose to top your Santa Bark with – as long as you've got a healthy dose of holiday sprinkles, you're good to go. Candy bark is also great because the kids can definitely help out.  Once you've poured your chocolate into the pan, they can go crazy with the decorating (just be sure to keep the open pour option off limits!).
I kept it simple and kid friendly with M&Ms and Oreos but feel free to make it healthier (think slivered almonds and Craisins with the white chocolate/milk chocolate with raisins and peanuts) or a totally different flavor profile (think crushed up candy canes). The possibilities are literally endless.  Whichever way you decide to make your Santa Bark, you'll be making a good decision.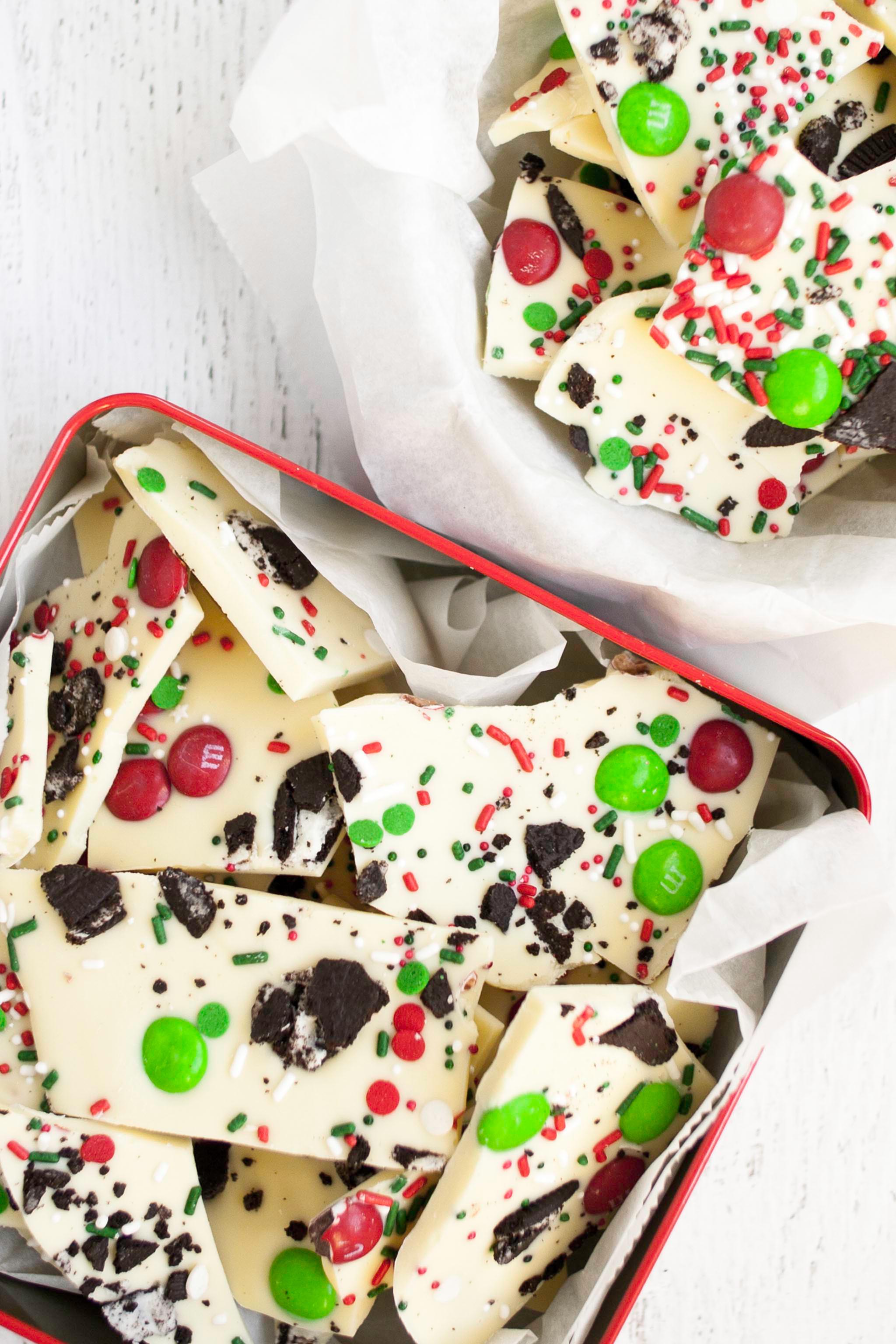 Santa Bark
Ingredients:
1 1/2 lbs white chocolate (you can either use chips or chopped up bars)
6-8 Oreos, crushed
1 cup holiday M&Ms
Assorted holiday sprinkles for decorating
Directions:
Fully line a baking sheet with parchment paper and leave a 2" overhang on both ends.
Using a double broiler, or heatproof bowl (I use a large glass bowl) over a pan of simmering water, melt your chocolate while stirring frequently.
When the chocolate is totally melted, pour it into the prepared pan and smooth it over with a spatula.
Sprinkle your desired toppings evenly over the melted chocolate and chill in the refrigerator for at least 1 hour.
When the chocolate has hardened, break it into pieces.