Easy Gingerbread Cutouts

Every Christmas I make some sort of gingerbread cookie (usually these or these). I like the ones that are crispy and chewy at the same time. But this year, I knew that the kids would love it if I made gingerbread cutouts that we could decorate together. I had bought really cute cookie cutters last year and didn't have a chance to use the gingerbread man, stocking or christmas tree – until now!


I was really happy with how easy this dough was to work with. The taste of the cookies is very mild and kid friendly and the consistency of the cookie isn't too hard – I'd say it's firm, yet soft and not at all crunchy. (Although if you prefer a crisp cookie, you can always roll the dough out thinner.) I decided to decorate the cookies with royal icing, which I had been putting off making because of the raw egg whites. But I found a recipe that had instructions on how to heat it to a point that would kill off any salmonella. It's actually very easy to work with and it hardens up really well so the cookies can be carefully stacked for storage. I think that gingerbread cutouts will be making their way into our annual Christmas cookie rotation.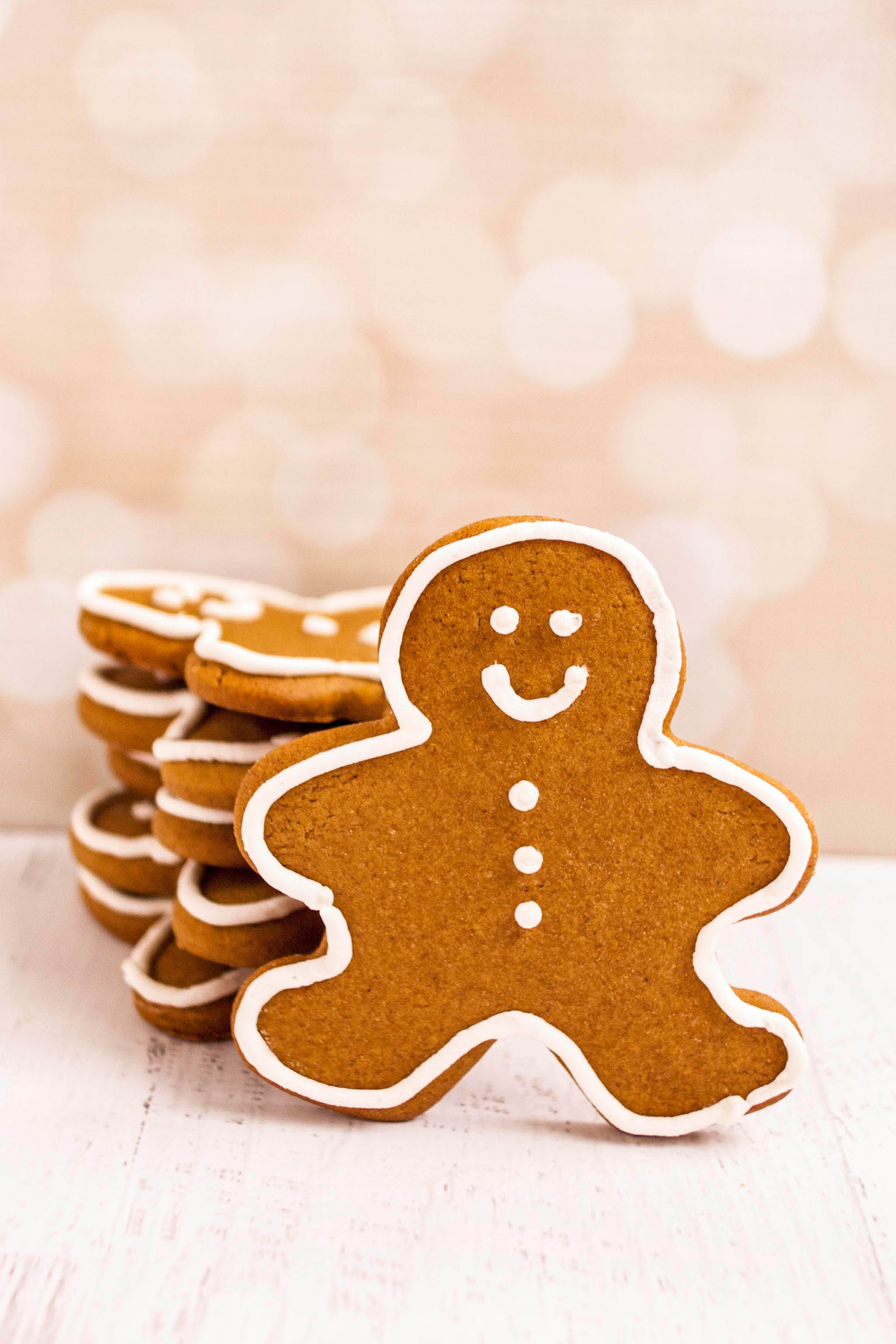 Easy Gingerbread Cutouts
Ingredients:
Cookies
1/2 cup unsalted butter, softened
3/4 cup packed dark brown sugar
1/3 cup molasses
1 egg
2 tbsp water
2 2/3 cups all-purpose flour
2 tsp ground ginger
1/2 tsp cinnamon
1/2 tsp nutmeg
1/2 tsp allspice
1 tsp baking soda
1/2 tsp salt
Royal Icing
1 egg white
1/2 tsp lemon juice
1 3/4 cups confectioners sugar
Directions:
Cookies
Using an electric mixer, beat together the butter and sugar until it's light and fluffy.
Add in the molasses, egg and water and beat until smooth.
In a separate bowl, mix together the dry ingredients: flour, spices, baking soda and salt.
With the mixer running, slowly add the dry ingredients to the wet and mix until mixed well.
Form the dough into a disc and wrap it in plastic wrap. Refrigerate for 1 hour, or until it's firm enough to handle.
Preheat the oven to 350°F.
Roll out the dough on a lightly floured surface until it's about 1/8" thick (mine were somewhere between 1/8" and 1/4") and cut out using your desired cookie cutters. Re-roll the scraps and repeat until you've used up all the dough.
Place 2" apart on a parchment paper lined (or greased) baking sheet and bake for 8-10 minutes or until the edges are firm.
Place the cookies on wire racks to cool completely before decorating.
Royal Icing
In a microwave safe bowl, mix together the egg white, 1/3 of the sugar and the lemon juice.
Microwave in 30 second increments at 70% power until the temperature of the mixture reaches 160°F.
Beat the egg white mixture with a whisk attachment on low speed and slowly add in all of the confectioners sugar. Turn the mixer up to medium-high speed and beat until stiff peaks form. You're going to want a pretty stiff consistency to get a nice firm line along the edge of the cookies. If you need to thin it out, add a little bit of water. If you accidentally make it too thin, just add more sugar.
Using a piping bag with a small round tip, or you can put the icing in a plastic bag and cut off a small piece of the corner.