Cinnamon Chip Mini Muffins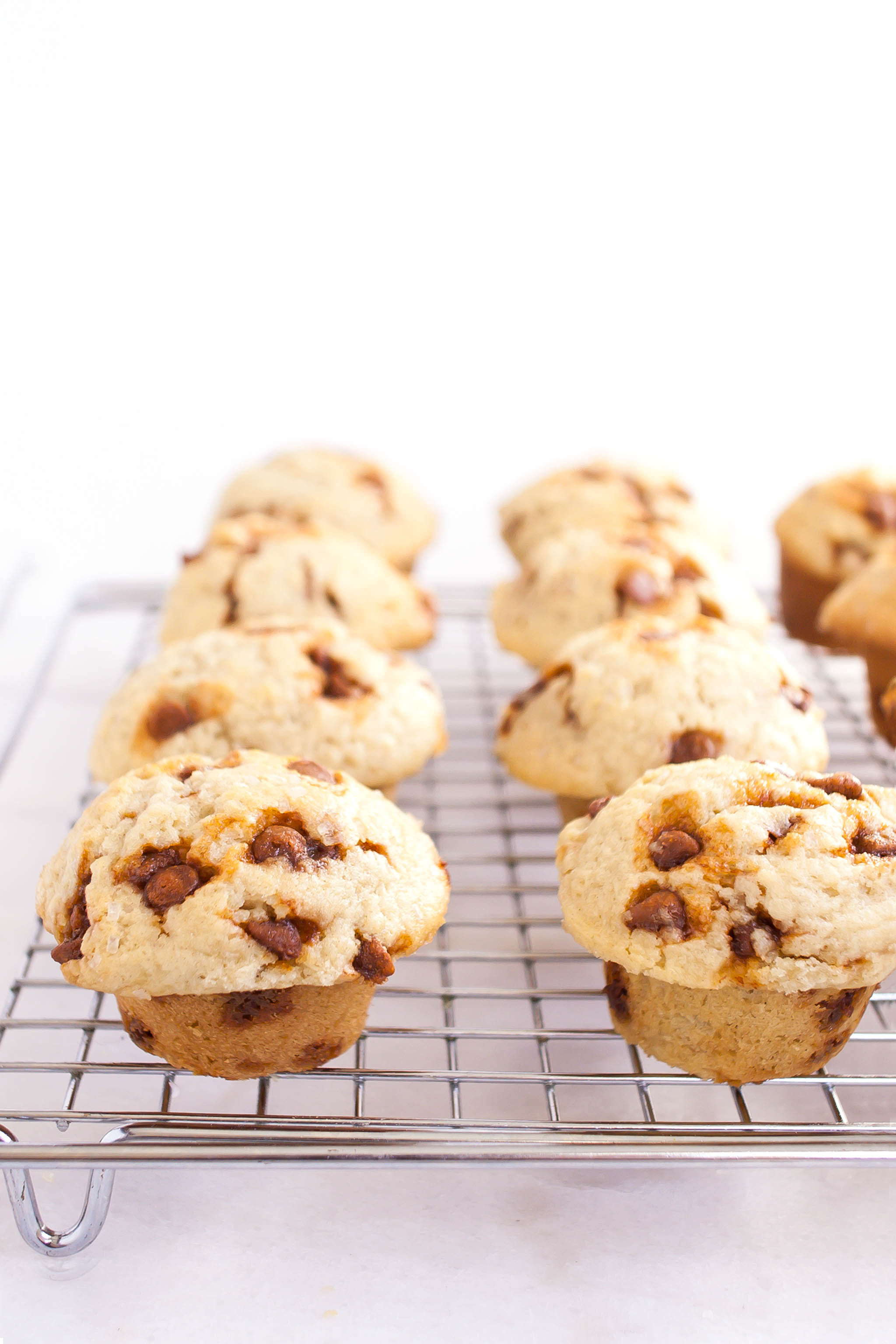 I've talked about my kids' obsession with mini muffins many times. The obsession is still going strong! We've cycled through many, MANY cinnamon muffin recipes. With chips, without – with streusel on top, inside or without. We've tried it ALL. If you ask me, they were all pretty damn good. My five year old, on the other hand, has a much pickier palate. He's a fan of the chips, but not too much crunch on top. They must be moist, mini (but not too mini) and just all around delicious. These Cinnamon Chip Mini Muffins are all that (and a bag of chips). Don't ask me why I threw that in… it might have to do with the Peroni I'm sipping on right now.
And again, like the other mini muffin recipes I've posted (Mini Donut Muffins, Coffee Cake Muffins, Chocolate Chip Muffins, Toddler Muffins) these freeze perfectly, and really make the best on-the-go breakfast. Especially if you're like us and your morning hustle looks like Supermarket Sweep.
One look at these Cinnamon Chip Mini Muffins just says, "Make me!" And I know they'd be perfect at your Easter Brunch or just because. Mini muffins are hardly ever a bad decision. Happy Friday!

Cinnamon Chip Mini Muffins
Ingredients:
2 1/2 cups flour
1 cup sugar
1 tbsp baking powder
1 tsp baking soda
1/2 tsp salt
1/2 tsp cinnamon
1 cup milk
1/4 cup white vinegar
1/2 cup unsalted butter, melted and cooled
2 large eggs
1 tbsp vanilla
1 cup cinnamon chips
Sanding sugar for topping (optional)
Directions:
Preheat oven to 425°F and spray a mini muffin pan with nonstick spray.
Combine the milk and vinegar in a measuring cup and let it sit while you prep the rest of the ingredients.
In a large bowl, combine the dry ingredients: flour, sugar, baking soda, salt and cinnamon.
In a medium bowl, whisk together the wet ingredients: milk + vinegar mixture, melted butter, eggs, and vanilla.
Make a well in the center of the dry ingredients and pour in the wet ingredients. Stir the mixture JUST until a batter with lumps forms.
Add in the cinnamon chips and fold to combine.
Completely fill each cup of the muffin tin and top with sanding sugar, if desired.
Bake at 425F for 3 minutes and then lower the oven temp to 375°F and continue to bake for another 14 minutes.
Remove from the oven and allow to cool for a few minutes in the pan before transferring to a wire rack to cool completely.