Broccoli Tots

I noticed these little Broccoli Tots floating around the internet lately and I was intrigued. I've had spinach balls – and love those – but my kids won't go near them. And as strange as it may sound, my kids actually love broccoli. Broccoli trees, to be exact. So, I made these Broccoli Tots in hopes of getting even more veggies in them, a fun way. How can you really go wrong with broccoli, cheese and bread crumbs??
These turned out great – they are delicious little bite-size tots that are crispy, cheesy and a count as a vegetable – score! I loved them, Bob loved them, Charlie said he liked them but would not eat them every day and Henry wouldn't even touch one because, "It's green." Even though he eats broccoli trees. Green broccoli trees, peas and edamame. I know. I can't make any sense of it either. Regardless of what my kids did, yours might react differently. And if they don't (or if you don't have kids) – more for you! I made these and flash froze them unbaked – once frozen, I put them in a freezer bag and now I can pull out and bake as many as I need, whenever I need them.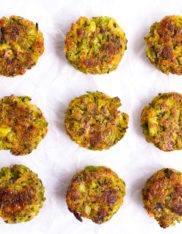 Broccoli Tots
Ingredients:
12 oz. bag (or 2 cups) uncooked or *frozen broccoli florets
1/2 cup grated cheddar cheese
1/2 cup grated parmesan cheese
1/2 cup plain panko breadcrumbs
1/2 cup seasoned breadcrumbs (I used Garlic & Herb but Italian would work, too)
2 tbsp onion, finely chopped
1 tbsp parsley, finely chopped
1/2 tsp salt
1/4 tsp pepper
2 eggs, lightly beaten
Directions:
Preheat oven to 400°F.
If using uncooked broccoli, first wash and thoroughly dry.  Then place in a food processor and pulse a few times until everything is finely chopped (don't overdo it or it'll turn to mush!).  You want it to look like rice. Alternatively, you can finely chop it by hand. * If you're using frozen broccoli - blanch it for about 5-10 seconds then put it in an ice bath to stop the cooking.  Thoroughly dry the broccoli and pulse as you would if using uncooked broccoli.
In a large bowl, combine the chopped broccoi with the cheeses, breadcrumbs, onion, parsley, salt, pepper and eggs.
Once everything is well combined, use a spoon to scoop out about 1 tbsp of the mixture and form it into a little round patty.  I used a small ice cream scooper to get tots that were all the same size.
Place the tots on a parchment paper lined baking sheet sprayed with olive oil or a non stick olive oil spray, like Pam.  Then spray the tops with the olive oil as well.  (If you're making these ahead and freezing them, skip the olive oil altogether and just freeze them on the parchement or wax paper lined baking sheet).
Bake at 400°F for 20 mins, flipping over halfway through.