Puff Pastry Apple Roses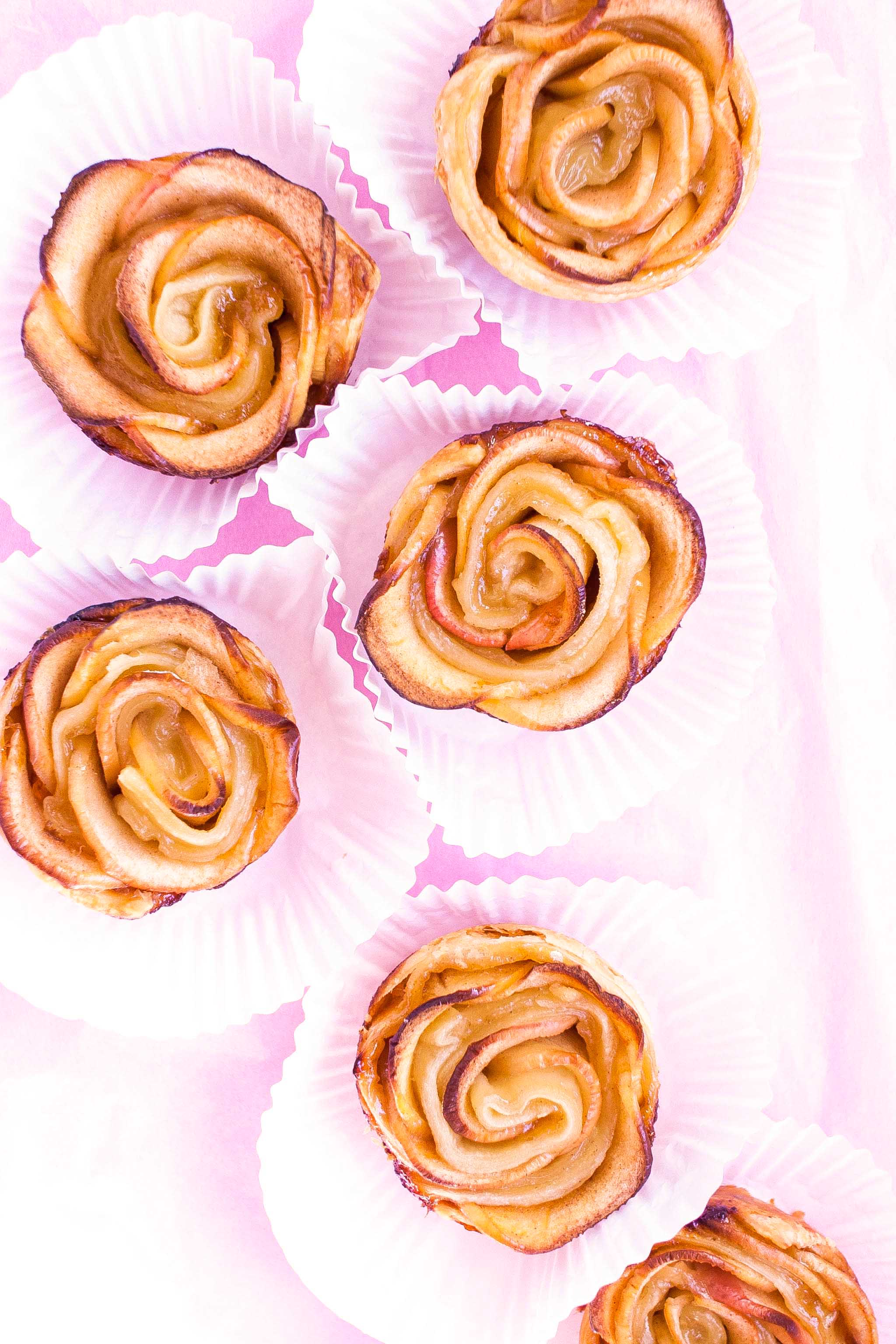 These little beauties have certainly been making the rounds of the internet, but I wanted to try these Puff Pastry Apple Roses out myself to see if A) they were really that easy to make and B) they tasted as good as they looked. The answer to each question is Yes and Yes. These are SO EASY to make!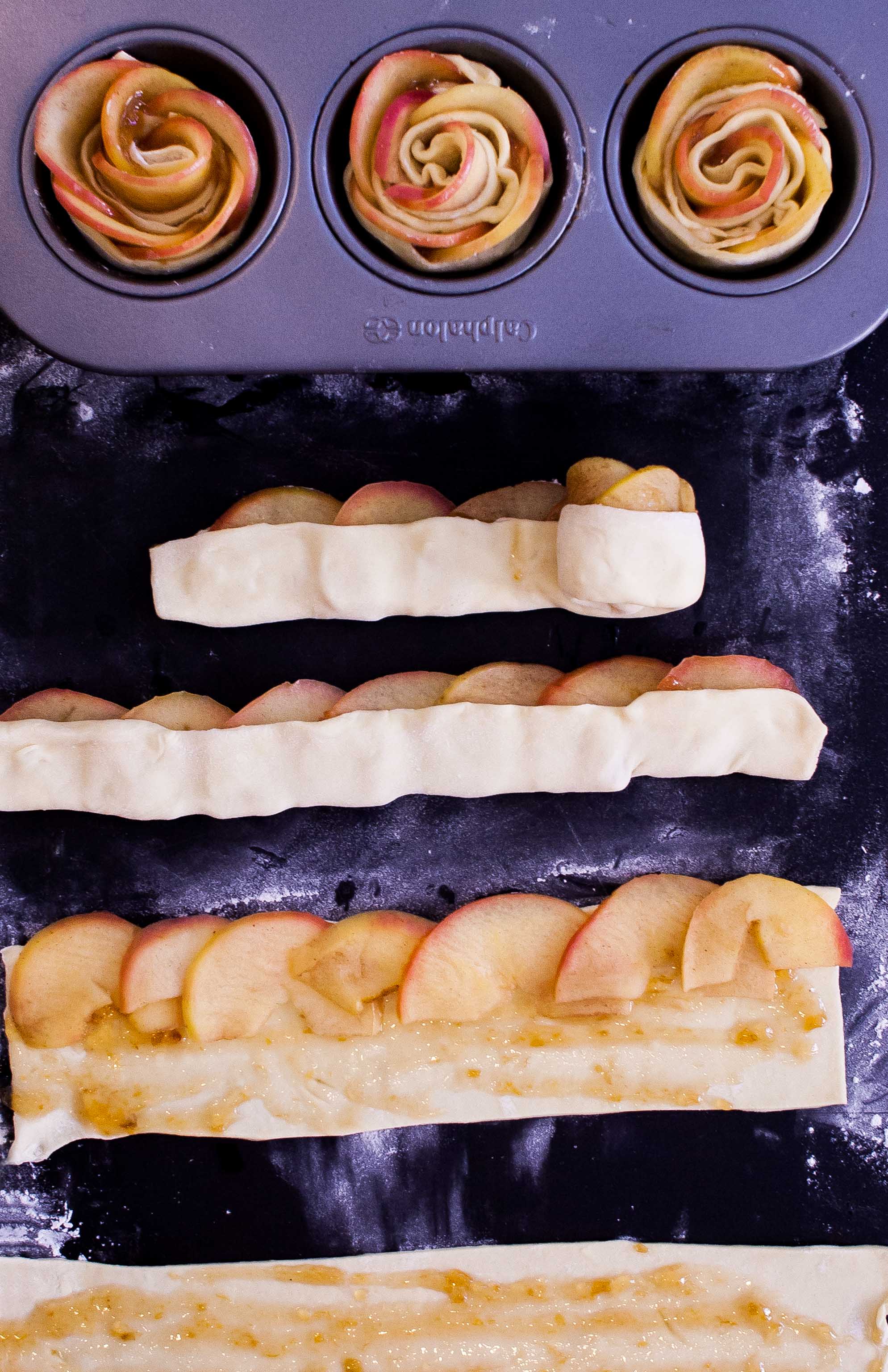 You probably even have most of the ingredients right in your kitchen. These would be the perfect Valentine's Day dessert because they look really impressive but don't require much prep time at all (you can even make them ahead). And obviously, they're totally delicious – so yes, that's a plus, too. I've even included a step-by-step photo (which, sorry, I never do!) because I wanted you to see just how easy they are to make.
If you're wondering what they taste like… think along the lines of an apple turnover – but beautified and bite-sized. Personally, I prefer these served warm with some vanilla ice cream. Yeah, that sounds pretty perfect. These Puff Pastry Apple Roses should probably make their way into your weekend plans – they will be part of mine ;).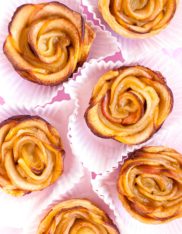 Puff Pastry Apple Roses
Ingredients:
3 large apples
2 tbsp fresh lemon juice (juice of 1/2 a fresh lemon)
2 tbsp brown sugar
1 tbsp granulated sugar
1/2 tsp ground cinnamon
6 tbsp apricot preserves + 4 tbsp hot water (This is to thin out the jam and make it more "spreadable." If the preserves are cold, microwave for 30 seconds, medium power, before mixing with water.)
2 sheets puff pastry, thawed
Directions:
Preheat oven to 375°F.
Core the apples and slice them in half. Then slice them very thinly - you can use a mandolin if you have one to make this process easier. Place the apple slices in a large microwave safe bowl and immediately toss the apple slices with the lemon juice to prevent browning.
Fill the bowl with water until all of the apples are submerged and microwave for 5 minutes, until the apples are tender and pliable.
Drain out the water and toss the apples with the sugars and cinnamon until totally coated.
Place the puff pastry sheet on a lightly floured surface, and divide it into 6 equal strips. One at a time, roll the strip out just a little bit and evenly cover with the apricot preserves.
Next, lay 7-9 apple slices along one half of the puff pastry - peel side facing out.
Then fold up the bottom of the puff pastry to cover the apple slices and, starting at one end roll the apples and pastry up until you reach the other end and have a beautiful apple rose.
Place the apple rose into a lightly greased (I used PAM) muffin tin and continue making your roses. (If making these ahead, stop at this step, cover with plastic wrap and refrigerate until you're ready to bake. You can do this up to 1 day ahead.)
Bake for 40-45 minutes or until the puff pastry looks golden brown.