Roasted Broccoli Quinoa Salad
Hellllloooo! After a brief hiatus to get settled into summer mayhem, I'm back! At least I think so. For now. Haha. Guys, summer with the littles is just crazy. Like NON-STOP. It feels like I haven't had a minute to myself, but I made sure to make some time for me because I missed doing this! And I've still been cooking and have so many good recipes to share with you. For starters, this awesome Roasted Broccoli Quinoa Salad.
We've been on a little bit of a health kick around here and since Bob's on board with limiting carbs to good for you, non-processed, whole grain carbs (think quinoa, brown rice and sweet potatoes) it's made it easier to stick to being good. (Even though he's been known to hide-out at the pool and scarf down a lobster roll or have a midnight snack of Cinnamon Toast Crunch.) This Roasted Broccoli Quinoa Salad is the perfect light lunch or side dish to a lean protein for dinner. It's packed with flavor and tastes great warm, room temp or even cold.
I'm excited for the new summer cocktail and frozen treat I have coming up to share with you. But for now, we can all be good and think about this quinoa salad. For now. 😉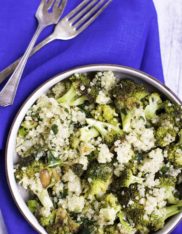 Roasted Broccoli Quinoa Salad
Ingredients:
1 cup quinoa, rinsed
2-3 heads of broccoli, cut into florets
6 cloves of garlic, sliced
2 scallions, thinly sliced
1 1/2 cups fresh baby spinach, roughly chopped
1/3 cup powdered parmesan
Juice of 1 lemon
2 tbsp olive oil + 4 tbsp olive oil, divided
Salt and black pepper, to taste.
Directions:
Preheat the oven to 425F.
Place the florets and sliced garlic in a single layer on a baking sheet and drizzle with 4 tbsp of olive oil and season with salt and pepper.
Bake for 20-25 minutes while stirring occassionally until the broccoli looks crispy and tender.
While the broccoli is roasting, bring the quinoa to a boil in 2 cups of salted water then cover the pot and reduce to a simmer for 15 minutes. Once the 15 minutes is up, turn off the heat and let it sit, covered, for 5 minutes. Then uncover and fluff with a fork and allow to cool for 10 minutes.
In a large bowl, combine the cooked quinoa, roasted broccoli, scallions, spinach, parmesan, lemon juice and olive oil. Season with salt and pepper to taste.