Kale Quinoa Salad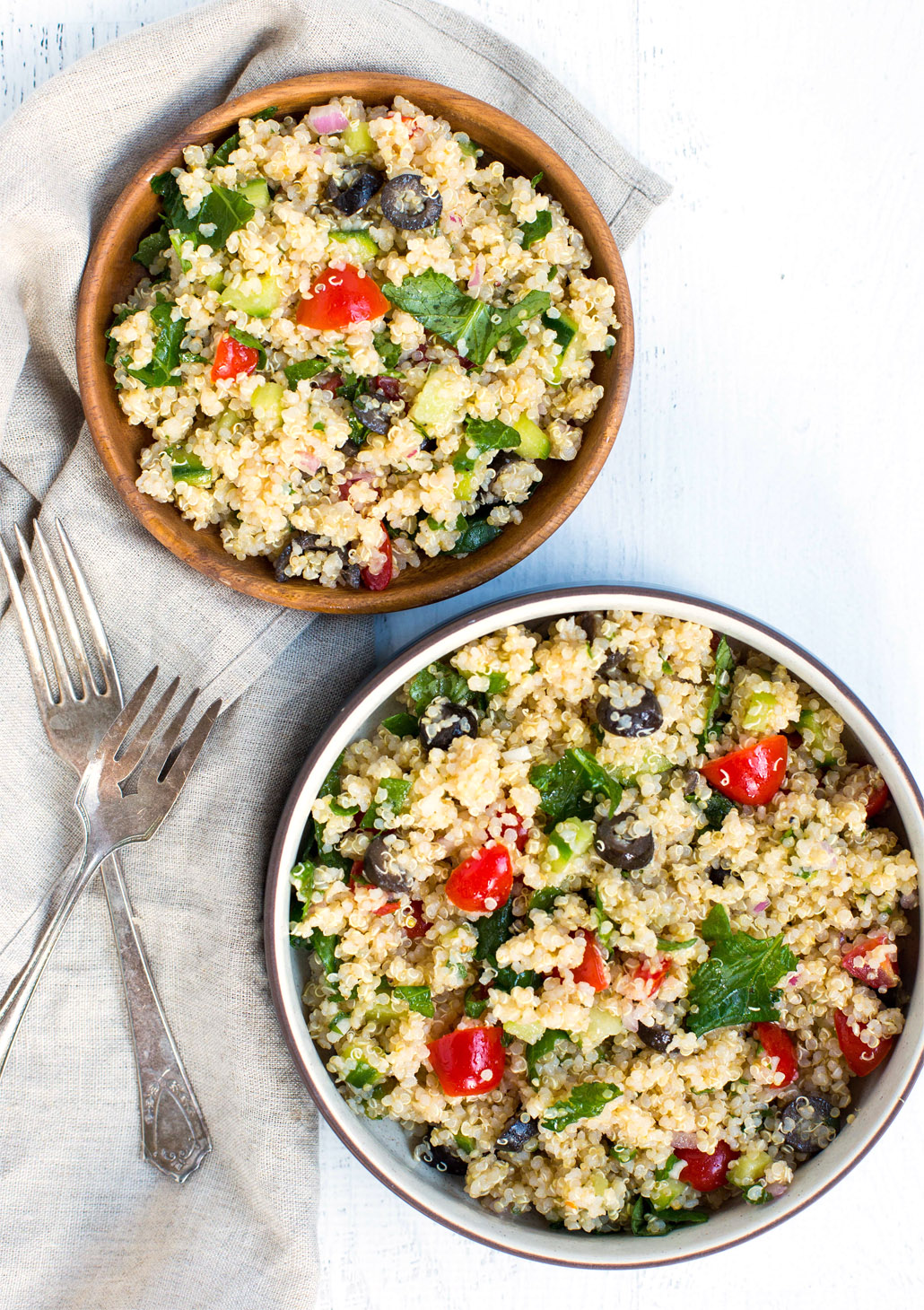 I know, I know… not another quinoa salad. But, guys, this one is Kale Quinoa Salad! Haha. We're still on our health kick around here (despite the fact that I made Summery Linguine last night and enjoyed every juicy, garlicky pasta bite). I really need variety, especially when I'm trying to be good and eat well. That's why these types of salads are key for me – I can make them ahead and they're just sitting in the fridge when I'm starving and need something NOW.
I was inspired to make this Kale Quinoa Salad after I had Vivian's 1st birthday catered and everyone was obsessed with the quinoa salad they served. I had to consult many partygoers to figure out just exactly what was in there because I was too frazzled that day to pay attention. All I knew was that yes, it was GOOD. So, I set out to recreate it and here it is! Healthy, fresh and delicious – satisfying enough to have for lunch or as a side to your dinner. Don't worry, as soon as I'm not in my bathing suit daily I'll be bringing the full fat goodness back to the blog. Expect copious amounts of baked pasta and fruit crisps doused in ice cream.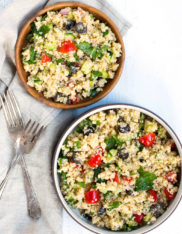 Kale Quinoa Salad
Ingredients:
1 cup quinoa
2 cups water
1 1/2 cups baby kale, stems removed and roughly chopped
3/4 cup cherry tomatoes, quartered
2.25 oz. can sliced black olives
1/2 English cucumber, seeded, quartered and chopped
1/4 cup red onion, finely chopped
1 tbsp fresh parsley, finely chopped
1/4 cup olive oil
1/4 cup fresh lemon juice
1 tsp honey (or more to taste)
1/4 tsp salt, or to taste
Black pepper to taste
Directions:
Bring the quinoa and salted water to a boil and then reduce to a simmer and cover for 15 minutes. After 15 minutes, turn off the heat and let it rest for 5 miinutes. Then uncover the pot, fluff with a fork and allow to cool while you prep the rest of the ingredients.
In a small bowl or measuring cup, whisk together the olive oil, lemon juice, honey and salt and pepper. Taste it and if you want it to be sweeter or more acidic, add more honey or lemon, respectively.
Once the quinoa has cooled a bit, combine it with the chopped vegetables and pour the dressing over it and mix well.
Serve at room temperature. If the salad seems dry because it has absorbed all the dressing, drizzle it with a bit more olive oil right before serving.