Apple Crumble Pie
This Apple Crumble Pie is definitely a family favorite and Fall MUST. Once it's apple picking season, my kids and husband start dropping hints about going apple picking and making this Apple Crumble Pie. Every Thanksgiving, I make two of these pies and bring one to my sister's and one to my husband's family's house – there are never any leftovers, even after eating Thanksgiving Dinner.
This Apple Crumble Pie is the marriage of two amazing things: apple pie and apple crumble. The homemade crust adds some work, but it's really worth it because it's so flaky and delicious. Plus, you can make it ahead! I like to make my crust ahead of time, wrap it tightly in plastic wrap, put it in a Ziploc bag, and freeze it until I'm ready to make my pie. The night before I make the pie, I take it out to defrost on the counter for a bit and then put it in the fridge overnight. You can also make the topping 1-2 days ahead of time and keep it in a Ziploc bag in the fridge. I always make my apple mixture the day of because I'm afraid it will get soggy if I prep it ahead of time. Where there's a will, there's a way! If I stopped making this Apple Crumble Pie I'm pretty sure I'd see some tears on Thanksgiving, so prepping parts of it ahead of time is the only way I manage to get it done with the three kids.
I hope you try this Apple Crumble Pie on Thanksgiving this year – everyone will love it… and just don't even try calculating how much butter is actually in there 😬.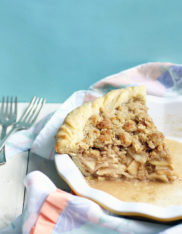 Apple Crumble Pie
Ingredients:
Pie Crust
3 cups flour
1 tbsp sugar
1 tsp salt
12 tbsp unsalted butter, cubed and very cold
1/3 cup shortening (i.e. Crisco)
1/2 cup ice cold water (literally put ice cubes in it while you prep the rest of the ingredients
* Note: this recipe technically makes enough for a 10″ pie crust top and bottom, but I like to use it because I make a big, thick braided crust – so if you want a thin crust, you could halve the recipe
Filling
6 large apples (Jonagold, McIntosh or Cortland are good choices)
1 tbsp lemon juice
1/2 cup sugar
1/4 cup packed brown sugar
1/4 cup flour
1/2 tsp cinnamon
1/4 tsp nutmeg
Topping
1 1/2 cups flour
3/4 cup sugar
3/4 cup packed brown sugar
1/2 tsp salt
1 tsp cinnamon
1 cup Quaker Oats (I like to use the old-fashioned oats more than the quick oats)
1 cup unsalted butter, softened (2 sticks)
Directions:
Pie Crust
Dice the butter and return it to the refrigerator while you prepare the flour mixture.
Place the flour, salt, and sugar in the bowl of a food processor fitted with a steel blade and pulse a few times to mix.
Add the cubed butter and shortening.
Pulse 8 to 12 times, until the butter is the size of peas.
With the machine running, remove the ice from the water (make sure it's just 1/2 cup) and pour the ice water down the feed tube and pulse the machine until the dough begins to form a ball.
Dump out on a floured board and roll into a ball.
Wrap in plastic wrap and refrigerate for 30 minutes.
Filling
Peal and core all of your apples and slice them up into thin 1/2 wedges (if you slice the apple horizontally, you want to quarter each slice) and place them in a large mixing bowl.
Add the lemon juice to the apples and stir – this will keep them from browning.
Add in both sugars and stir the apple mixture well, coating everything evenly.
Combine the flour, cinnamon and nutmeg in a separate bowl.
Sprinkle the flour mixture over the apples, coating them evenly.
Place the apple mixture aside until you're ready to use it.
Topping
Soften the two sticks of butter on very low power in the microwave (be careful not to melt it – do it for 30 seconds, power 5).
Combine the flour, salt and cinnamon first, then add in the oatmeal and both sugars.
Cube the softened butter and add it to the topping mixture – again, using your hands to mix it up!
This mixture should be moist yet crumbly.
Putting it all together...
Take your pie dough out of the fridge and roll it out on a floured surface – you want to roll it out to be pretty thin, but thick enough to handle and transfer into the pie dish (about 1/8″ thick).
Drape the rolled out dough over an ungreased pie dish and use your fingertips to press it down onto the dish.
Pour the apple mixture over the dough.
Cover the apples with the topping mixture – again, use your fingertips to pack it on there (this is the best part, so you'll want to use all of it).
Now, to make this pie look pretty – trim the edge of the dough off with kitchen shears leaving enough over the edge to either pinch or roll up into a beautiful crust.
Bake at 400°F for 50 minutes covered (with aluminum foil) and uncovered for an additional 10 minutes – everyone's oven works differently, so just keep your eye on this to make sure it doesn't burn!
I always have the best results when I let it cool for at least 20 minutes, then enjoy!